The Hot Seat: 37 Fast Questions with Gigi Hadid
Your sense of style is a reflection of who you are. For Gigi Hadid it's no different, and her personal style helps her remain confident.
As an international supermodel, Hadid has become a style icon gaining millions of followers on social media. And we have her best style tips caught on camera in the video above.
As an inspiration to young women, Hadid's partnership with Reebok and the #PerfectNever campaign has allowed her to spread her message of empowerment further. The campaign encourages women to reject the pressures of perfection and to be true to who they are.
"I think it's amazing that Reebok and this #PerfectNever campaign can bring women from different careers and walks of life to the same place," she says.
Whether she's rocking the upcoming looks on the catwalk or piecing together the trendiest of street style outfits, Hadid remains grounded in who she is.
During her most recent photo shoot for Reebok, Hadid showed she's not afraid to laugh at herself while having some fun answering questions about her style.
We picked a few of our favorites!
Reebok: Lips or Kicks?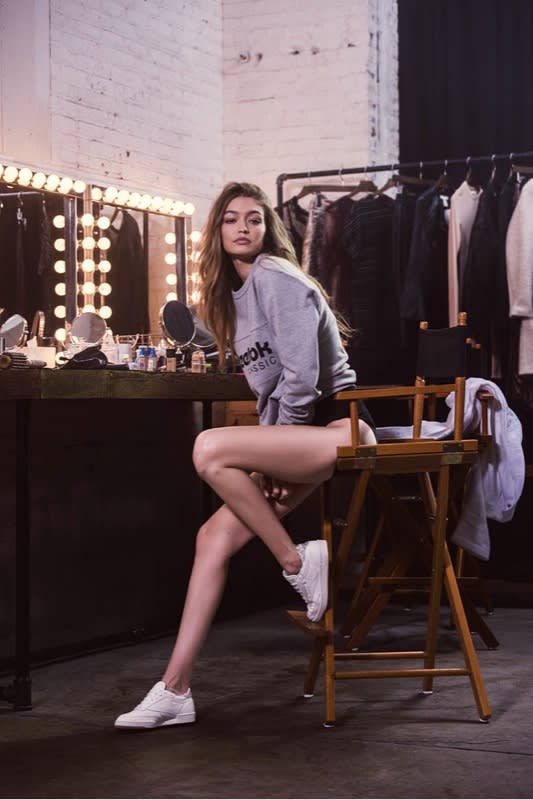 Hadid: Kicks…for Suuure
Reebok: Beach babe or city chic?
Hadid: City chic beach babe
Reebok: Catwalk or Streetstyle?
Hadid: Streetstyle!
Reebok: Topknot or flowing locks?
Hadid: Topknot because it's easier
Hadid turns to fitness when she needs to take a mental break from the pressures she's under every day. So we made sure to ask her the tough questions too.


Reebok: Burpee or wall ball?
Hadid: Burpee
Reebok: Workout class or solo session?
Hadid: Workout class with friends
Reebok: Treadmill or running free?
Hadid: Running free … don't put me on a treadmill, please.


How does your personal style give you confidence? Tweet @ReebokWomen and let us know!