12 Things We Learned Hanging Out with Rae Sremmurd
Music duo Rae Sremmurd know how to make an entrance. On a busy street in Harlem, New York, the hip hop duo rolls up with three black escalades in tow and an entourage of about 12.
They casually greet fans waiting for them before boarding Reebok's Classic Leather Truck, set to take them to their concert hours later.
As they enter, they begin to grin from ear to ear walking up and down the aisle staring at the Classic Leather shoes adorning the walls of the truck and the latest imagery from their new Classic Leather campaign with Reebok hanging by the windows. The guys are the brand's latest partners for Reebok Classic, and their love for the Classic Leather shoe and the brand is apparent.
It's a perfect match.
"Few artists so passionately embrace life and nonconformity like Rae Sremmurd and we're excited to bring them into the Reebok Classic family," says Todd Krinsky, General Manager of Reebok Classic.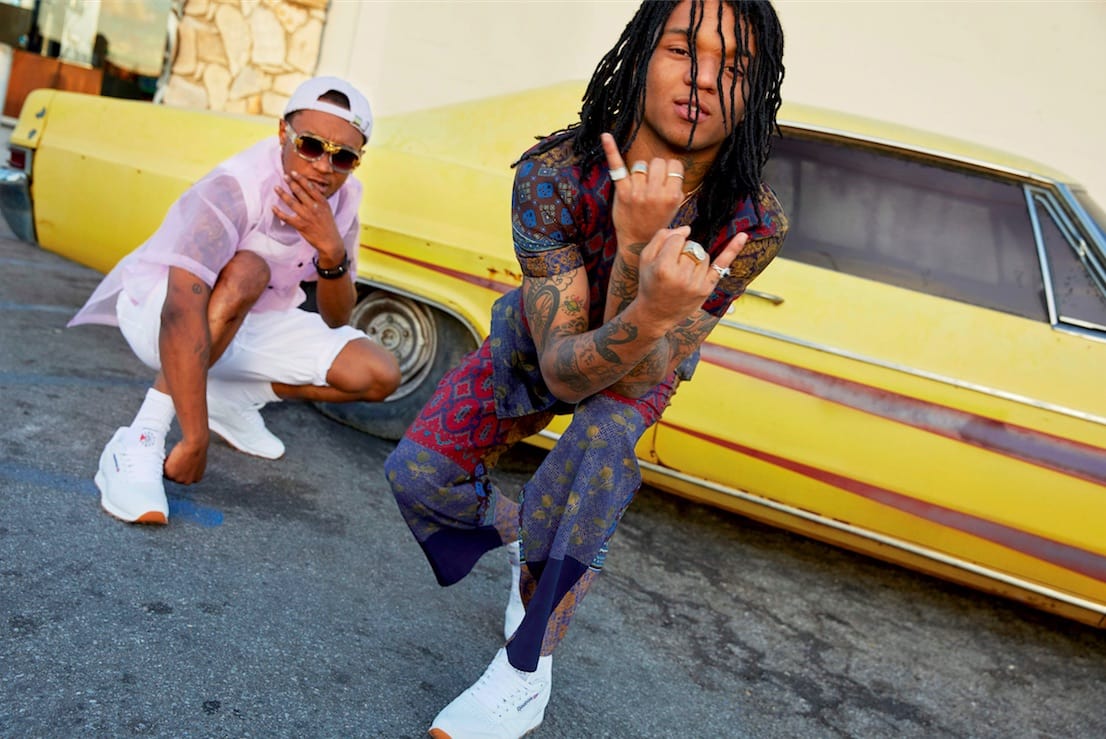 Since hitting the airwaves in 2014, brothers Swae Lee and Slim Jxmmi have built a reputation for their rebellious and bold attitudes. While on board the Classic Leather Truck theycrack jokes and then try on their latest pairs of fresh white kicks to add to their extensive sneaker collection.
Just before the wheels of the truck started rolling, here's what we learned about one of the hottest duos in music.
1. Swae Loves Juice...Like Regular Juice
While some artists go for candy or chug water before a show, Swae's go-to is a jug of juice.
"I grab a whole jug of juice every time it's in the fridge," he says laughing. "I might switch from orange juice, it might be cranberry one time. It might be tropical one time."
When he's asked why juice, the answer is simple.
"Something about the nutrients," he says.
The guys talk about eating pretty healthy before shows, naming off carrots and celery as their snacks of choice. Of course that's apparently after a full dinner and we mean FULL.
"I might eat a full course meal like fifteen minutes before a show and be up there with a heavy stomach going crazy," says Swae.
2. They Really Care About Their Hair
While on the Reebok truck Jxmmi noticed his hair wasn't quite fresh enough. So a barber was sent to meet them on the truck in time for their performance in less than 90 minutes.
3. Jxmmi Mixes and Matches his Classic Leather Shoes
Before he even stepped foot onto the truck there was one pale pink and one pale purple Classic Leather shoe laid out just for Jxmmi for his performance later that night.
As seen on the duo's Instagram account, they both like to rock their Classic Leather shoes but Jxmmi in particular likes to put his own spin on the sneakers.
"With me, I like to wear graphic tee shirts, cool jeans and two different color Classics," says Jxmmi. "They're so clean, like pink and purple, red and blue, blue and white and it's so tight. Classic leather goes with everything."
Swae keeps his style a little more laid back.
"I'm not going to lie, my go-to thing with the Classic Leather lately is to wear them with just a tee shirt and you can just put that on and be fresh for days; you don't have to worry," he says.


4. They Don't Give a Sh*t What People Think
Known for their fun and fearless style choices from the stage to the red carpet, both Swae and Jxmmi have undoubtedly become influential tastemakers in music, fashion and popular culture.
"We just go for what feels good," says Swae. "Just because somebody else doesn't wear it, we don't care that doesn't mean it's not fresh to us we just put it on."
They make it clear their style is all about what feels good in the moment, no overthinking.
"However I'm feeling that day, that's how I dress," says Jxmmi. "I might feel like 'pink fur on my goggles' Jxmmi one day, I might feel like t-shirt Jxmmi another day, I might be 'rock star Jxmmi and not even have on a t shirt the next day."
5. They Log Laps
Both guys divulge they'd rather be in the water. "Go swimming!" says Swae. And Jxmmi agrees.
"I like to be outside, I like to go swimming," says Jxmmi.
6. Swae Is the Talker
Swae usually speaks up first. Jxmmi is a bit more of the strong silent type. When he does talk, he makes sure his responses count.


7. Jxmmi Is More Likely to Be Found Doing Push Ups
"I'm doing straight cardio during the shows," Swae says when chatting about staying in shape.
"He [Jxmmi] does push ups before we go on stage, lifting weights on the road, he's got a trainer," he says.
Jxmmi likes his fitness routine—even after a concert performance.
"I work out, I go to the gym every day before a show or after a show," he says.
8. There Might Be a Rae Sremmurd Farm In the Future
Rae Sremmurd are known for their unexpected fashion, but they also have unusual pets—like pigs.
While sitting on Reebok's Classic Leather Truck, the guys discussed what people might not know about them. Swae touts that he's going to have a farm one day. But at this point in the Truck interview, anything is possible. The farm is just another thing to add to the list of unconventional things these guys could totally make happen.
9. They Want To Make Music Fun
The effect their music has on their audience is not lost on Rae Sremmurd. The guys are open about their need to keep their music optimistic.
"Everybody knows Sremmlife," says Swae. "Our topics are positive, and it's very relatable to the youth, to people who are 85, even babies can relate to certain things. It's for everybody."


10. The Shower Gives Them Song Ideas
On the crowded truck Swae reveals his surprisingly relatable place for songwriting inspiration. That daily habit and bathroom sanctuary … the shower.
"Sometimes when I hop out of the shower, a song might come to me and I'll have to record it on my phone," says Swae.
11. They Get Amped When Talking About Their Fans
"Our fans are awesome," says Jxmmi. "They just turn up, always good energy. They know with Sremmlife it's going to be a good time.
While talking about their huge fan base, Swae says that the level of dedication from their fans is unmatched.
"Our fans are wild, creating mosh pits and dancing," he says. "They'll meet us anywhere. We can say, 'Come to this barn in North Carolina in the country' and they'll be there."
12. They Love Making Epic Show Exits
Just as the Reebok's Classic Leather Truck headed to their next performance in New York, we close out the interview on an obvious topic—their infamous concert exits. Sure this might be a crazy way to enter a performance, but the duo has logged a long list of newsworthy exits from their shows in the past.
Jxmmi says his most memorable was when he did a front flip on a whim off the stage, and Swae actually exited via crowd surfing once, in true rock star fashion.
What surprised you most about Rae Sremmurd? Tweet @ReebokClassics and tell us!