Outfitting the 640 Fittest on Earth
Qualifying for the CrossFit Games takes years of hard work. And as if earning a spot isn't difficult enough, when athletes descend upon Madison, Wisconsin for the competition, many of the events are still unannounced.
While that may cause nerves for some, the 640 qualifiers can rest assured that their gear is ready to take on the unknown and unknowable.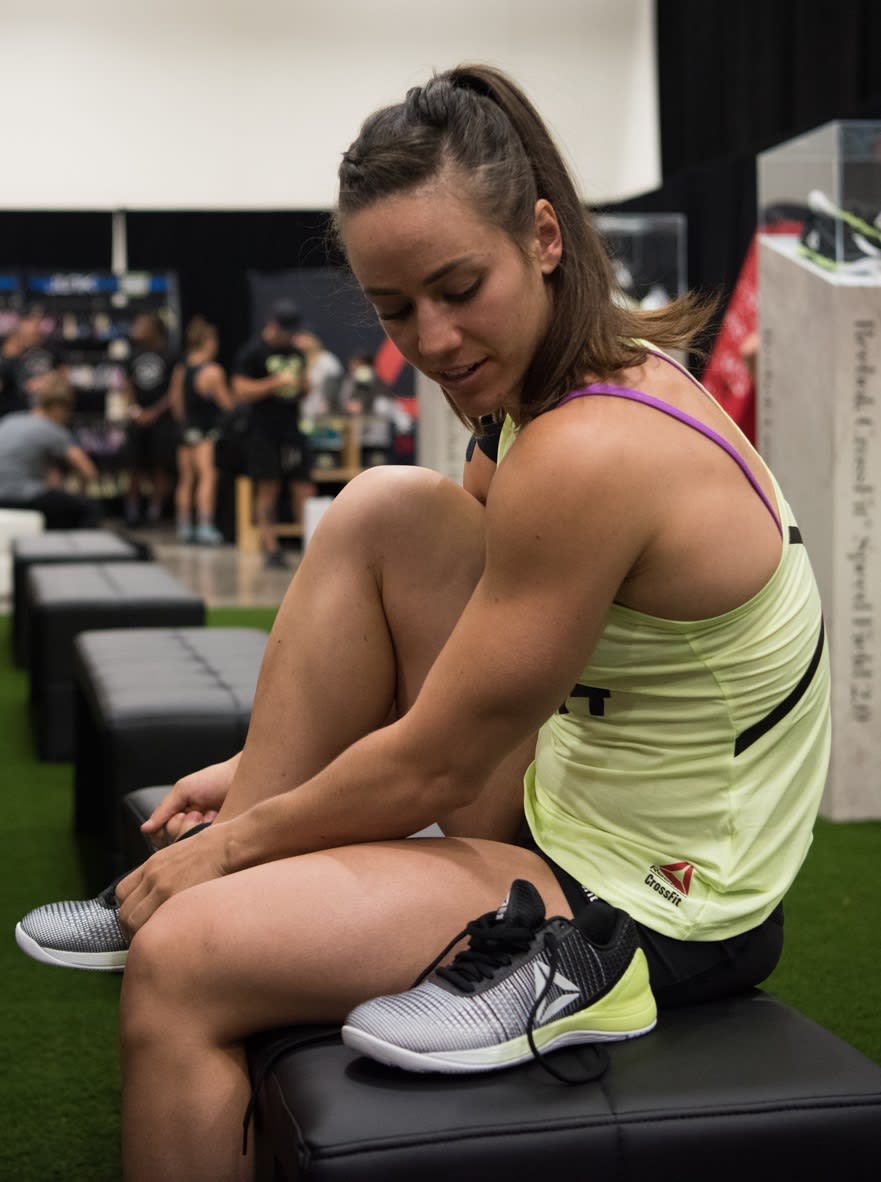 Before the festivities – or should we say suffering – kick off, all qualifiers, teens and masters included, are geared up head-to-toe and personally walked through the Games collection by one of the Reebok designers who developed the clothing and shoes.
Exactly what products do they receive? A lot … which is fitting for athletes about to take on four days of grueling workouts.
Here's a behind-the-scenes glimpse.
Shoes
Remember when you were a kid and bought a new pair of shoes for the first day of school? Well, for these athletes, the Games are the first day of school … times five.
Each athlete is armed for the competition with five pairs of sneakers. This year's shoe range includes CrossFit staples – the Nano 7 Weave and Speed TR 2.0 – as well the Harmony Road for distance running, the Legacy Lifter for Olympic weightlifting, and the Speed TR Field, which is a version of the Speed with a different sole created exclusively for the Games with field events in mind.
"I get most excited about the shoes," says Brent Fikowski, who placed fourth at the 2016 Games. "You walk over to the footwear area at fittings and it's just pairs and pairs of sneakers lined up."
"Knowing Dave [Castro] and the variety in his programming, I'm sure we'll put every pair to use at some point in the competition," continues Fikowki. "Lifters, running shoes—I'm sure they'll all be needed."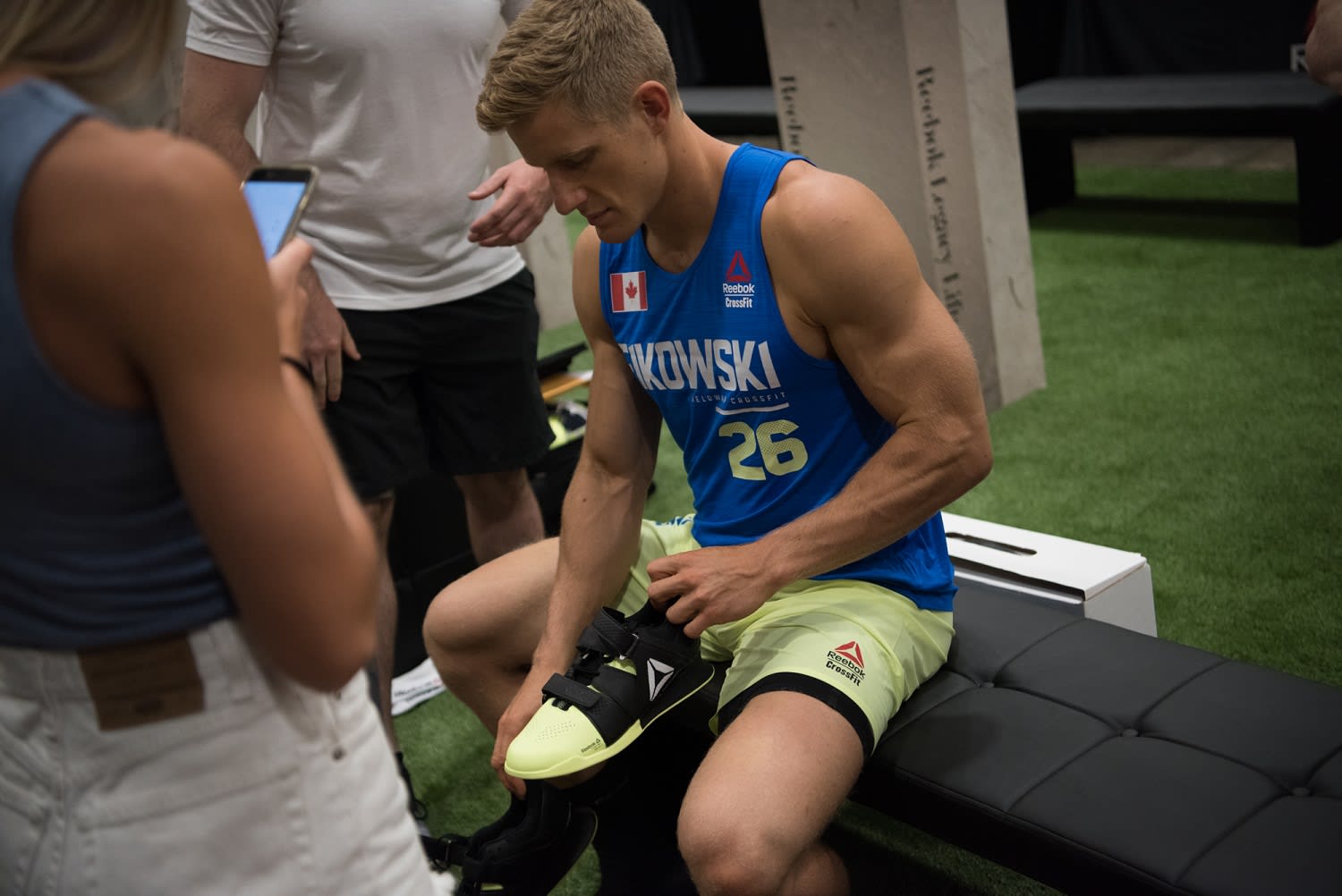 Clothes
If you've watched the Games before, you may have noticed many of the competitors wearing a different outfit each workout. While outfit changes aren't required, they are definitely possible with just how many pieces these athletes receive—a nice-to-know as one sweats through a shirt during an outdoor event.
Knowing each individual's apparel preferences differ (some women want leggings while others stick strictly to booty shorts), athletes are given an array of styles to ensure there's something in there that meets everyone's needs.
From there, the athletes can pair pieces from the collection together however they please. The one rule: At least one article of clothing must display an athlete's competition number.
"By now, I feel like everyone knows how much I love fashion," says reigning Fittest Women on Earth Katrin Davidsdottir as she tries on one of the tanks from the collection. "Finally getting to look at and try on all these products is so fun. I'm loving the bright blue and violet colors in the apparel this year."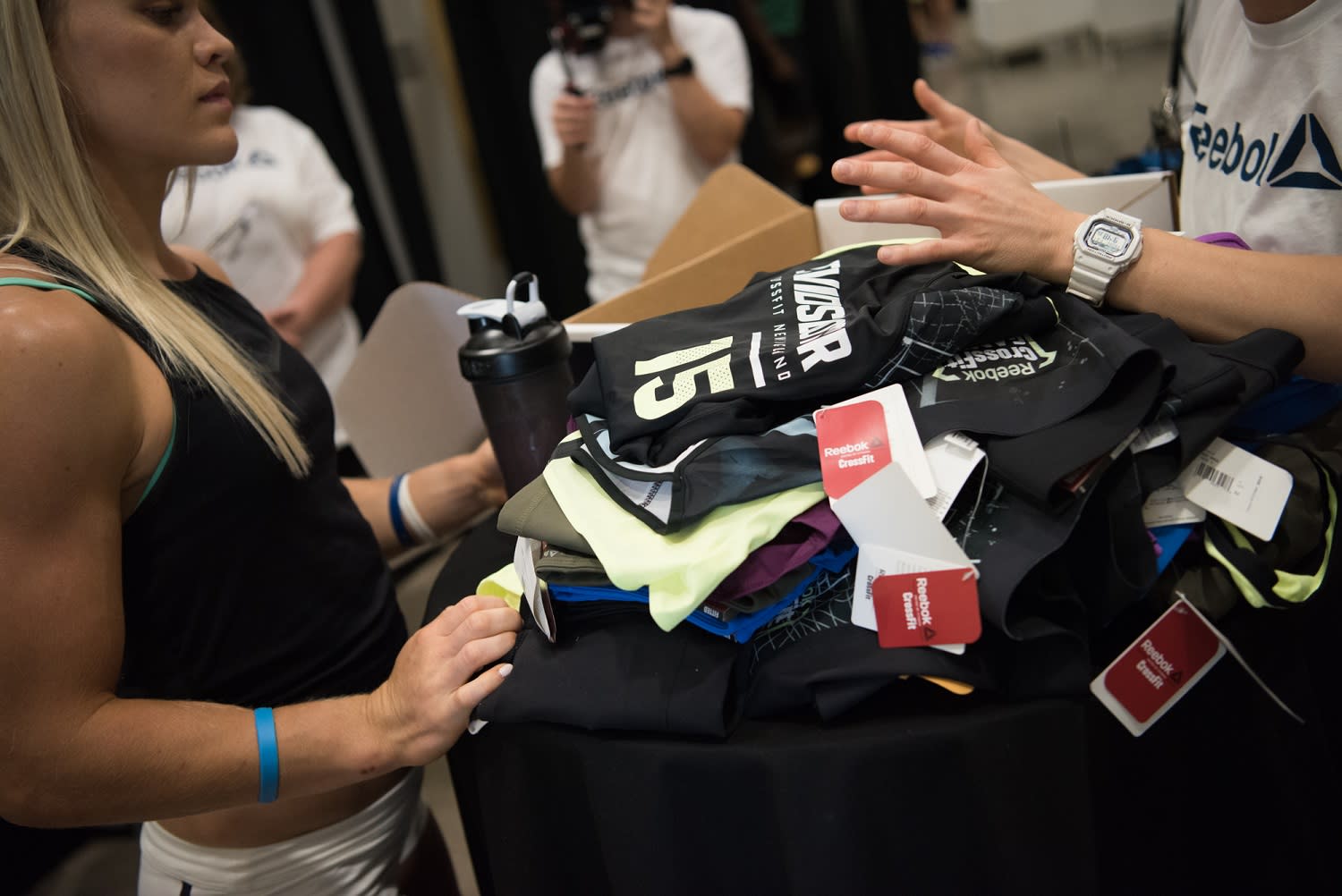 The Color Scheme

Each year, the Games collection showcases a new color scheme.
The lead color for 2017? Electric Flash!
It's a vibrant shade of green and yellow that's highlighted across both the apparel and footwear.
Electric Flash is complemented with other apparel pieces in blue, purple and navy, all of which are colors specifically created to pair well together, making it easier for competitors to mix and match.
And while the majority of the collection is made up of solids, there is one print included.
Formally known as "the heliorig print," this print is inspired by the criss-crossing of the bars and posts that make up a CrossFit rig.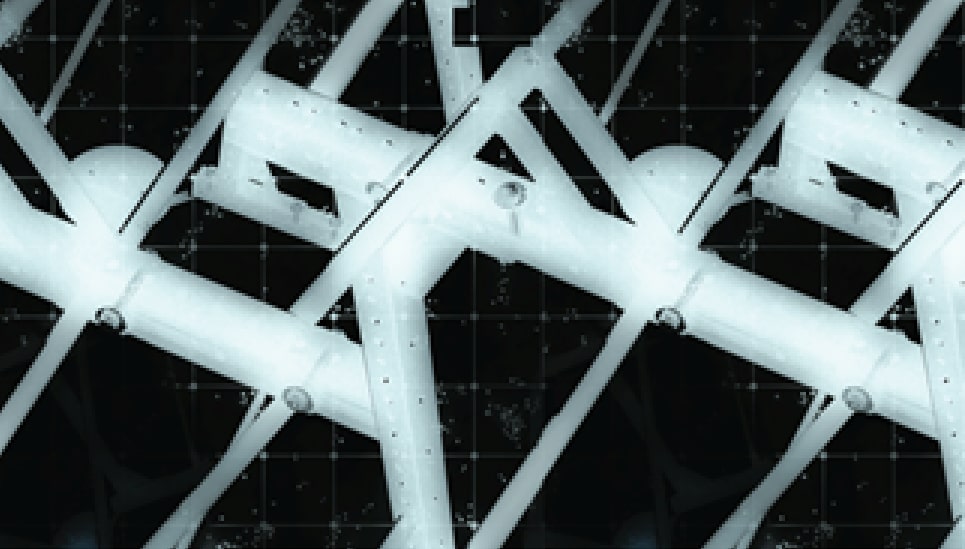 A Nod to the Military

Notice an athlete sporting a dark green shirt? While not part of the formal color scheme, this shirt is no mistake.
Because of CrossFit's history with military personnel Games athletes are also given one outfit in those traditional military colors—green, sand stone and black.
In the event Castro programs a hero WOD (could there be a Murph round three?), it should come as no surprise when many of the competitors take the floor in this outfit. While they're out there giving it their all, it's a reminder of those who made the ultimate sacrifice.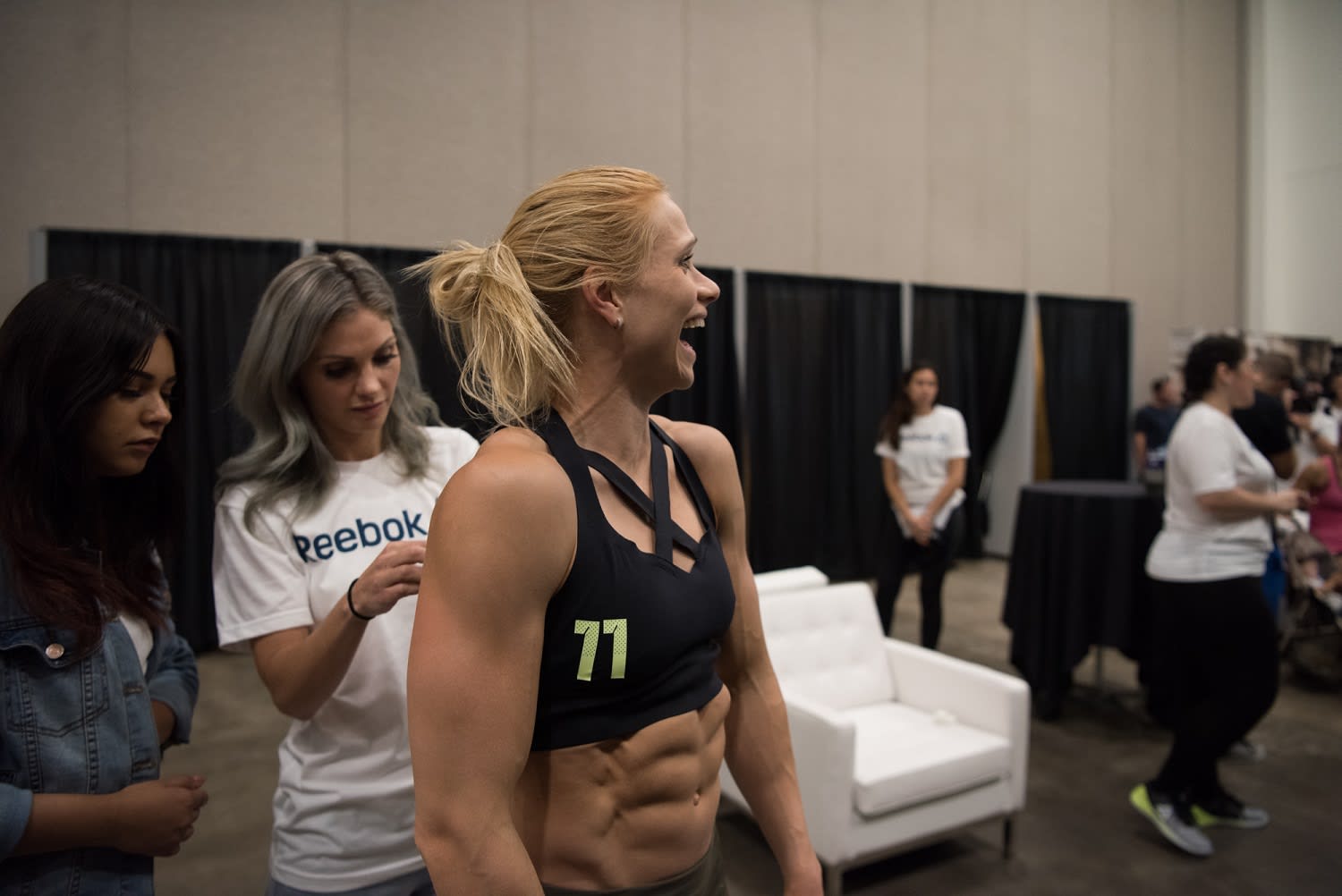 Who's on First?

Not able to tune in to the Games on Friday morning (doesn't your boss realize how important this is?), but instantly want to know who's in the lead when you get free time? Well, it's easier than ever.
Meet: the leader kit.
Entering each event, the male and female athletes currently in first place overall are given a white shirt and red bottoms. Only the points leaders receive these pieces, making it simple for viewers to instantly turn on the competition and know who's winning.
The shirts, which prominently display "leader" across them, are created in real-time on site to also include the athlete's name. So for those who move quick in the competition, we're ready to work quickly behind-the-scenes to get you these custom outfits.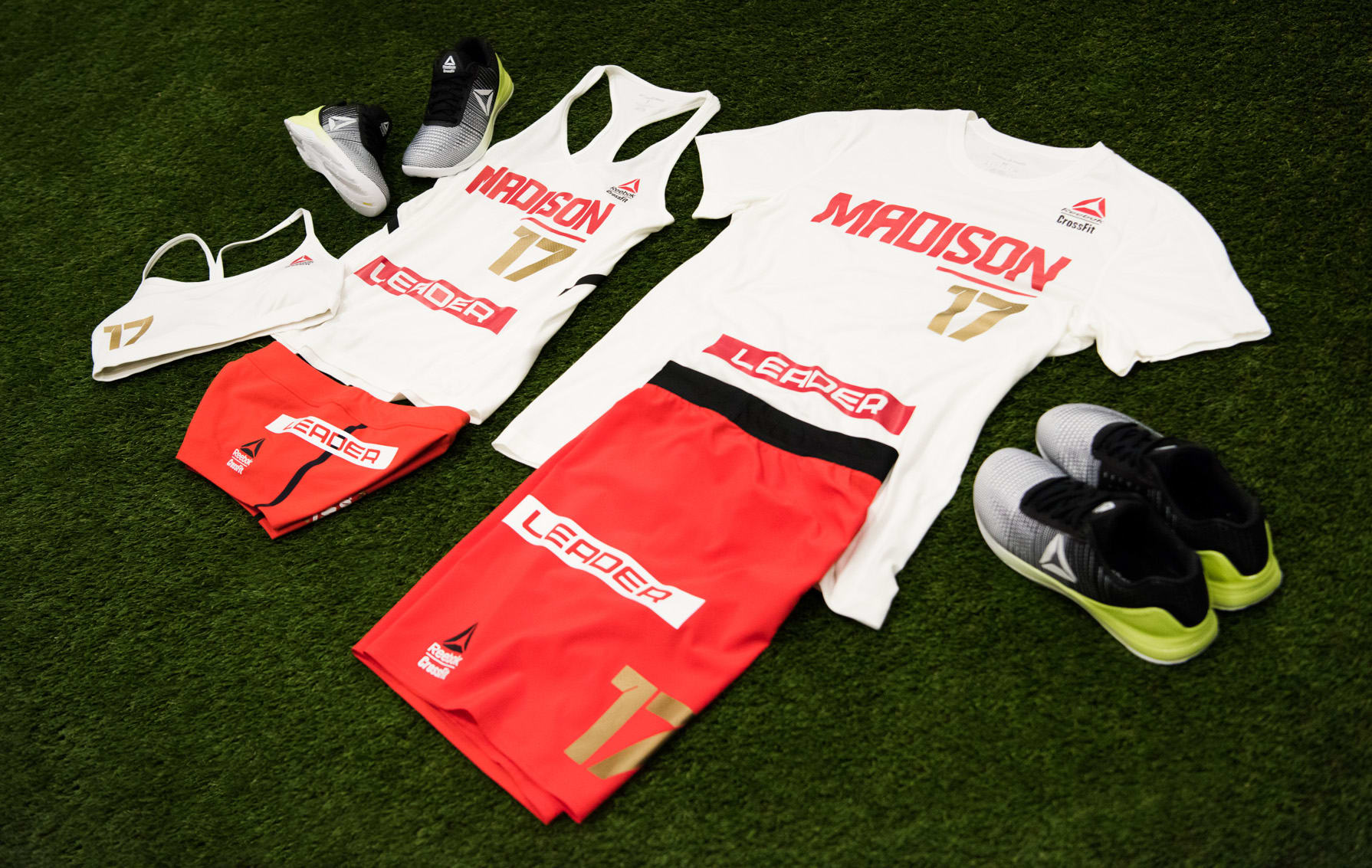 Athlete fittings may not be open to the public, but take a peek at the photos below for an exclusive behind-the-scenes look. And remember, the entire Games collection is available to the public on Reebok.com .