Why Your Shoe Closet-And Wardrobe-Needs The Workout
In an empty classic car warehouse turned epic, one-night-only underground concert, hundreds of people gathered to celebrate Reebok Classic's iconic silhouette the Workout.
From the bright lights of the stage to the iconic archive filled with Workouts from years past, the night brought together a diverse group of artists and influencers who dare to push style boundaries.
At the helm of that archive is James Hardaway, Reebok Classic's Global Product Manager, educating attendees who roll in on the heritage of the Workout silhouette and what makes it timeless.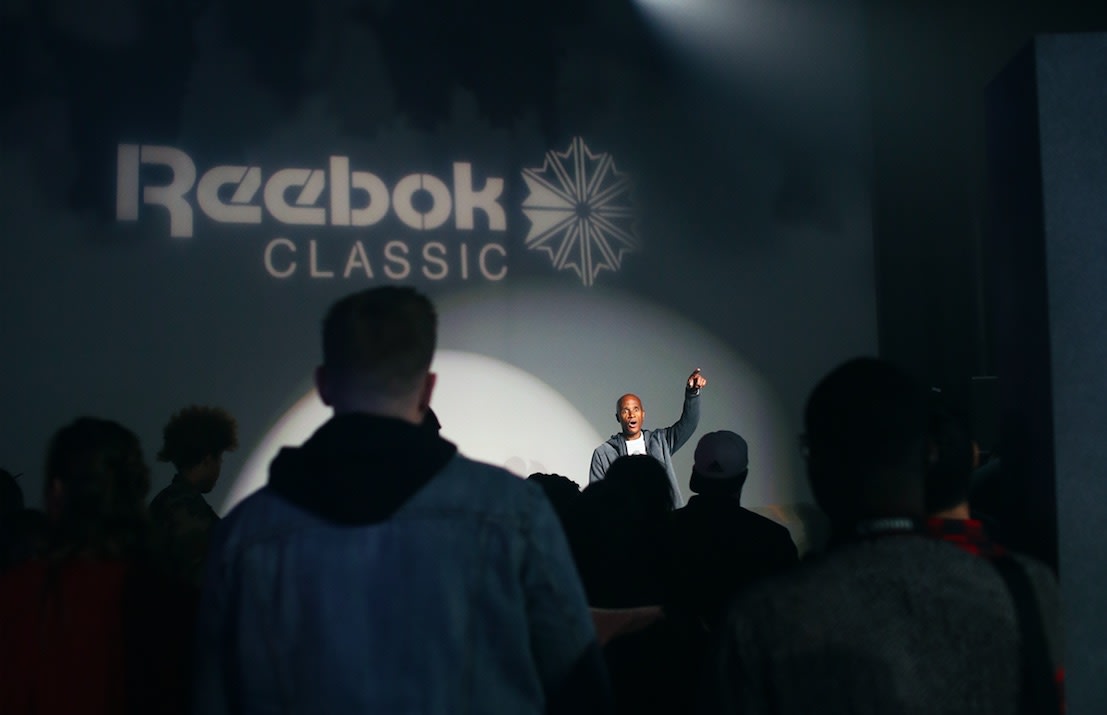 "The Workout started out as one of our first fitness shoes for men," says Hardaway. "It was one of the first shoes in the industry that used garment leather, which was a really soft leather, so comfort was a key priority for the design team."
No longer a sneaker just for men, the Workout's clean, fresh silhouette gives everyone the freedom to style it any way they want.
The Workout was introduced in 1984 and became known for its iconic "H-strap," pushing it out of the gym and into a street style must-have. In 1986, the Workout Plus came on to the scene, with added overlays on the upper for a fresh evolution of the OG.
With 26 years of working for Reebok under his belt, Hardaway has seen the evolution of it all. He says the Workout was bound for greatness beyond the gym from the get-go because of its comfort and versatility.
"People were wearing them because they were simply comfortable," he says.
"They traditionally came out in all white or all black, to allow people to wear them any way they wanted and have it fit their style. So it wasn't something that was complicated or over colored—it was something that was clean, basic and simple."
Reebok Classics global campaign "Always Classic" highlights classic silhouettes like the Workout Plus that have made their mark and refuse to be confined by one style.
From Lil Yachty and his sailing team rocking the sneakers on stage during a live performance at the event to artists and influencers throughout the night, the Workout proved its versatility.
"It's sort of a blank canvas that will allow you to do a lot of different things," says Hardaway. "It allows the consumer in its clean form to rock it how they feel."
The strong heritage behind the silhouette brings a vintage authenticity to it. Hardaway remembers when the Workout solidified its spot in streetwear style culture in New Orleans, earning an unlikely nickname: the soldier.
"In New Orleans in particular, the soldier was the uniform if you will. People wore it as their uniform and as their street gear and that's how they rocked it," he says. "Certain musical artists used to sing about it in their songs and talk about how they wear their Reeboks or their soldiers. It really became a cultural phenomenon there."
The Workout has risen through the ranks over time to become a modern style staple and has earned a permanent place in our closets.
"The Workout is a staple shoe," says Hardaway. "I think clean white and clean black is going to always be something that people will reach for."
How are you rocking your Workouts? Tweet @ReebokClassics with #AlwaysClassic and show us!