Get Your Spring Break Workout On-Without Leaving The Beach!
Spring break season is finally here. It's time for some fun in the sun and a little bit of seriously needed down time.
While you've been hitting the gym hard in anticipation of your vacation, that doesn't mean you can—or want to—keep up your usual routine while enjoying the sun and sand. But you still want to be active!
So we talked to Les Mills Trainer Lissa Bankston who showed us eight moves you can do right on the beach.
"The spring break environment is the perfect time to redefine the idea of a 'successful workout'," says Bankston.
The good news is, it's much simpler than you're probably giving yourself credit for. "Commit to having fun and being active. The best part about a spring break environment is that you are with your friends! Having a partner in crime, or your entire gang, always makes any activity more fun."
Bankston herself is something of a travel expert. She travels a lot for her job, training clients like Reebok and Les Mills ambassador and actress Nina Dobrev. The two can usually be seen practicing what Bankston preaches and making fitness fun while on their vacations together.
Bankston has been known to keep Dobrev and her friends moving during their getaways.
Bankston says while breaking a sweat always feels good, don't forget to get a little unconventional and have fun with it. You are on vacation after all.
"Get childlike! Build a sandcastle, bury a friend in the sand, play volleyball, play freeze tag, and just think outside of the box," she says. "Workouts are just movements created by what our bodies are naturally wanting to do, so run around, pick things up (move your beach chair to a new spot every hour), and just move!"
If you're planning a few late nights (we all know spring break can get a bit rowdy) Bankston's top tip to stay fit AND healthy on vacation? Hydration!
"Drink an ice cold glass of water first thing in the morning, and then fill it immediately and place it beside your bed for at night," she says. "Water is the key to life when recovering from a night out, so at least start and finish your day with 8 oz."
So if you're headed out with the squad this spring break, check out Bankston's go-to workout moves you can do right on the sand.
Bulgarian Lunges

Crab Crawl

Tricep Dips

Gorilla Crawl

Mountain Climbers

Plank Walks

Body Weight Squats

Surfer Jumps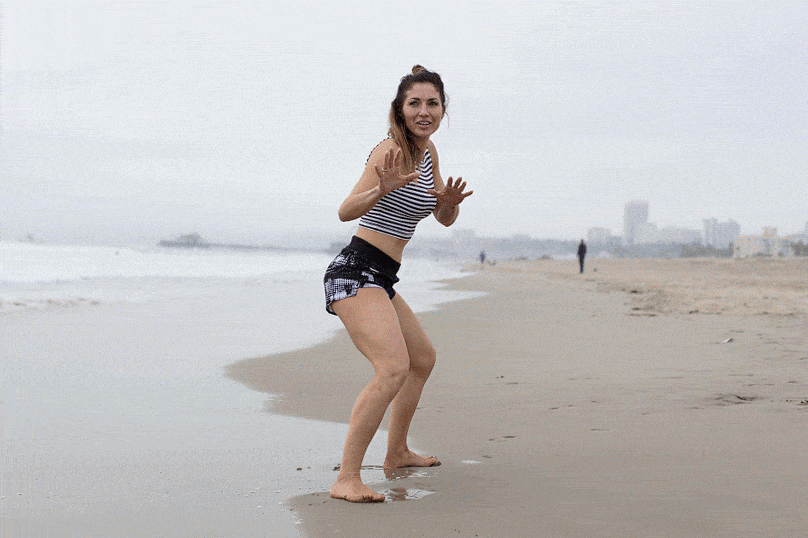 Did you try Bankston's workout during your spring break? Tweet @ReebokWomen and show us!