Devonta Freeman Reveals The Secrets Of His Chill, Comfortable Style
When it comes to his personal style, Reebok athlete and professional running back Devonta Freeman knows what he likes: something that looks "swaggy" but stays comfortable. And it doesn't hurt if, like the Fusion Flexweave, it gives him a little bit of a lift. "If you look at the bottom of the shoe, it's super thick," he says. "I'm 5'9", and I feel taller in them."
While the Fusion Flexweave is a shoe that can go the distance on the field, Freeman appreciates that it can do double duty with his wardrobe after hours, too.
I can wear these with anything
"I can wear these with anything," he says, noting that he already has some ideas in mind for how to style them. "I would mostly keep it sporty. I wouldn't wear jeans with these. I would probably wear them with a nice Reebok sweatsuit."
Of course, how Freeman styles his Fusion Flexweave shoes depends on where he plans to wear them—which is true of how he dresses for just about everything.
"My style depends on time and place, or if I'm going to an event," he says. "I could dress mature or immature." No matter what, though, he will never be the flashiest person in the room. "I'm never trying to do the most," he says. "I'm not into super designer stuff, I just like chill pieces."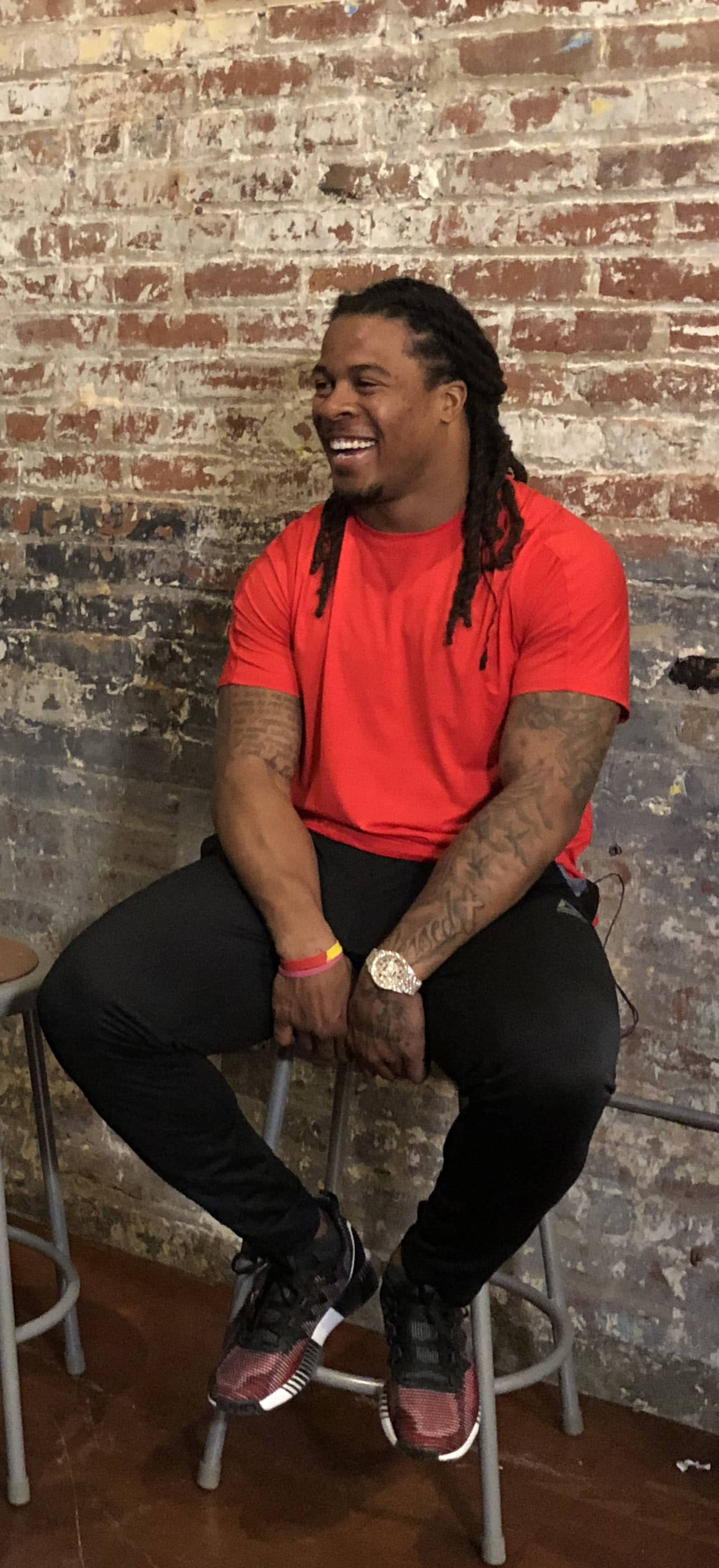 And it turns out that when he thinks about styling his Reeboks, there's just about nowhere that he won't take them.
"If I wanted to go on a nice date, I could throw on some Reeboks. If I want to go to the movies, I can throw on some Reeboks. Basketball games, football games, it's a real lifestyle," he says.
And, he says, Reebok's vibe matches with his own. "It's perfect for me because it fits with my personality. It's chill, it's laid back, and I can be me in it."
The versatility and unexpected design of the Fusion Flexweave is another thing that makes the shoe stand out to Freeman. "It's clean, it's fashion, it's different," he says.
Freeman leans on jewelry to accessorize his outfits and likes to mix and match different pieces together.
"It's all about how you put things together, and then at the end you add some jewelry to make the outfit pop," he says. And of course, when it comes to footwear, comfort is king—as long as it looks good, too. "This is comfortable, and it's fly at the same time," he says.
How do you style your Fusions? Show us by Tweeting @reebok and #flexweave!