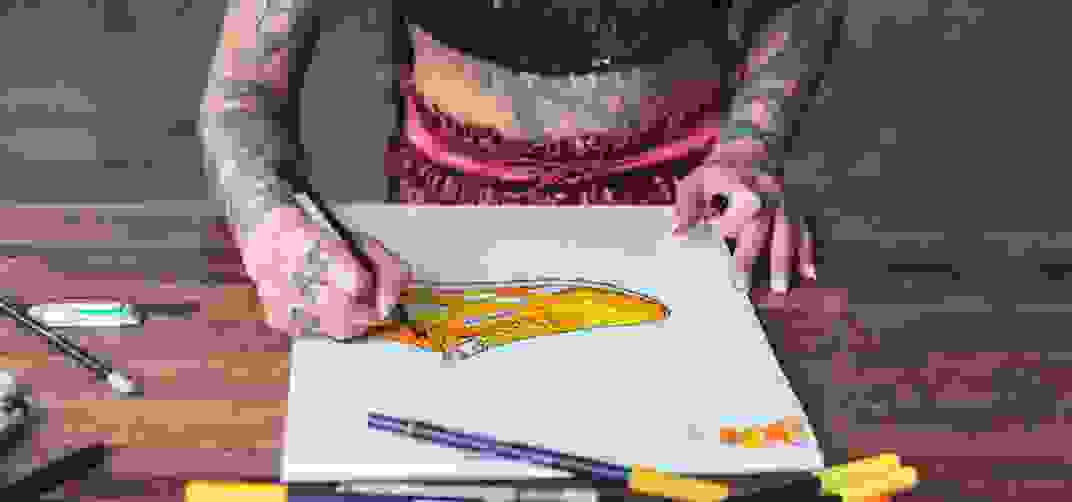 Tattoo Artist Miryam Lumpini Heals Through Her Art
Swedish tattoo artist Miryam Lumpini is a visionary. From her vibrant colors to her creative eye, she tells stories through her work.
Earning the nickname 'the Witch Doctor' Lumpini uses her skills to bring people a sense of protection.
"I go by 'the Witch Doctor' because I work a lot with healing people through my art," she says.
Lumpini has made a name for herself within the tattoo scene. In a mostly male dominated industry, Lumpini has her own studio in downtown LA and boasts a star-studded list of celebrity clientele.
But what she enjoys the most? The creative freedom that her job allows.
Each new tattoo provides Lumpini a new opportunity to infuse passion into the world. With each color she uses and every sketch she does, Lumpini embraces the opportunity to stretch her creativity.
Lumpini's confidence and strong sense of self is electric, with her hair tumbling down to the floor and posing for photos in a room full of people for Reebok's Always Classic global campaign, she never shies away from who she is.
Always Classic brings together a diverse group of artists and influencers who are all unapologetically themselves. With inspiration taken from Reebok Classics OG silhouette the Classic Leather, the Classic Nylon SP fuses the power of the classic heritage with modern design. It's the electric yellow of the Classic Nylon SP and the spirit of Classic that pushes the boundaries of those who refuse to be confined.
Similar to the Classic Leather Nylon SP, Lumpini has carved out a spot for herself in a traditional practice and brought a colorful and beautiful new take on a classic business.
As a business woman herself, Lumpini knows what it means to believe in a dream and see it come to life. She's shared her vision with the world, and it has embraced her and energized her to continue on. She's even traveled to Europe and across the US sharing her artwork.
And if there's one thing Lumpini knows, it's art.
"My specialty is color and bringing out magical vibes out of pictures," she says.
For Lumpini, the tattoo process is about experimenting with designs and colors and making it a collaborative process with the other person. As a free spirit Lumpini never settles for the ordinary or the expected. She is constantly pushing herself and telling stories through her art.
"You see a lot of crystals and stars and space in my artwork and flowers animals anything that brings a positive vibe out," she says.
Get Miryam's look here.
What does being a classic mean to you? Tweet @ReebokClassics with #AlwaysClassic and show us!