Breaking Down '90s Style, According To Three Icons
The '90s are known for their signature fashion trends—crop tops and flannel come to mind—but they're also known for their icons.
From girl bands who extolled the importance of girl power, to larger than life athletes, and women who were changing the hip hop game, there was no shortage of inspiration. And yet, even the most iconic '90s stars have certain things that stand out as key '90s inspirations.
"I have a lot of '90s icons," says Shaquille O'Neal, who is part of the inspiration behind Victoria Beckham's capsule merch collection, which drops for pre-sale on July 26th. "I love all the '90s white boy classic music."
For Victoria Beckham, though, O'Neal himself is a main source of inspiration, especially when it comes to her capsule.
As she worked to design her larger Reebok collection, which will come out later this year, she was so inspired by Reebok's '90s heritage that she decided to first release this grouping of merch: a tee shirt, a sweatshirt, and a sock, all featuring an iconic '90s logo all its own. Pre-order it here.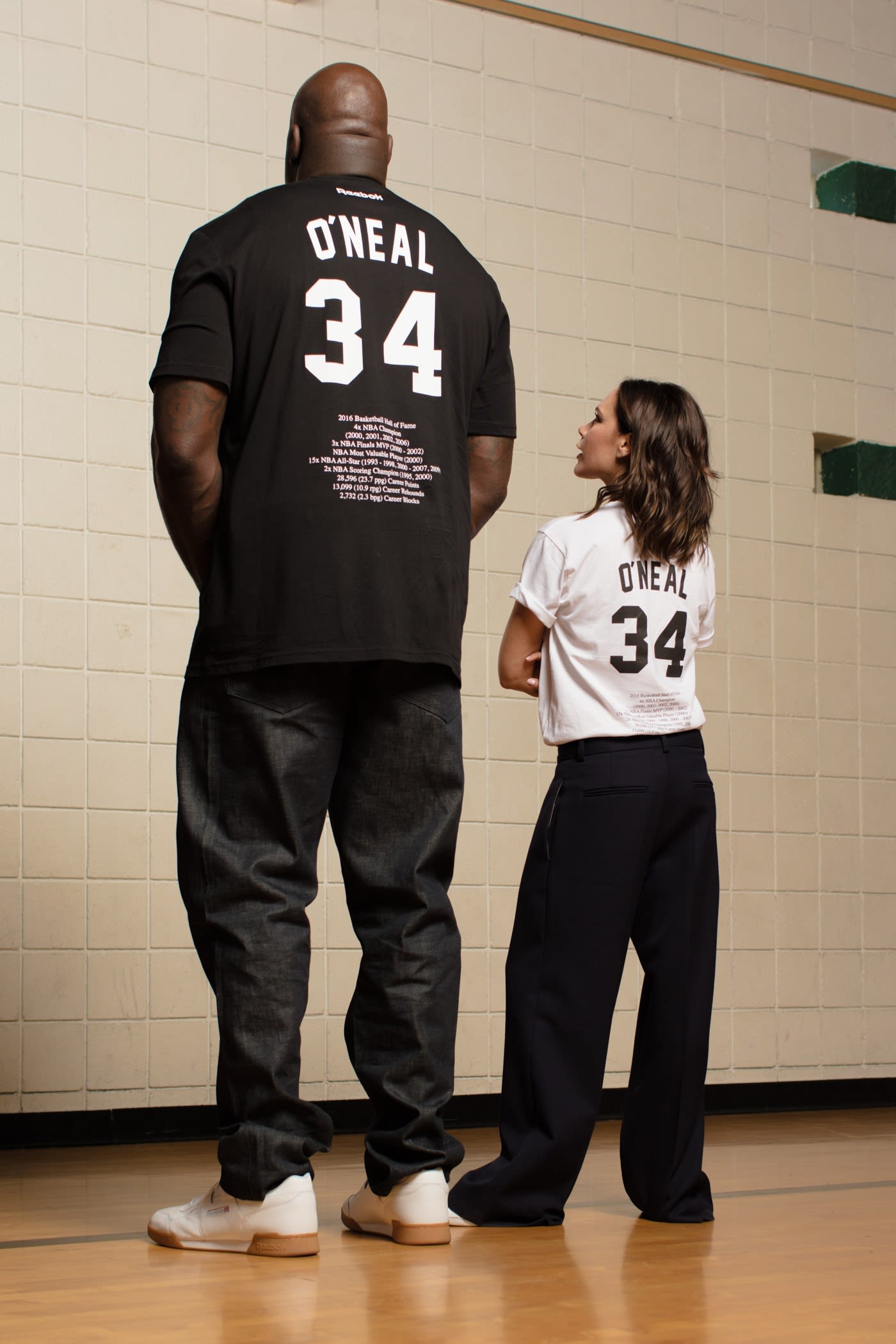 "This is me really celebrating Shaq, and celebrating the '90s, and everything that I love about Reebok," Beckham says.
Part of that love is a style that is a little bit more unisex than squarely masculine or feminine. And that's something that another '90s icon, Spinderella, pioneered with her all-female hip hop group in the '90s.
"Our style back then was boyish chic, or rugged sexy," says Spinderella. "We weren't mannish, but we were hanging with the boys club. We did suits back then, and it was very strong."
Victoria Beckham is bringing that kind of strength to her merch collection, and looking ahead to doing the same with her full collection later this year, right down to making sure she blurs the line between making something for women and men. "It's going to be really, really different," says Beckham.
And even though this first merch collection is inspired by O'Neal, don't expect him to talk too much about it—basketball, yes, but fashion? No. "I'm not much of a style guy," O'Neal says.
Even so, he trusts Beckham's vision. "She is very into her fashion, very smart, very beautiful and the Reebok team, we welcome her, and she's going to be doing a lot of stuff," says O'Neal.
"We're gonna let her do what she does. It's a good thing for us at Reebok because we don't have the same knowledge of women's fashion or men's fashion as she does. She's been the man and the woman when it comes to fashion."
Pre-order the merch collection at reebok.com/victoriabeckham.