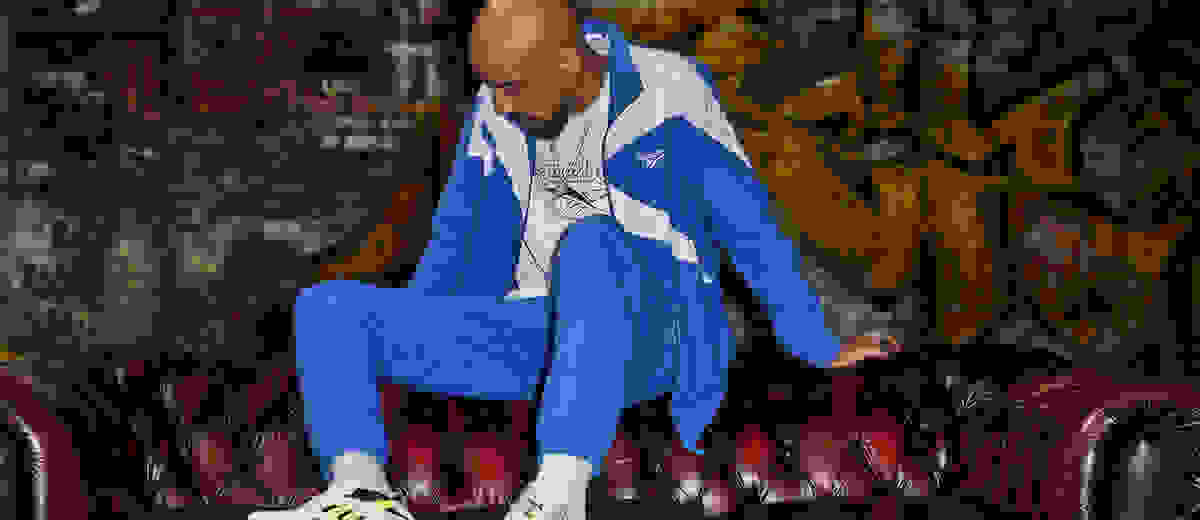 New Machine Writes About Why Taking a Different Path Is Worth It
Singer and producer New Machine is telling us in his own words how he's achieved success in the music industry.
Reebok's Aztrek was released in 1993. It was a running shoe unlike any other, built for any surface with innovative tech that established its place as a pioneer. The sneaker was bold for its time and is now being brought back from the archive for those looking to express themselves through style.
That's why Reebok Classic partnered with British singer, guitarist, and producer Adam Jordan—aka New Machine—who has carved his own way throughout the music industry. Even from an early age, Adam decided to take a different path with his career and his bravery has paid off. Having been born in the '90s we asked Adam to tell us in his own words how the '90s have continued to inspire him, the challenges he's faced and why taking a different path is always worth it.
-----------
I guess everyone holds the era they grew up in close to them. The '90s was a cool time for music, for film and definitely for fashion as well. It influenced me a lot, particularly my style because a lot of the grunge and the rave scene in general was out there and bold and from growing up on that metal music that's always what I've been into.

There was always interest from a style sense, incorporating more rave than anything. They wore mad glasses, mad tracksuits everything was oversized in the '90s and I think a lot of that is starting to come back in now—like the Aztrek. I've always liked to stand out and look different and I guess I was always kind of weird kid growing up wearing big baggy jeans all ripped with chains hanging down and red dreadlocks. I always liked to shock people back then. It's finding those unique moments that set you apart that I still try to do.
For example, my white stripe I wear across my face sometimes, it's hard to differentiate or tell the difference between artists nowadays and I felt like I needed something to have a bit more of an identity to stand out and stick out in people's minds more.
I've gone through so many different points in life, I've been a metal head growing up, in secondary school I was an R&B head and then hip hop and all the rest of the dance music. But one of the main battles I've faced is just trying to stay motivated. There's a lot of times you'll be working in this industry without payment or pats on the back. Which is what a lot of people need to keep going. So that's one challenge to overcome, to stay disciplined if you can.
I stay sane by trying to reinvent myself and make as many types of music as I possibly can. I don't like to be type casted or do the same thing for too long. I like that I've come from making metal music to making grunge music to pop music, it's definitely the opposite of what you think I'd make by looking at me.
I've been having to take a lot of risks in the past year and half with the music I've started making and coming from where I come from and making pop music or pop dance music, it isn't the norm. To test myself as a musician I've jumped into a whole new genre that I wasn't really comfortable with before and found something in that I loved. I realized it was actually harder to make than I thought.
Ninety percent of the time I get in the studio I like to work with a lot of unknown artists rather than artists who are signed because it's fun to go back and forth and finding sound for someone who doesn't know who they are yet.
I like to keep people on edge. I like to break the barriers and mess with sound. I think there's no point in doing music unless you're going to push the boundaries a little bit.
How has Adam's story inspired you? Tweet @ReebokClassic and tell us!
For more information on Aztrek click here.