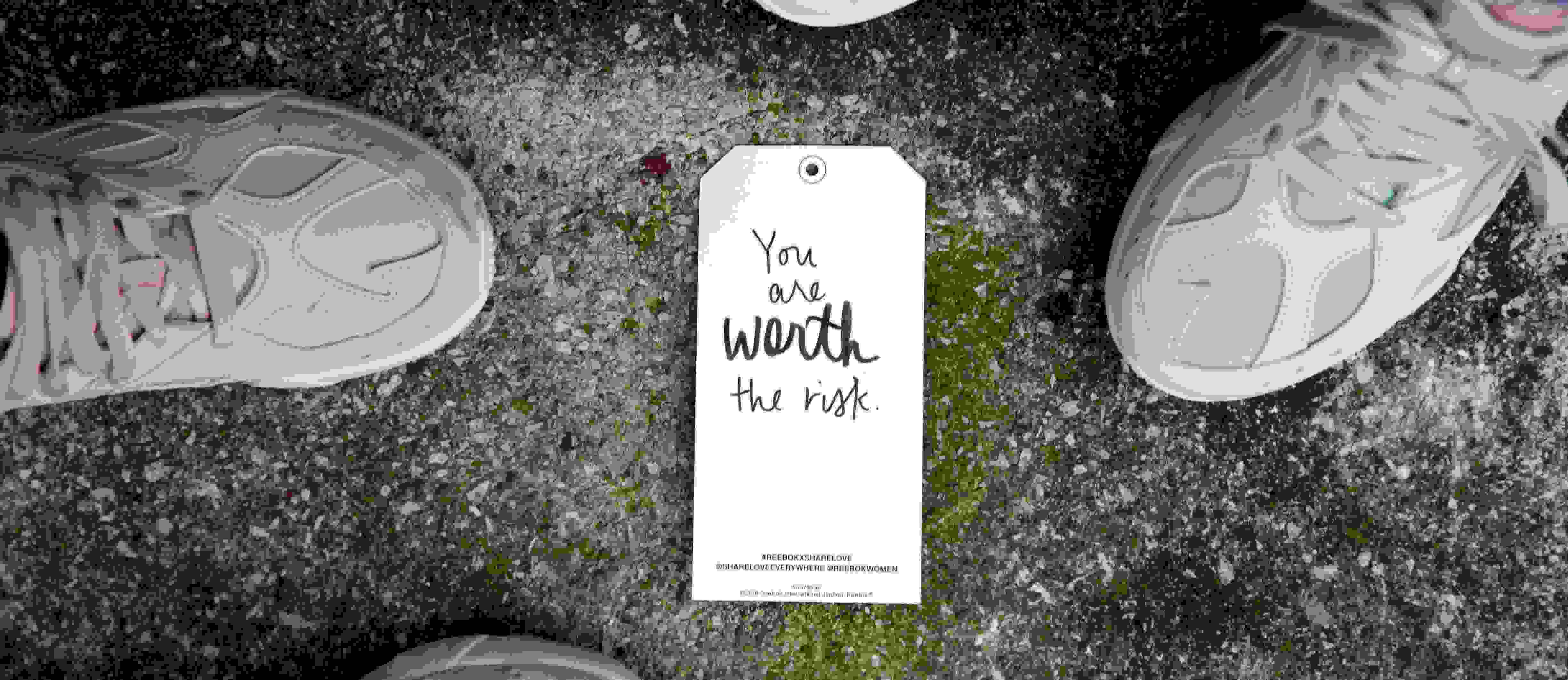 How Love Everywhere is Spreading Kindness Around the World
Love Everywhere's founder talks partnering with Reebok to spread random acts of kindness.
There will always be someone carrying a burden you know nothing about. Maybe they have the weight of the world on their shoulders or just had a completely rotten day. For all of these reasons—and so many more—we could all really use a little more kindness in our lives.
And that's where it all started; with one simple question "What if one tiny act of kindness could change a life?" Ashley Reale, the founder of
Love Everywhere
, an organization that now spreads words of kindness through written cards you can buy to leave for people to find, sought out to answer this question by leaving hidden notes of encouragement wherever she went for strangers to find.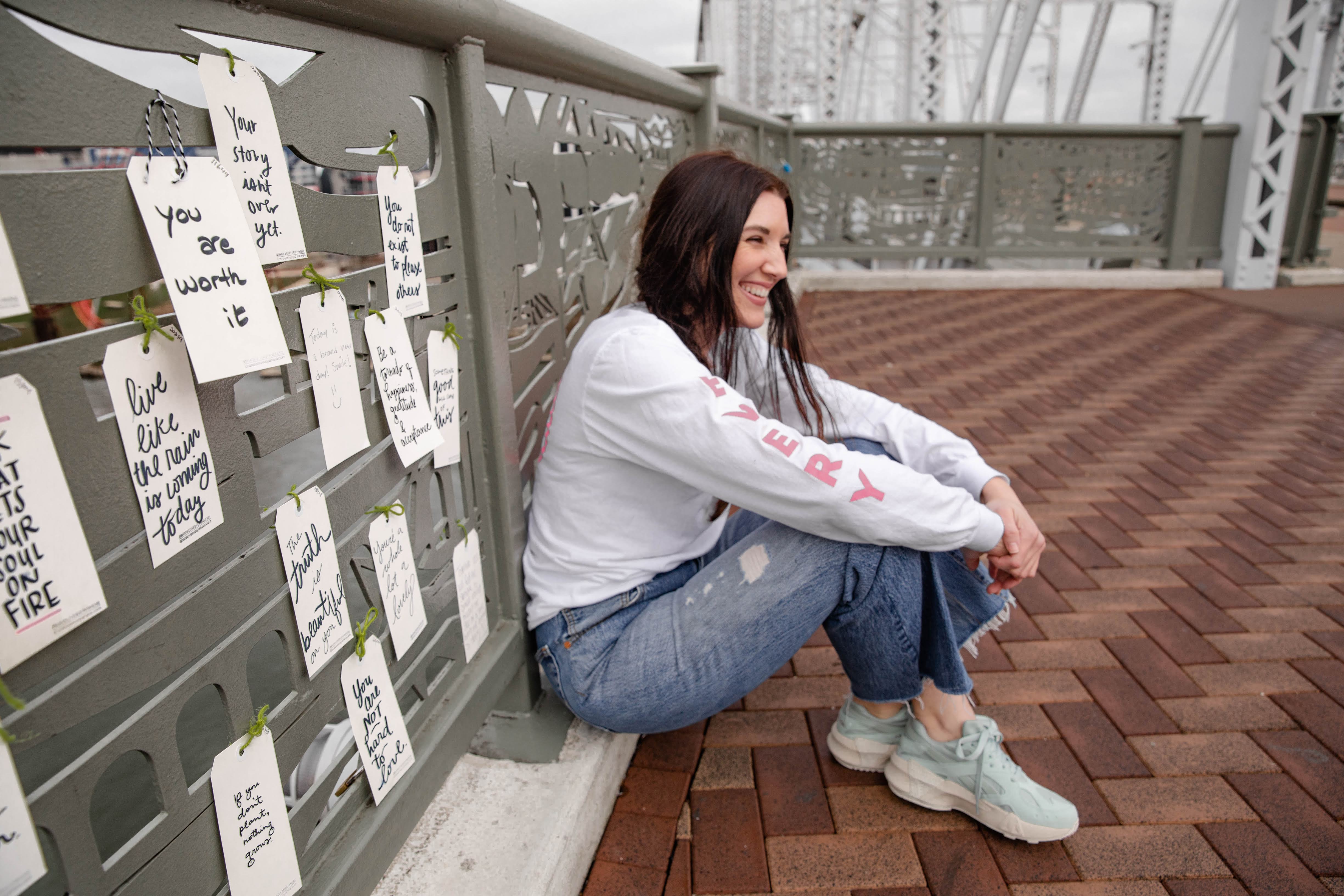 "I started out with this project with no intention of turning it into a business, it was just a passion to share love everywhere with everyone I could," says Reale.
From Reale's random of acts of kindness bloomed a beautiful business born out of a love for others and wanting to spread positivity around the world. You can order your own pack of encouragement cards and write your own notes with
#shareloveeverywhere
.
"Love Everywhere exists to create intentional acts of kindness so that people can see love where they did not before," she says.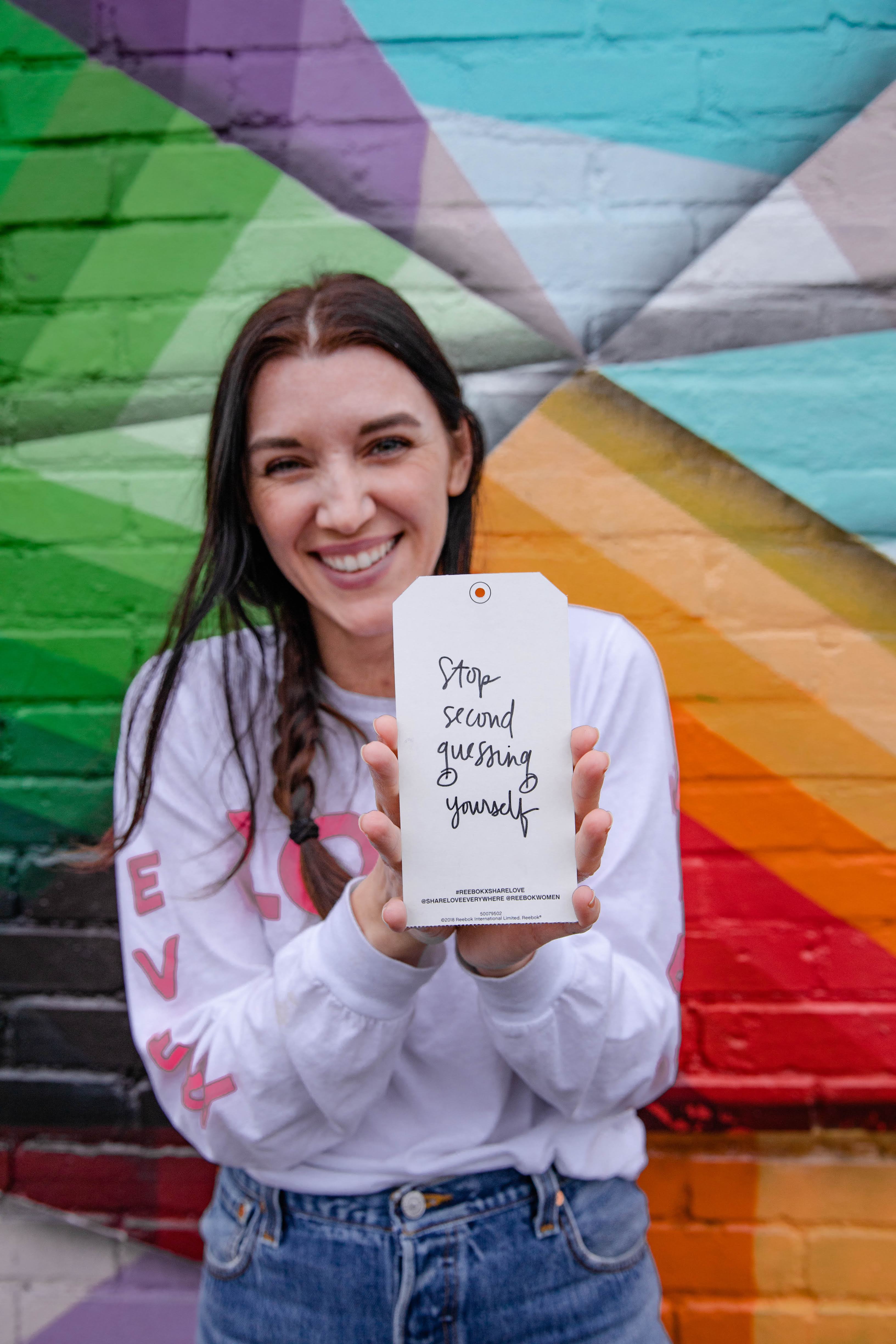 Now Love Everywhere and Reebok are giving you the opportunity to join the movement. They've teamed up to include blank encouragement cards in a
select assortment of Aztrek sneaker
boxes for you to fill out and spread your own random acts of kindness and joy.
Reale says the response she received in the very beginning was enough to know she had to continue with the project.
"Our first Love Everywhere card said "Perfect is you being exactly who you are." I had designed a handful of postcards and had them printed so I could leave them around town with a few of my good friends. I knew I was onto something when people who had found our cards sent me email messages sharing what their discovery had meant to them. The overall theme of their messages were, "Thank you, this totally brightened my whole day!" These are still my all time favorite emails to receive!"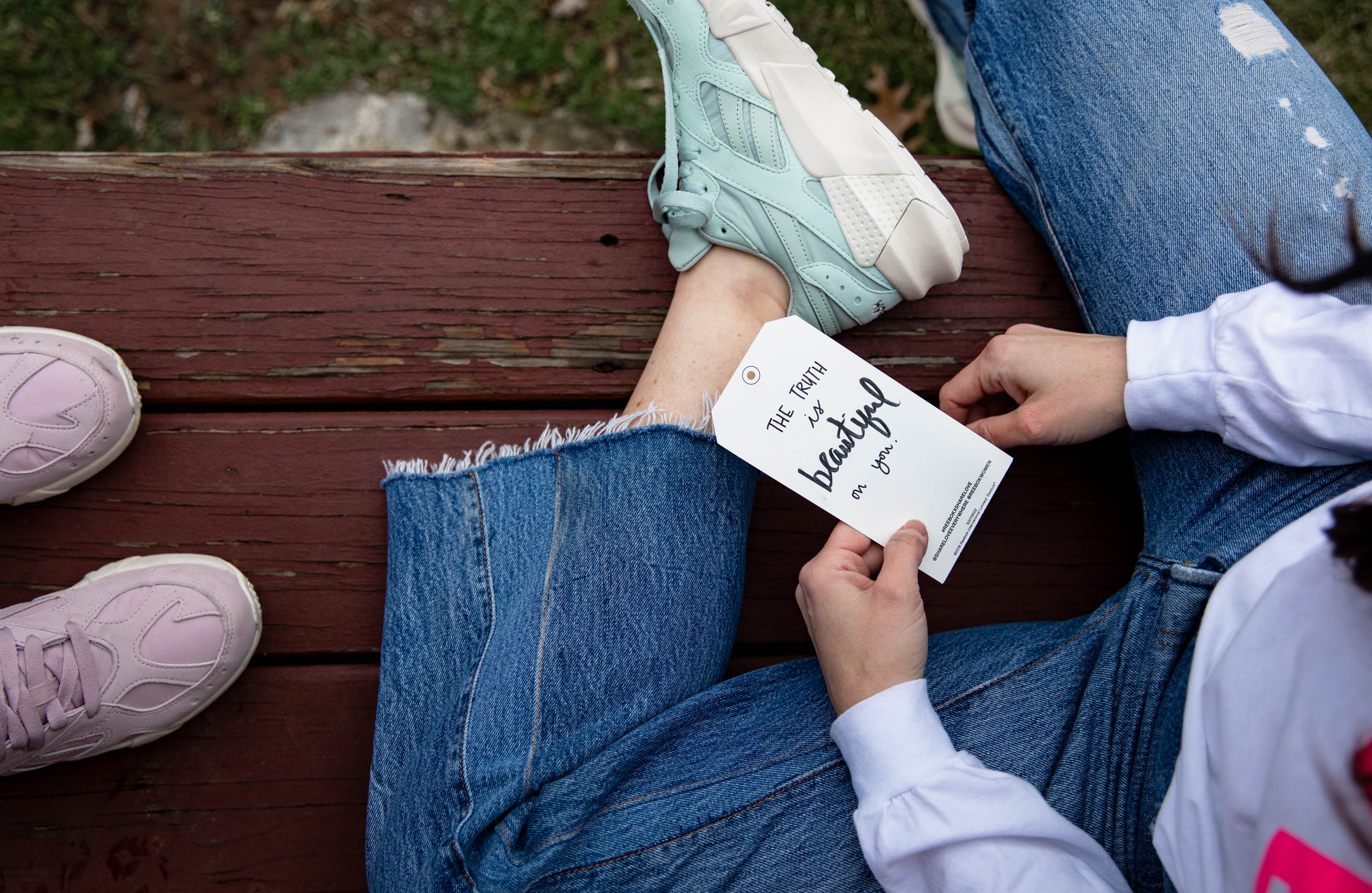 Not only is Love Everywhere spreading love and kindness it's also specifically empowering comradery among women. As woman starting a new business, Reale says it's been so great to see that her work has encouraged women to promote and support one another.
"It has been one of the greatest honors for me to help facilitate women encouraging other women. There's nothing more annoying to me than the "mean girl" stereotype that people believe about women. The truth is that when women stand together and help each other, we can turn the whole world upside down and make true magic. Love Everywhere has been a part of women encouraging other women in a seemingly small way, but as with any small act of kindness, the love is magnified beyond just one simple kind word and starts a ripple effect of good deeds and new friendships."
For Reale, realizing the impact that kind words can have on someone is life changing and it doesn't take a lot. Just a note card and a pen.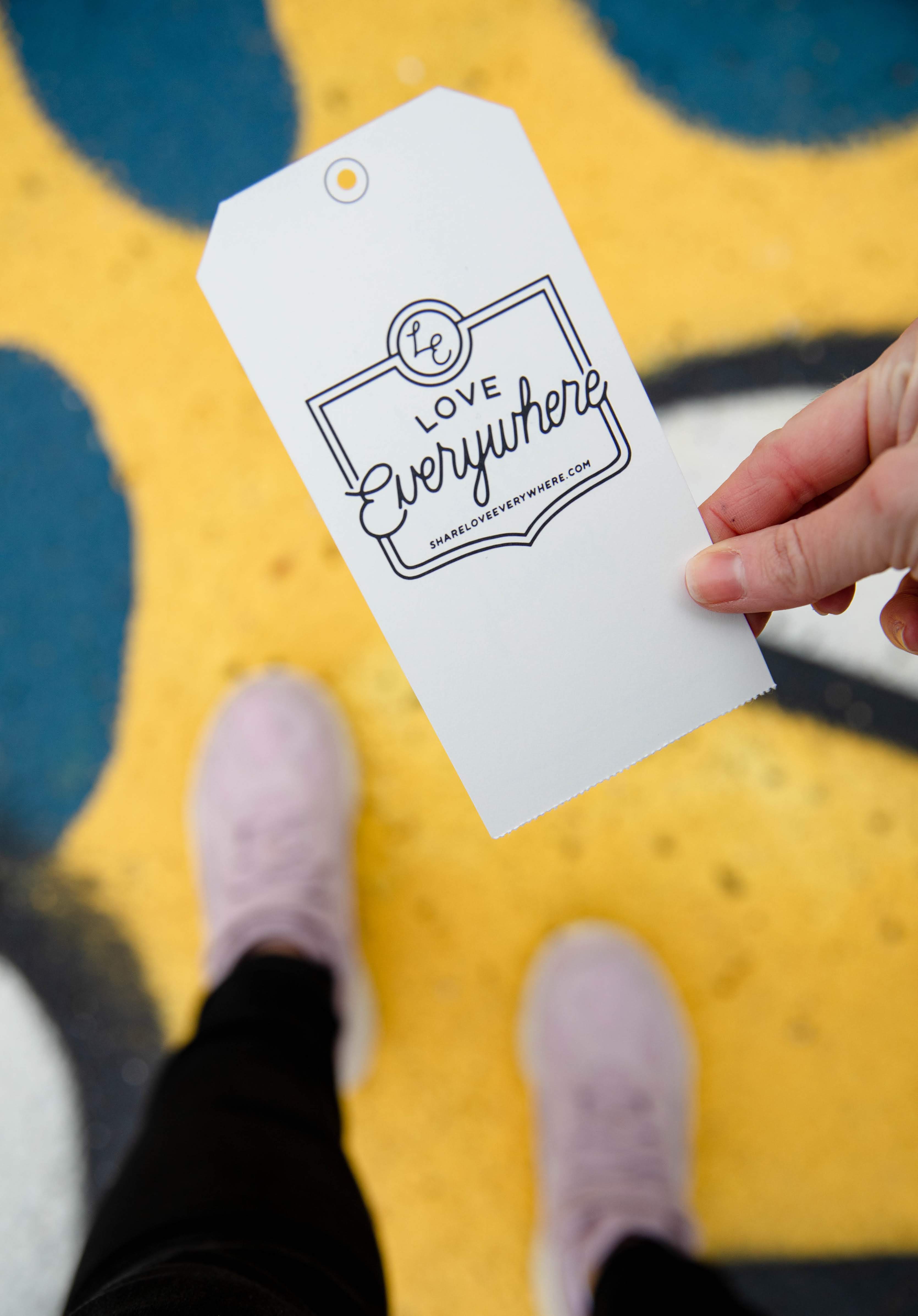 "Most recently, a woman in Santa Barbara, California recently found one of our cards and said, 'This stopped me in my tracks. I've had an incredibly tough year with my career, which I care about greatly. I made a big decision today about a new path that I am embarking upon. I happened to see this minutes after I'd made that exciting and happy decision. Wow!'
These are the sorts of serendipitous discoveries that give me chills! Not only was this woman encouraged in her recent decision to leap into her future, but it was almost like this card was meant for her, and I love that about what I do."
To check out the Aztrek x Love Everywhere sneakers
click here
.
More information on Love Everywhere:
Anyone can join the mission to #shareloveeverywhere simply by visiting the
Love Everywhere site
. All orders come with a free blank package of the signature Love Everywhere cards. Once you receive your cards, we encourage everyone to write their own message of kindness and leave it hidden in plain sight for a stranger to discover later. Some people have written inspirational quotes or messages that they needed on a hard day. As long as it's uplifting and comes from the heart, the magic of kindness will follow!