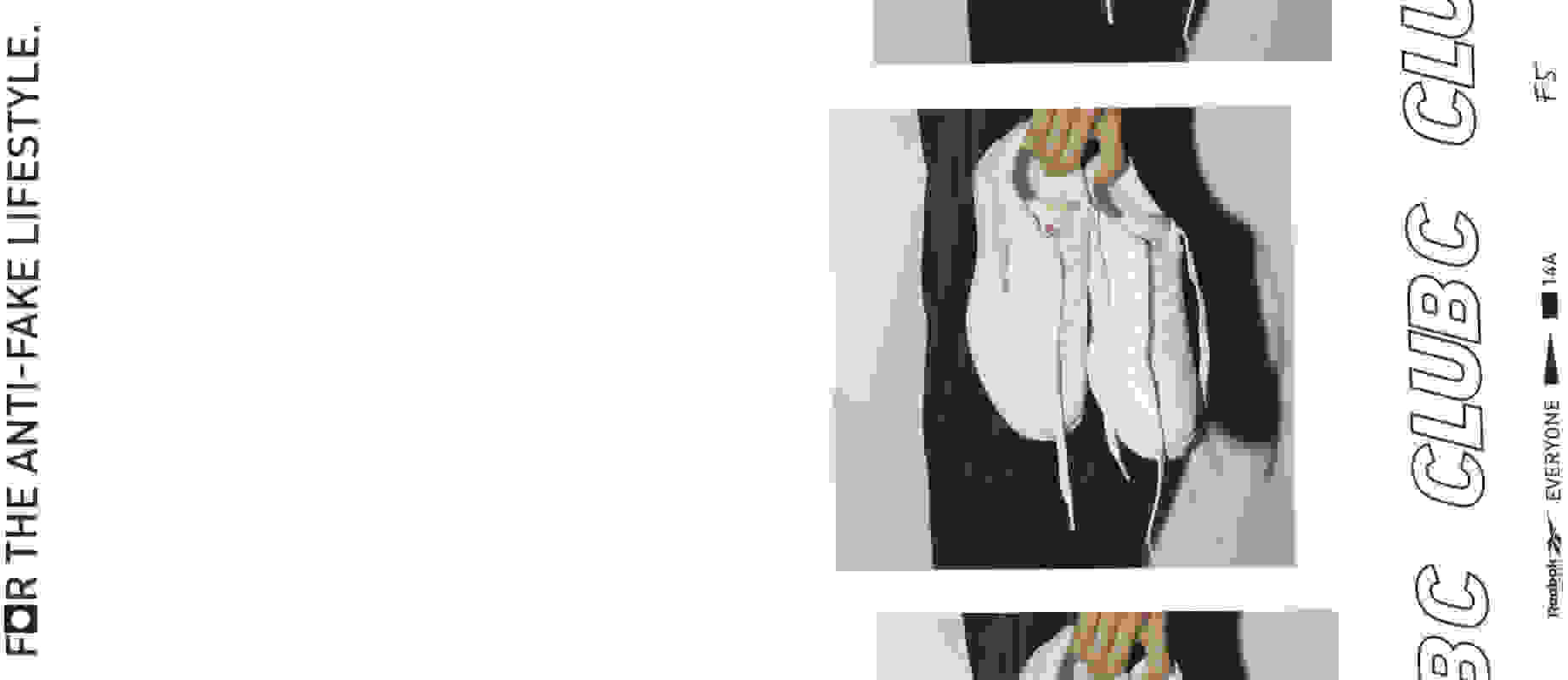 The Trending '80s Tennis Shoes You Need In Your Closet
The Reebok Classic Club C kicked off the white sneaker trend back in the '80s and continues to set the tone today.
The History of This '80s Vintage Shoe
It was predicted very early on that this silhouette was going to be something special. According to the Reebok Archive, back in 1985 the Revised Revenge, a shoe that would later become the Club C as we know it today, had over 10,000 preorders banked. That is some SERIOUS love for an 80s tennis shoe that hadn't even been released yet.
The Club C came to be through the evolution of four tennis shoes that Reebok released in the late '80s and early '90s, mostly in the UK to start. According to the Reebok Archive those silhouettes included the Revenge Plus, the Club Champion, the Club Classic and the Monterey.
Club Champion, 1987, Reebok Archive.
The move to Classics birthed multiple versions of the popular '80s tennis shoes, including the Club C Wide in 1994 and a Winter Special Edition Collection called the Club C SE in 2009.
Now in 2019, the Club C continues to be in high demand. As a classic, easy, white sneaker, it can be worn with anything. This '80s vintage shoe defied imitators and has remained an icon through the decades.
As an old ad from Reebok Classic's 1992 campaign "Never gets old" that included Club C once read, "Time passes. Looks change. Fads die. But some things never get old."
The Many Versions of Club C
So now that you're caught up on the heritage of how our '80s tennis shoe rose to the top, we've done an inventory check and here are some of the top models that are available today and remain our top picks.
If you want a tiny pop of color, this is the pair you're looking for. The '80s tennis shoe theme still comes through, but the window box has a few color options that have been added to the all-white model. You can choose from navy, green, red, just a subtle nuance to give you something to match with.
A full gum bottom could also be the way to go. This version of the '80s tennis shoe separates itself from the pack with a throwback gum rubber outsole. It gives you better traction and the EVA midsole absorbs shock as you step. These could be the everyday pair you're looking for.
How to Style 80s Tennis Shoes
As the retro sneaker trend continues to reign supreme and white sneakers retain their spot at the top, Club C remains a go-to classic. But there are some guidelines on best ways to wear and style these 80s tennis shoes.
You have an option when you buy classic sneakers like the Club C. You can either use them as the final element to your wardrobe, something to add on or you can create your entire look around them. If you ask us, these '80s tennis shoes deserve their own spot to shine but that's the beauty of them. You can mix and match and either way it always works.
No matter what version of Club C you get, you always need to keep your sneakers fresh. While they may be '80s vintage shoes they still deserve to be taken care of so keep them clean and sparkling and stay on top of when it's time to break in a new pair entirely. Your wardrobe will thank you for it.
While you have many options when it comes to buying the right pair of white sneakers you chose the Club C. A sneaker with such a strong heritage that is incomparable to those of its day. These '80s tennis shoes aren't just trending now, they were trending over 30 years ago. For a sneaker to have that kind of shelf life (an endless one) is pretty cool and makes them unique. They're iconic and you should applaud your taste by wearing them in your own unique way.