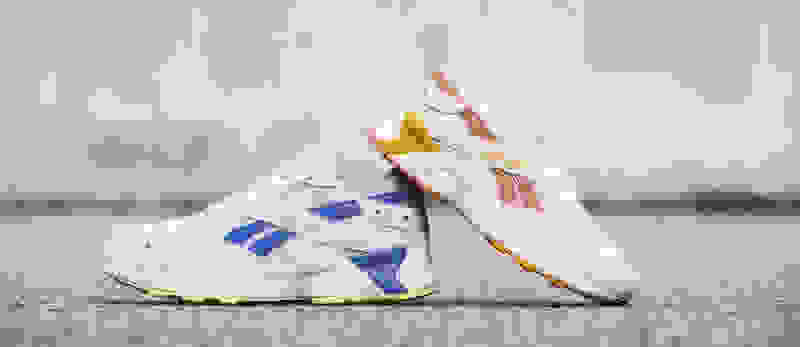 These Are The Chunky Dad Shoes You've Been Looking For
Reebok Classic's Aztrek sneaker has a 90s heritage, style and comfort that will have you adding these dad sneakers to your rotation in no time.
The Aztrek, while considered a dad sneaker, will also take you back to a place when overalls, bucket hats and chokers were all the rage in the '90s…just like they are again now. All of these iconic items from the '90s have had a resurgence and the Aztrek is taking its rightful place as the quintessential dad sneakers of the moment.
A Brief History of These Dad Sneakers
Back in 1993 the Aztrek was an ahead-of-its-time running sneaker that combined functionality with unique innovative design, and hexalite technology. The designer of the sneaker, former soccer player turned footwear designer Christian Tresser, brought a new creative perspective as a rookie. When coming up with the design, he says he just went with his gut, did a simple sketch and the rest is just history.
"I didn't have a lot of shoemaking knowledge, and I think the beauty in that was that I wasn't hindered by the known boundaries. Sometimes there's a freshness in that. There's a newness, and that's what's really cool about having somebody come in who hasn't been tainted by constraints."
Tresser knew that he wanted to bring something unique to the table that no one else was doing. Sneakers in the '90s were just starting to take on new and innovative angles and Tresser was going to set his design apart from the rest.
"I didn't know what I was doing, but I knew that I wanted to have this different look and to connect things that were traditionally separate pieces," he says.
"I was looking at this asymmetrical idea, just trying different things. I guess I shouldn't say that I didn't know what I was doing; I was being intuitive and trying to figure out where I could go with footwear design."
Little did Tresser know that decades later, his chunky sneakers would be shifted from the running track to the streets, keeping their functionality but considered the stylish dad sneakers that are trending on runways and in magazines.
The attitude of the '90s, that last real era of true individuality before social media and the internet took off, is engrained in the Aztrek's design and its revival confirms its timelessness. While it's having its dad sneaker moment now, it's a sneaker that will continue to have an impact on style and innovative footwear moving forward.
90s Dad Sneaker Selection
The Aztrek comes in a ton of different colors so there is definitely a version for everyone. We understand it came be a very careful selection process when deciding on a new sneaker. So before you get overwhelmed by all the choices… don't. We've already selected our top dad sneaker picks so you don't have to. From celebrity collabs to all white and bright and bold, take your pick.
The OG Aztrek. This is a pair for the collector, the sneakerhead, someone who truly appreciates that this is one of the original colorways this dad sneaker was released in. You're basically wearing a shoe lifted right out of the archive. It also comes in a pink and navy, another original colorway straight from the archive.
Runway enthusiasts rejoice. This version of the Aztrek are brought to you by a collaboration with supermodel Gigi Hadid. These chunky sneakers are the perfect 90s sneakers with a flair.
*There is also an Aztrek Double version in this collection to give you an added boost!
Neon lovers, this is for you. With bright green and blue hues these chunky dad shoes scream vintage 90s sneakers. The colors are bright and were used in some of the original silhouettes and gives it more of a throwback vibe.
Worn by rapper Cardi B, you know these dad sneakers are trendy. The simple yet bold orange and white coloring gives it just enough to be a sneaker that stands out with any outfit.
You can't go wrong with red, white and blue. These are a great middle ground with just enough color to catch your eye and have people noticing your kicks.
A classic. You want the all-white Aztrek if you're looking to just keep it fresh and simple. It definitely gives off that chunky shoe, dad sneaker—orthotic vibe double time but we're digging it.
A bit of a bolder and brighter dad sneaker if you're really looking to make a statement. The pale pink and pops of highlighter orange and yellow are iconic to the 90s.