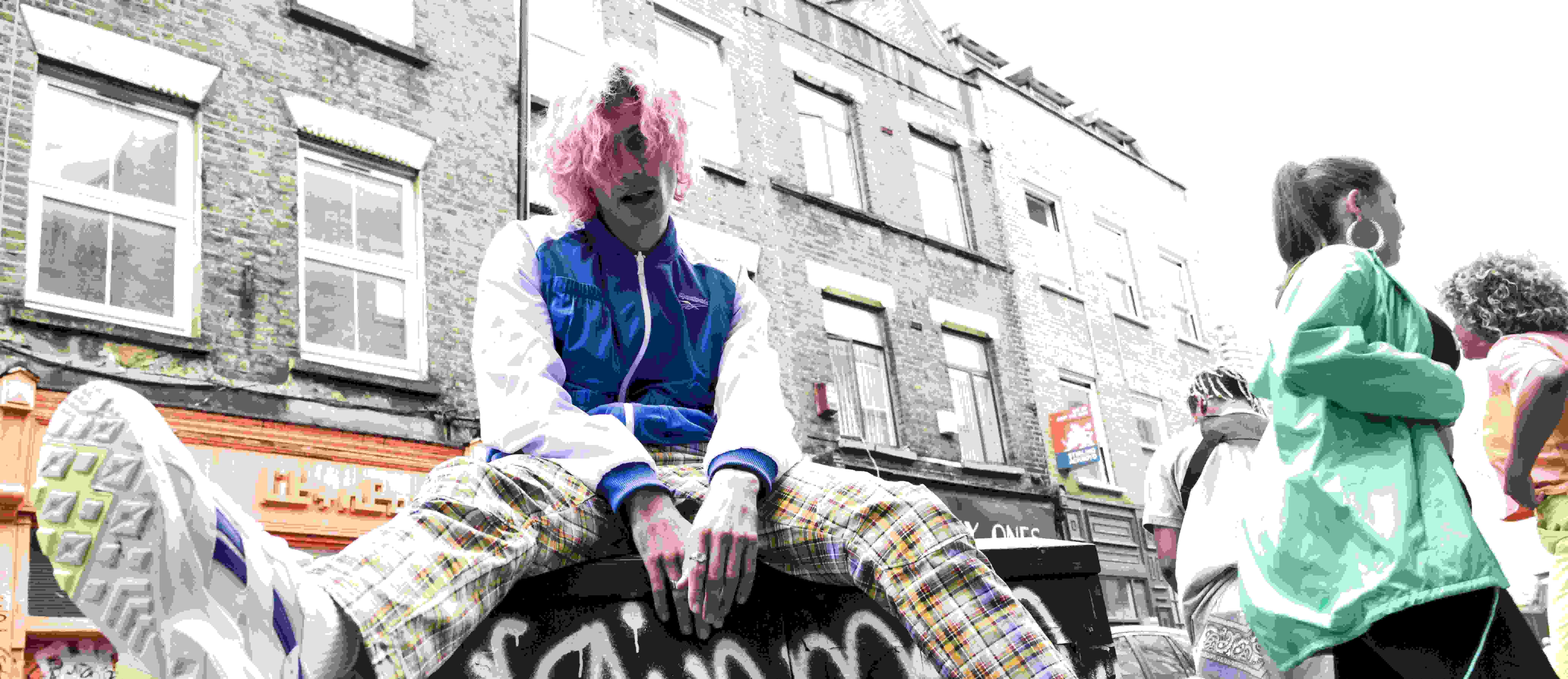 How to Style 90s Windbreakers & Track Jackets
Check out how Reebok's legacy in track jackets started in the 90s, and all the ways you can wear them today.
It's true that '90s track jackets and windbreakers have been making a comeback in recent years. A quick Google search will show you that "How to style" articles about 90s track jackets started popping back up all the way back in 2013. But the trend didn't seem to have a full resurgence until around 2016 or so when track jackets were starting to be seen on runways and on the streets. Most recently, celebrities have been strategically wearing track jackets to dress up or dress down their looks.
From athletes in the '60s and '70s wearing track jackets for games on TV as part of their uniforms to the '80s and '90s where hip hop came on the scene, track jackets have played a role in style for decades.
Reebok Archive: Reebok Fall Men's Apparel Catalog, 1997
According to the Reebok Archive, Reebok didn't release a jacket featuring the iconic vector design until 1993, but by the time they were released, Reebok had already spent years playing around with color blocking and the iconic designs you associate with the trend.
The most well-known '90s track jacket of them all were Reebok's "vector jackets" featuring one of the most legendary and recognizable sportswear logos of the '90s—the Reebok vector. Dubbed as "logo jackets" at the time, Reebok took creative freedom through the mid-90s playing with vector logo placement from across the upper body to putting it on both sleeves. In 1999 the word vector was officially added to the name.
It would be five years until jackets with this main design element popped back up on the scene again and came back off and on again throughout the years as a part of Reebok's line. Beyond track jackets, windbreakers were also skyrocketing in the '90s and added to the line, another light, easy jacket that could be paired with anything and could come in all sorts of colors.
Reebok Archive: Reebok Fall Men's Apparel Catalog, 1998
As the athleisure trend proves it's here to stay these days, '90s track jackets and windbreakers are back to the top of the list. But it's how you wear them that matters most, since let's face it, some things have in fact changed since the '90s. Here are our best tips.
Add a pop of color
Since '90s track jackets now come in a variety of colors, you can use the jacket as your accent piece. You can either choose a bold bright red or a yellow and really make a statement with your look. Or you can go simple with a more neutral black or blue to keep the look sporty but still classic.
Layer it over everything
Given that these '90s jackets are so light and breathable, you can use them as your final layer on top of a sweater, a tank, and a tee-shirt combination. You can also tie it around your waist if you're trying to keep in line with that '90s theme, because yes, this look is back in a big way.
Dress it up
The typical reason to wear a '90s track jacket would be to make any outfit look a little bit sportier, but there is a way to pair the jacket with dressier pieces to add a unique element. Think a casual coffee meeting where you could pair it with a skirt and white sneakers, or even wearing it as outerwear over a blazer. We see track jackets being used in this way even more as the trend continues to evolve.
If you're not convinced yet that there are '90s track jackets that need to be added to your wardrobe, check out our curated list of the versions we have so you can find your favorite.
This OG track has been brought straight out of the vault and is almost identical to the ones from back in the day. It's also been worn by celebrity Cardi B and is one of the more popular colors. The yellow is bright, nostalgic and unique. It pairs great with light jeans and a classic sneaker. It also has Vector Track Pants to match if you're feeling a full tracksuit!
It also comes in a blue that you can wear with basically anything and can totally work between seasons.
If you're really looking for that '90s vibe, look no further. This blue, purple and white version of the vector track jacket gives it a more color blocking style that continues to be popular today.
Need we say more? That's right, the international supermodel herself has put her signature style and stamp of approval on this unique take on a '90s track jacket. Hadid's collection includes a cropped version of a track jacket, blending sport and style into one. It features an elastic on the cuffs and hem for a snug fit to achieve that straight from the runway to street look.
Pyer Moss is the fast-rising label of New York designer Kerby Jean-Raymond. This windbreaker is a half-zip, oversize fit with a retro Vector logo in a mosaic-like print. Reebok by Pyer Moss brings the brand's activist spirit to elevated sportswear pieces.
This '90s inspired jacket was created in collaboration with streetwear brand Married to the Mob, bring an edge and new look to the design. It features luxe satin and bold details with a high stand-up collar.
This version of a '90s track jacket is all about style. Taking graphic tape details straight from the Reebok Archive and the contrasting panels on the chest make it a trendy nod to its heritage. With its relaxed fit and comfy appeal, we love to pair this with the matching Classics Track Pants for a full look.
Another straight from the Reebok Archives, this '90s track jacket is full on retro. Between the navy and pale pink color palette and the fit, this jacket is ready to be worn with denim—or just about anything.
This one will catch people's attention. The bright green and color blocking detail on this '90s track jacket pairs really well with joggers for a cool athleisure look. This jacket is a slimmer fit and works really well for a layered outfit.
This '90s windbreaker is a little different than the rest with a snap-button closure instead of the classic zip up. With a bold logo on the sleeve, you will definitely make a statement. The option to cinch the hem for a secure fit is key you can keep it loose or slouchy. This version of a '90s windbreaker is unique and can definitely be worn on dressier days.
A lighter weight jacket, this windbreaker's bright neon lime color would definitely fit in back in the '90s. It has a funnel neckline for extra coverage from weather and a vent down the back for breathability. Not to mention the metallic graphic on the back and drawcord on the waist makes it an easy choice if you're traveling.
Clean, fresh and classic. This white '90s windbreaker can literally be paired with anything. The log on the back gives it an old school vibe with a mesh lining for breathability. Pair this jacket with a pair of brand-new white kicks and your look will be a show stopper.