Here are the Best Workout Shirts for Men and Women
We've rounded up the best shirts so that you can feel cool and comfortable next time you workout.
When you're working up a sweat in the gym it's an achievement; trust us we're proud of the sweat we earn. But it's still nice to feel good and somewhat comfortable while you're hitting the gym. That's where having a good workout shirt becomes key. No matter how you're getting your workout in, there's a tank, a top or a shirt for just about everything. That's why we've come up with a comprehensive guide of the best workout shirts for men and women so you can stay cool, comfortable and confident during your next workout.
To make it easy for you, we broke it down into which top is best for which type of workout. You need a shirt that will fit the type of exercise you do. If you're a runner, you likely look for different features than someone doing CrossFit. We broke down all of the new features and technologies on these shirts to determine which one is best for you.
The best workout tops must be strong enough to handle your movements, yet also soft and comfortable enough to get you through your training. Thanks to newly engineered fabrics designed to help circulate air and keep things breathable, you don't have to stress when getting dressed for the gym. These tank tops and t-shirts are so simple, you'll be out the door in no time. The modern style elements and tiny details on these tops will keep you looking on trend without being over the top.
Let's be honest, half the battle of getting to the gym can sometimes be deciding on what to wear. When you feel confident with your outfit choice, it shows in the way you carry yourself. The gym can be an intimidating place, and feeling confident in your activewear selection can be one small way to alleviate the anxiety that can come with going. These workout tops will keep you feeling your best so that you can also perform at your best. You'll be able to find which one is best for you in our easy-to-follow guide.
Use this guide to figure out which shirt you need for your next training session. Luckily, many of these tops come in a range of shades. If you like muted, neutral colors, there are tops in blacks and grays. If you have more of a bright and bubbly fashion sense, make sure to show it off in bright blues, pinks, and green hues. There is something for everyone thanks to the range of styles in these workout tops. Check it out below to see which workout top is best for your gym style and training.
This women's tank is best for those who typically break a sweat while working out. The fabric of this top is perforated throughout, so you will stay cool when the intensity of your workout increases. This tank top also has an asymmetrical hem that adds a fun and stylish detail without compromising on comfort. The perfect medium between a tank top and a t-shirt, this shirt offers the best of both worlds in terms of coverage level. Rock this tank top during your next spin class to ensure you stay comfortable even when things get sweaty. You can keep it simple in this easy, breezy top that keeps you looking great and feeling even better. This women's tank is airy and light, and it will help you endure high-intensity classes and cardio sessions alike.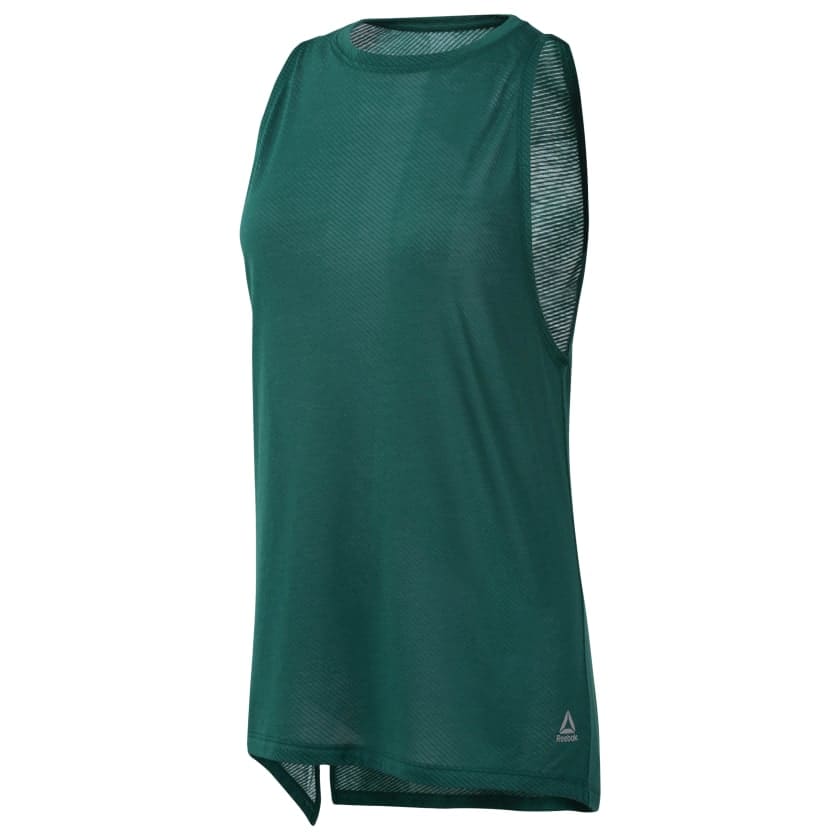 The Women's SmartVent Tee will allow you to rise to the challenge of your next workout and hit that PR. This shirt has been constructed with a sweat-wicking, fast-drying design. It's a versatile training tee that will circulate airflow as you work out thanks to the breathable fabric. SmartVent technology is made up of "smart yarn" which wicks sweat and helps with ventilation. You'll get even more breathability from the targeted mesh details throughout the shirt. Not only are these details super cute, but they also double as functional. The slightly longer back hem provides extra coverage where you want it. The Women's SmartVent Tee will get you through your more rigorous training workouts. The top is slim fitting, so you don't have to worry about anything being too loose as you work out. The entire t-shirt has been created with an allover embossing detail on the front. Another fun detail of this top is the side-split drop tail hem. The back of the top is comprised of a breathable mesh panel that is both practical and cute. Designed for your next training session, the Women's SmartVent Tee is both stylish and durable.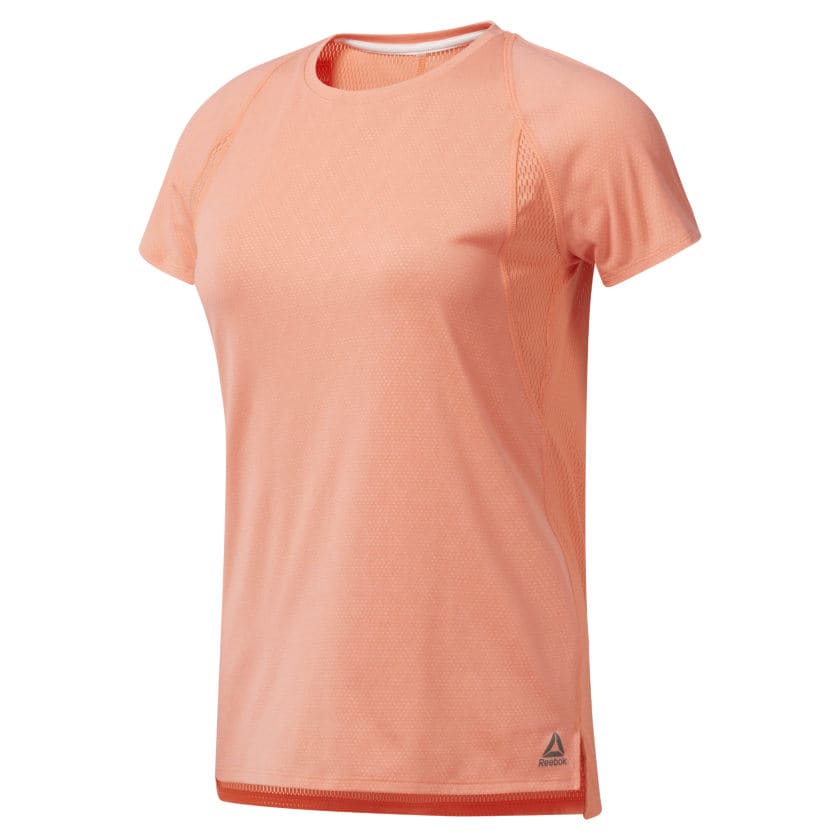 Power cleans, pushups, and pulldowns have nothing on the ACTIVCHILL Vent Tank Top. The coverage of this top will keep you comfortable throughout your more complex movements at the gym. This women's tank top will give you complete mobility during your training sessions. The top is constructed with ACTIVCHILL material, which increases airflow due to the innovative fabric. So you'll be staying cool when things heat up with the breathable fabric and the mesh details on the back of the top provide even more ventilation. This combination of ACTIVCHILL technologies is also lightweight, so you won't feel weighed down in any way. There's nothing more frustrating than completely sweating through your shirt when your time at the gym gets hard. Speedwick fabric wicks sweat to help you stay cool and dry. This fabric alleviates any issues of sweating so that you stay focused throughout your workout. The racerback style of this top is modern and trendy. This tank also comes in a variety of bright and neutral hues, so you can decide which one fits your personal style best! The ACTIVCHILL Vent Tank Top was designed for any training workouts, from CrossFit to Bootcamp and anything in between. Wear this top when you want to maximize style, comfort, and function the next time you train.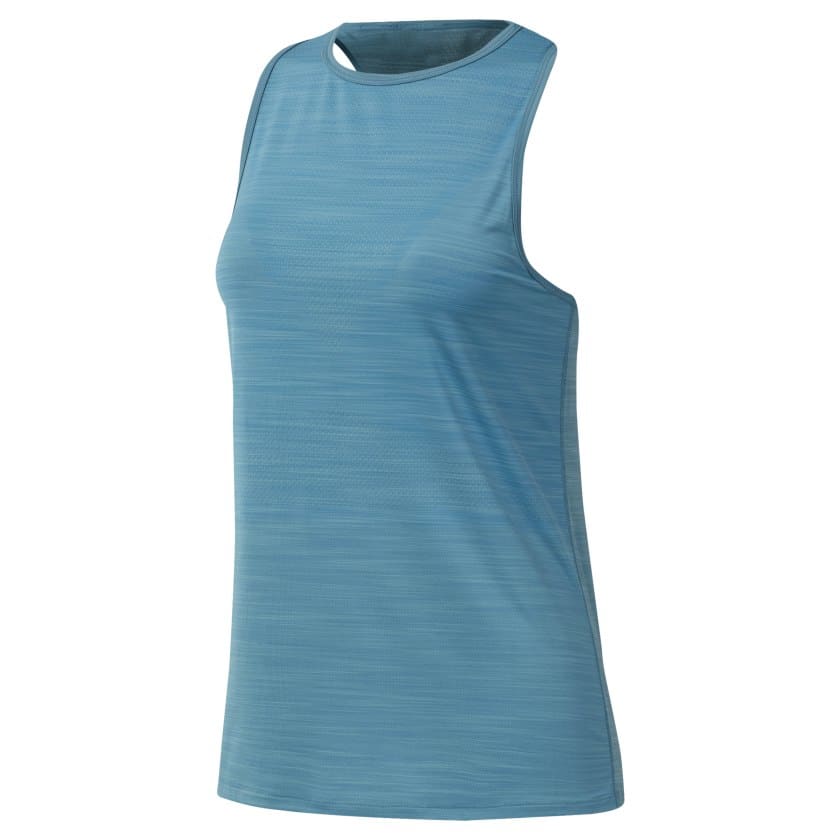 The Reebok Run Essentials Speedwick Singlet is great no matter where you run. Whether you are building up your endurance on the trail or on the treadmill, this men's running top will get you through your next run. The singlet was constructed with a lightweight, stretchy fabric that allows for free and easy movement with every stride. Combine this with sweat-wicking technologies of Speedwick fabric, and you've got a tank top that keeps you comfortable and dry. The fabric will help you stay cool during your long-distance runs. Stay visible thanks to the reflective details of this top. Early morning and late-night runs have nothing on you due to these features, which offer increased visibility in low-light. The mesh panels of this singlet offer even more ventilation and breathability. Another notable feature of this shirt is its environmentally-friendly construction. This shirt has been created with recycled polyester in order to save resources and decrease emissions. So, you can feel good about wearing a shirt that is doing good for the planet. Put on the Reebok Run Essentials Speedwick Singlet to power you through your next jog!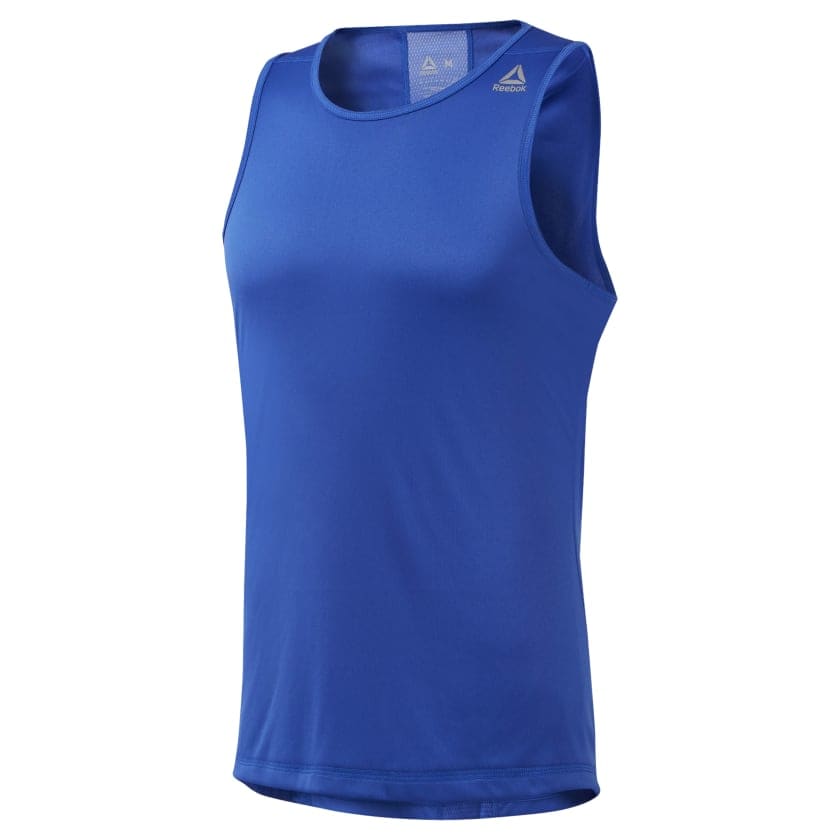 Reebok Run Essentials Speedwick Singlet, $25;
Reebok.com
The Men's Running ACTIVChill Tee offers a simpler style for devoted runners. This no-fuss style is a crewneck t-shirt that works for any man who wants to throw on their outfit and get out the door. The slim fit of this top keeps things easy. You can focus on your run thanks to the uncomplicated style of this t-shirt. Choose from bright orange and teal shades or keep it simple in grey or black. The small logo on this shirt keeps your look streamlined and classic. Plus you'll stay cool because of the shirt's ACTIVCHILL material. The Speedwick fabric offers even more breathability as well as sweat-wicking comfort. Another bonus, it can also help keep you safe on your runs because of the reflective details of the shirt. No matter the conditions, you'll have added visibility in low light. Overall, this easy to wear tee is a must-have.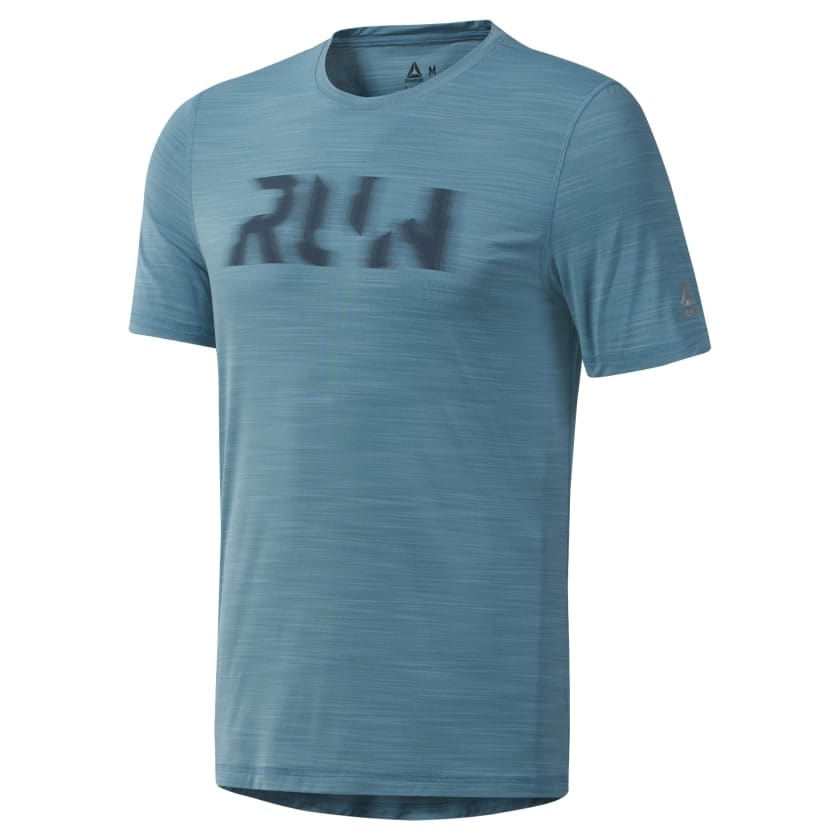 Built for your highest intensity training sessions, this men's t-shirt can take on your most rigorous workouts. The material of this shirt allows you to push through bench presses and power through chin-ups thanks to the SmartVent technology. This fabric is constructed of a yarn that wicks moisture while offering enhanced ventilation. It's strong enough to withstand your most vigorous workout, yet comfortable enough to be breathable throughout your workout. The slim cut of this shirt ensures an athletic fit. This top has been designed for your highest-intensity training workouts and can be worn during your most hardcore cardio and weight sessions.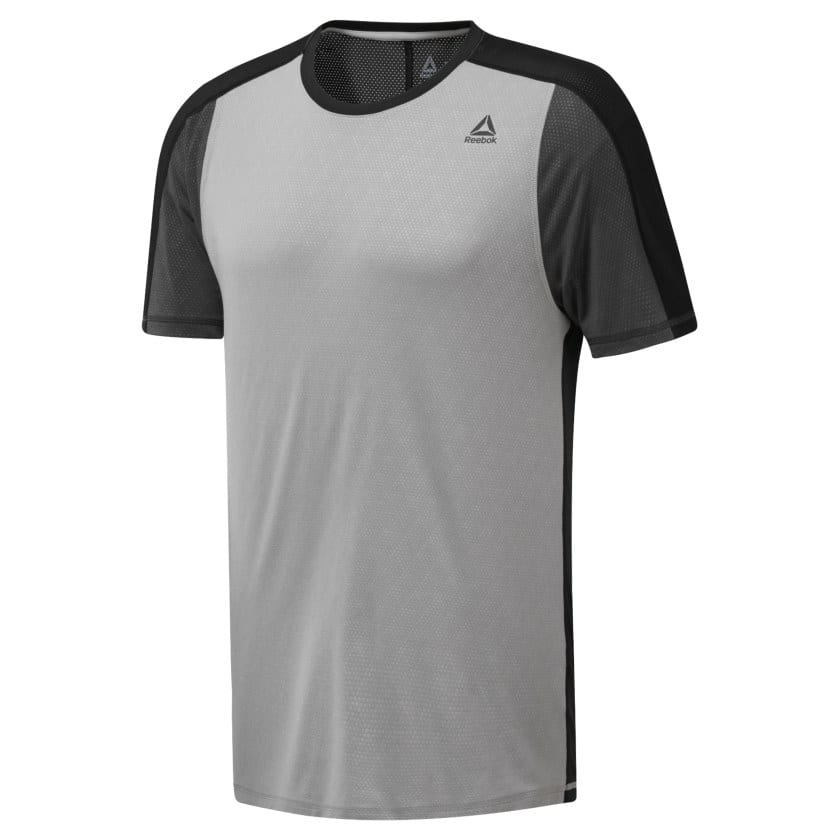 Reebok Training Smartvent Move Tee, $40;
Reebok.com
Shop Reebok's full collection of men's and women's activewear
here
.