Top Seven Sneaker Trends for Men in 2019
Upgrade to your new favorite pair of shoes and stay on trend with these bold shades and modern twists on retro classics.
While it can be fun to experiment with new styles, it's important to always maintain your individuality even when taking the plunge with a trend. It's essential to find your own style. This guide features wearable sneaker styles for men that are not only stylish and on-trend, but also happen to be functional for every day. We've made it simple with this easy-to-follow guide that will help you find the right sneaker that is trendy, and also fits your personal style. Get ready to get schooled on 2019's latest trends in men's sneakers.
Shoes are usually the first thing noticed in an outfit, so you want to make sure yours are on point and make a statement. What's better, all of these styles have been designed to keep you comfortable with added features that offer durability to get you through a long day. We narrowed it down to the seven most unique pairs of trendy men's sneakers.
Vintage-inspired sneakers are immensely popular because they allow for foolproof, classic style. With some of these men's styles emerging directly from the '80s and '90s, you can pick which decade speaks to you. We revamped some of their iconic men's shoes and made them wearable for today with added features and unique details. We've put together all of the best parts of these timeless styles and incorporated some new, modern takes. All of these options are easy to throw on and will go with any outfit. Get ready to feel nostalgic when you see the retro vibes of these men's sneakers. The coolest part? All of these sneakers have a rich history and evolution that has gotten them to their present-day. Whether they were created for running or tennis, all of these shoes have an individual story that defines their heritage.
These sneakers put new twists on heritage styles, by adding fun details like color-blocking and gum soles. Is your style more subdued? Don't worry, we've also rounded up some simple, iconic kicks that are much more casual. Choose from bright pops of color or stay neutral with greys and more muted colorways. Whether you tend to be more toned-down with your everyday style or you go all-out with bold choices, we've got the look for you. For the minimalist, the daring, and anything in between, we're going to help you find your next go-to pair of sneakers that will be eye-catching and on-trend.
Many of these looks can be dressed up or down. You can stay casual and pair them with joggers,or take things up a notch by rocking these kicks with jeans and dress pants. The timeless appeal of these silhouettes allows for versatility. We've rounded up seven of the best sneakers for men that are trendy and can be worn with just about anything. What's not to love? Check out the detailed guide to this year's hottest sneaker trends for men below!
For the Bold: Bright Hues
The Classic Nylon Shoes are a tribute to the '80s. These bold, eye-catching sneakers have withstood the test of time. Finally, this beloved classic is back and better than ever. The bright hues on this vintage-inspired shoe are attention-grabbing. The deconstructed look of this sneaker keeps things edgy. Details like exposed foam on the tongue add to the rugged aesthetic. The suede overlays on this sneaker offer a contrasting plush touch. The mix of materials is a fun play on texture. These details keep this style fun and breezy, making this shoe an easy choice when getting dressed. Originally a running shoe, the Classic Nylon has become a streetwear staple. This beloved icon has become a style legacy. For any man who's not afraid to be bold in bright shades, the Classic Nylon is the retro-inspired shoe for you.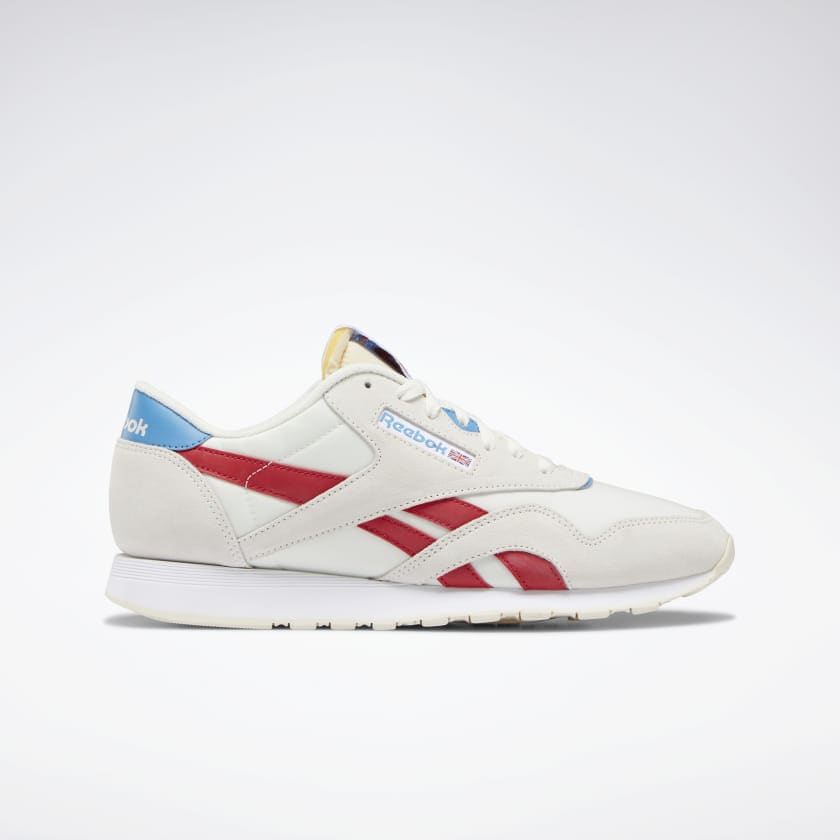 For a Retro Tennis-Feel: Vintage Vibes
The Revenge Plus shoes are the epitome of cool. Tennis style with an edge, these sneakers are a classic 80's court-style design. The look completes the vintage vibes with a commemorative hang-tag. These shoes have been constructed with soft, supple leather, which makes them feel luxurious and high-quality. Boost your style game in this street style essential. These are the ideal sneakers for the minimalist who wants to keep it casual. A sophisticated execution of timeless heritage, this is the tennis shoe your wardrobe is lacking. Throw it back to the in the Revenge Plus!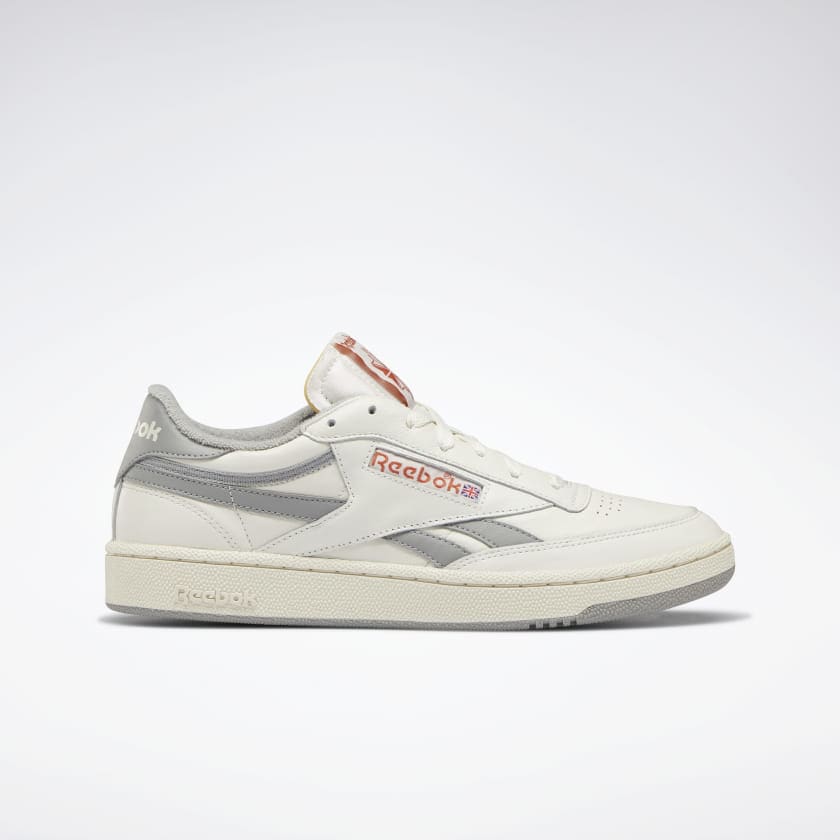 For those who are Classic with a Twist: '90s-Inspired
The Classic Leather Vector Shoes are for those who keep things classic, but aren't afraid to incorporate a bold detail. This sneaker is a twist on the original Reebok classics with its daring pops of color and the iconic vector logo. This is the perfect mix of retro and timeless with a modern spin. This sneaker is a current take of the OG Classic Leather of 1983, which was made for performance running. This sneaker pays homage to the '90s, yet keeps things fresh and relevant. This sneaker is constructed with the same all leather material as the original shoe, so you still get the same glove-like feel. The leather not only looks sleek, but also feels super soft. While the original design may have been an instant classic, this pair is sure to be an instant trendsetter. These sneakers will never go out of style thanks to the big logo and bright hues. Throw it back while keeping things stylish in the Classic Leather Vector Shoes.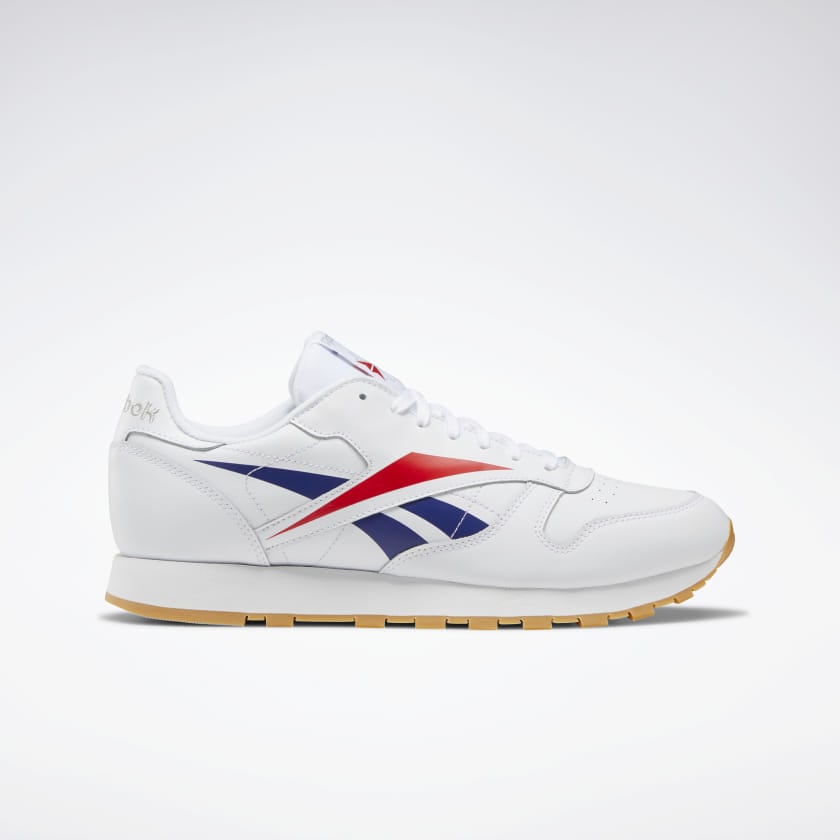 For anyone who loves a good logo: Throw It Back
The Club Classic Vector Shoes are another tennis-style shoe with a retro flair. These men's leather shoes are a '90s classic thanks to the color-pop Vector logo. Choose from black or white adorned with bright pops of color. Feeling daring? Get this pair with a gum sole to add even more of a vintage feel to your look. The crisp, bold take on a classic style will keep you getting noticed when sporting these shoes. An everyday classic, wear these kicks as a streetwear staple. The Classic Club Vector Shoes are an iconic choice for anyone who is unafraid to rock bright shades and fun logos.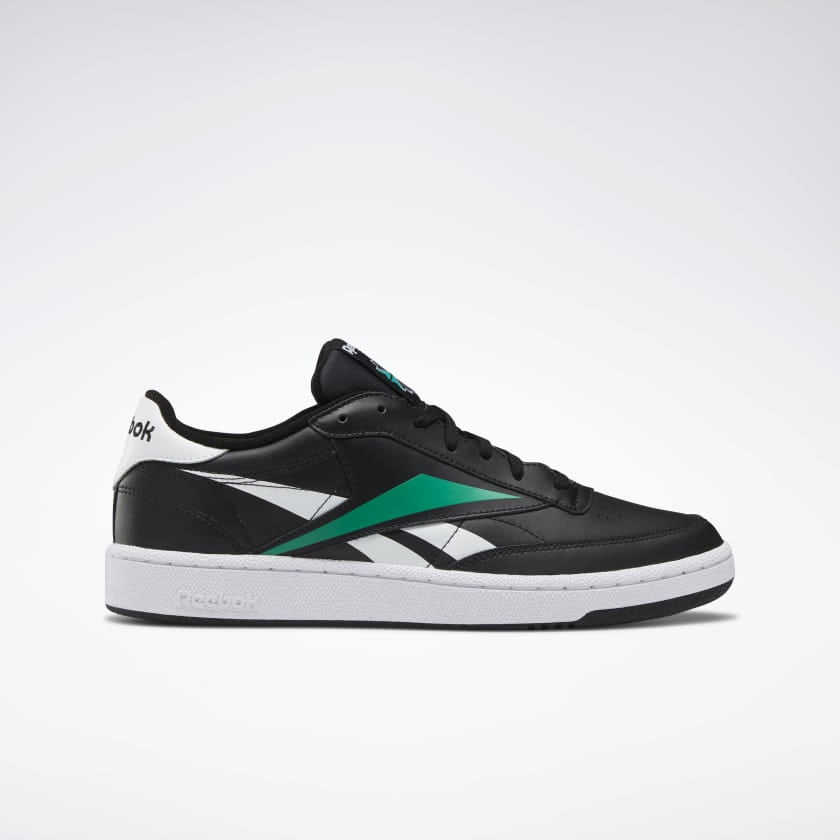 For the Fearless: Color Block
The Daytona DMX Shoes are bold and unapologetic. The chunky silhouette was a major trend of the early 2000s and has returned with a vengeance. The wild colors of these men's sneakers are designed to let you go with the flow. The curvy, aerodynamic designs mirror DMX technology. This feature cushions your foot with each step by moving air back and forth from your heel to your forefoot. So not only will you look good, but you'll also feel amazing too! The hues of these sneakers have also been inspired by the early 2000s. Whether you go with bright blues, reds, and greens or more muted teals and greys, you'll be making a statement in these sneakers. The Daytona DMX Shoes are the trendy throwback that you can rock on days when you're feeling daring.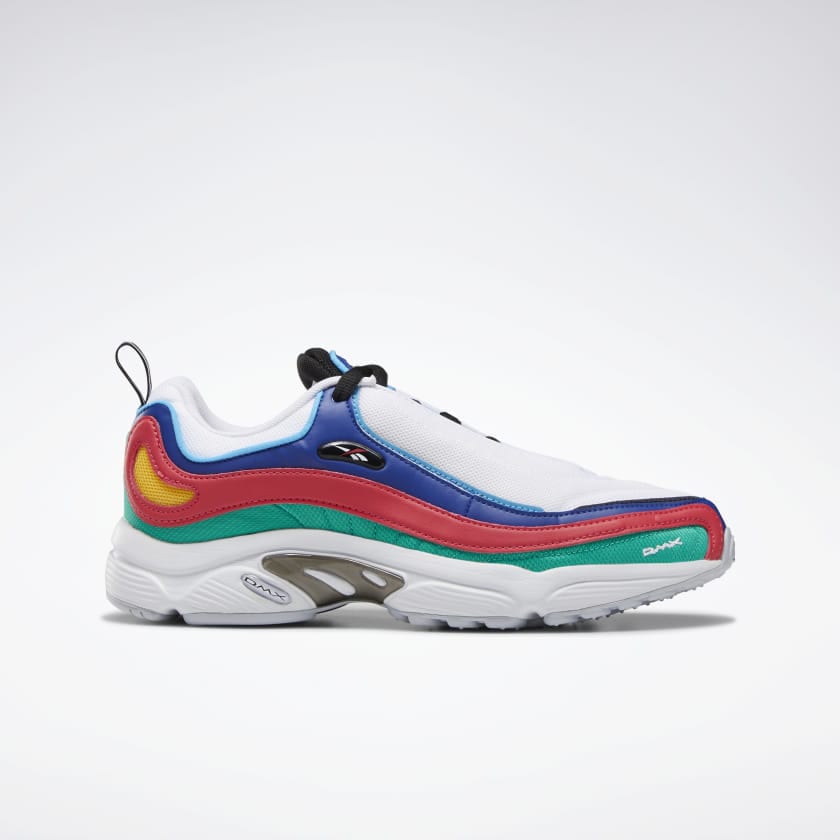 For those with Timeless Style: Old-School White
The Club C 85 is an iconic sneaker thanks to its crisp and clean silhouette. This shoe is a classic athleisure staple that is perfect for everyday wear. Not only does this shoe keep you looking polished and cool, but it's durable construction also ensures comfort. You simply cannot go wrong in the Club C 85 due to its effortless design. The soft leather construction offers support to keep you going when days get long. This style has a pop of color on the heel tab with striped detailing, which adds a trendy element to the overall aesthetic. Everyone needs a pair of go-to white sneakers as an everyday staple. The Club C 85 is a timeless silhouette for men that showcases heritage style. Always classic, never boring. Join the club in this sleek, cutting-edge sneaker.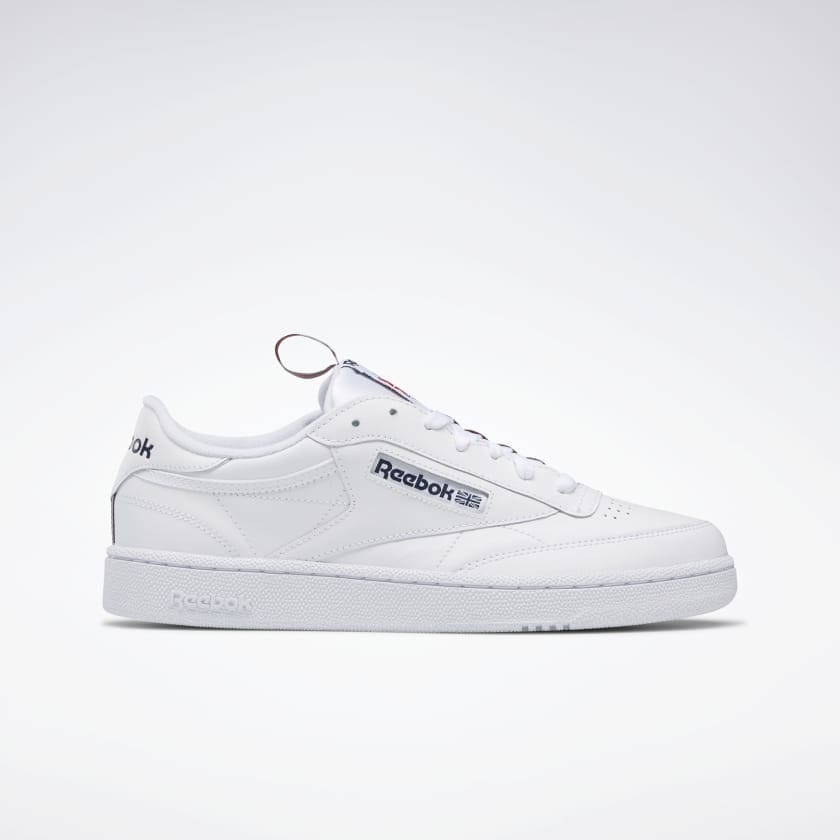 For the Understated Minimalist: Gum-Sole
The rubber sole of the Workout Plus is a subtle, yet cool addition to this sneaker that will complete any outfit. This low-key accent looks neat, but also offers durability due to the high abrasion material. The contrast of the gum sole is what makes this men's sneaker so distinctive. First released in 1987, this shoe continues to be relevant today and has evolved into a timeless style. The Workout Plus goes back to basics with its minimally styled upper. This allows the focus to stay on the H-strap, which is the detail that defines this shoe. This sneaker is constructed of soft, full grain leather that keeps things smooth and streamlined. Rocking this shoe is a no-brainer. It's simple enough to be worn every day, yet detailed enough to keep things interesting. The Workout Plus is an iconic sneaker that is on-trend thanks to its clean design and unique accents.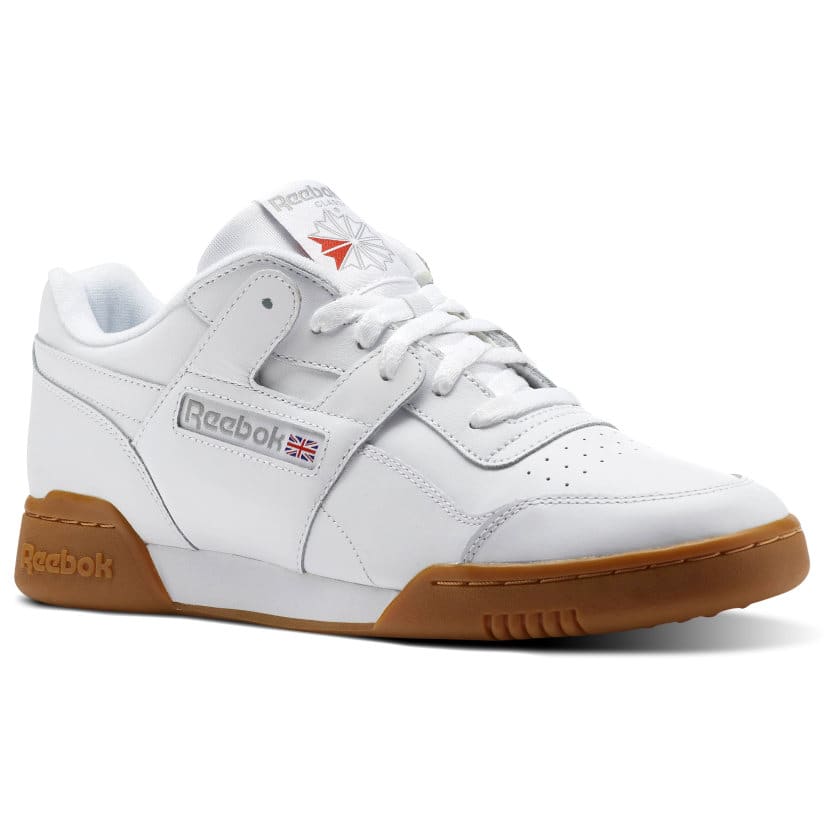 To check out the entire Reebok men's sneaker collection
click here
.