These are 2019's biggest sneaker trends for women
Whether your style is unapologetic and bold, classic and timeless, or anything in between, we've got the sneaker for you.
Trends come and go, and it can be tough to keep up with what's in and what's out at any given point. In order to help you navigate all of the current trends and determine which ones are best for your personal style, we've come up with a comprehensive guide. We've narrowed down 2019's biggest sneaker trends for women. Style is unique, so it is important to make sure that when you're rocking a trend, you still maintain your individuality. With exciting pops of color, chunky styles, and old-school throwbacks, there is something for everyone with these unique women's shoes.
These women's sneakers are so bold and eye-catching, that people will undoubtedly be stopping you on the street to find out where you got them. Another added bonus that comes with these cool kicks? You won't have to sacrifice on being comfortable. Many of these sneakers are not only trendy, but also have added features designed with the comfort of women in mind. So, you can take on your day in these styles whether you like neon-hues or you prefer to be more casual in neutrals that match with everything.
This guide would be incomplete without at least one tribute to a classic. Don't worry, we've got you covered with a couple of iconic styles that have been revamped to take on 2019. Retro blends with futuristic in these fun women's shoes. With this selection of sneaker trends for women, function meets fashion. We're breaking down the biggest trends for women in 2019 to help you select your next favorite pair of kicks. Check out the guide below to find out which sneaker trend matches your style.
For the style daredevil: Color Pop
The Reebok Aztrek Double Nu Pops Shoes are ideal for any woman who is unafraid to be bold with her style choices. This sneaker puts a fresh, modern twist on the chunky dad shoe trend. The bold pops of color keep this vintage silhouette relevant. This sneaker is the Aztrek reimagined for the future. Another exciting element of this sneaker is the platform sole. You'll have more pep in your step thanks to the added height. While this show is a tribute to '90s with the classic Aztrek style, the chunky sole and bold accent colors keep it trendy and modern. You get the best of both worlds with this blend of old-school Reebok heritage with current trends. Choose between a white or black base- both options have the added detail of pops of bright teal, purple, yellow, and coral shades. These retro tones are weaved in seamlessly to the neutral bases of the sneaker. This way the hues are eye-catching, but small enough that they don't overpower the overall aesthetic. The mixed textiles that make up the shoe offer even more texture and depth to the look. This street-style, everyday shoe will take you from one place to the next and keep you looking edgy. If you're someone who wants to show off your personality with your outfit, then this sneaker is right for you. The Reebok Aztek Double Nu is the perfect mix of classic and futuristic for the unapologetic trendsetter.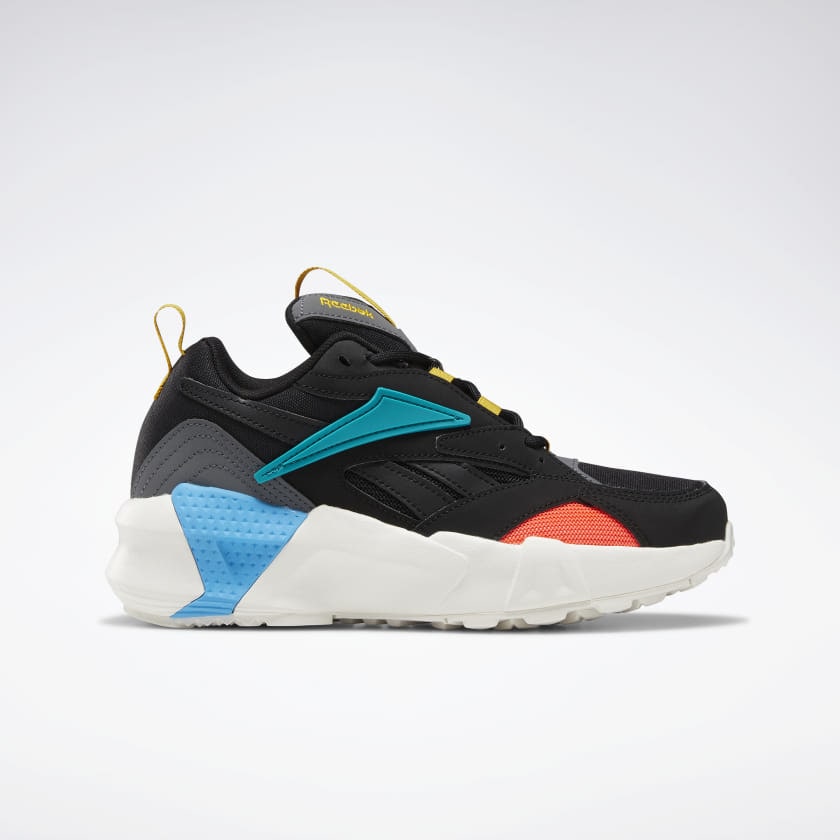 For those with timeless style: Old-School White
The Club C 85 Vintage is the no-frills, streamlined style that is effortless and goes with anything. Everyone needs a pair of simple white sneakers, and the Club C checks off all the boxes as the right choice. This shoe is ideal for a woman who wants something they can throw on without having to think too much. This foolproof look is timeless, which is why the style has made a reappearance after first coming out decades ago. Feel comfortable when you're going from place to place due to the soft leather upper, which offers full-foot support. The terry lining on the heel and top of the tongue provide you with even more comfort on your longer days. This sneaker offers you an old-school appeal that matches with everything. The subtle logo is another iconic detail with the throwback blue-hue and vintage font. The Club C 85 Vintage will be your go-to sneaker because it will match with all of your outfits. Meet your athleisure staple, as you simply can't go wrong with a white sneaker like this one. Get ready to find yourself wearing it all the time. The Club C 85 Vintage if for any women with classic style looking for clean lines and a simple silhouette.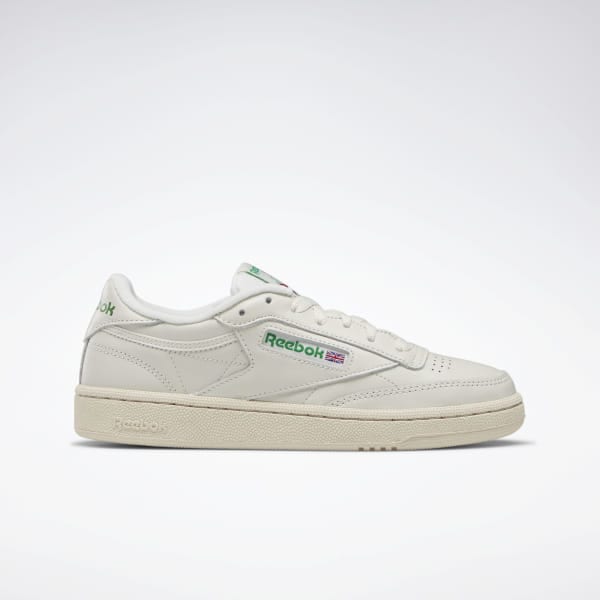 For the environmentally-conscious: Eco-chic
NPC UK Cotton and Corn is not just a classic style with an effortless silhouette. This sneaker doubles as environmentally friendly, so you can feel good about rocking it. It has been constructed completely out of material that has once grown from the ground. This shoe has a 100% cotton upper and a sole that has been made out of corn. Combine cotton and corn and you've got comfort and durability. Did we mention that this shoe looks amazing? This sneaker is the first ever 75% USDA certified bio-based shoe. This allows you to know that what you're wearing is recycled and good for the environment. Another notable feature of this shoe is the insole, which has been created with Castor Bean oil, increasing the natural content of the shoe even more. All of the materials of this shoe have been undyed, which makes for a neutral chalk colored shade that matches with anything. No detail has been left unturned-this sneaker's box is made up of 100% recycled packaging. This sneaker is great for anyone concerned about the environment that still wants to look fashion-forward. It also comes in Unisex sizing, so anybody can rock this look. The NPC UK Cotton and Corn is the perfect choice for when you need a streamlined, classic silhouette for your everyday wear with the added bonus of being a sustainable option.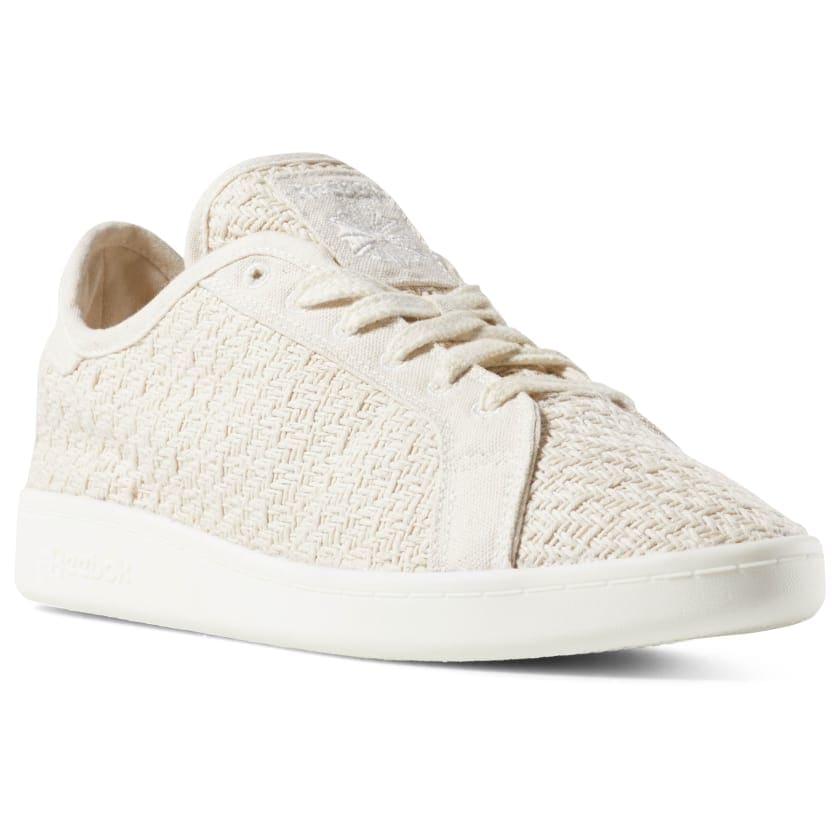 For anyone looking for a shoe that goes with everything: The Icon
The Classic Leather Shoes are the pair that will go with everything. This is a true icon, and this shoe stays on-trend year after year. Any woman looking for a simple shoe to complete and complement their look will fall in love with this style. This sneaker originated as a running shoe in the '80s and continues to set the pace today as a street icon. You'll have a soft, glove-like feel when sporting this sneaker thanks to the supple, all-leather construction. Don't worry, just because it's a classic does not mean that this shoe is boring. Fun additions like the subtle, repeating Reebok logo on the heel adds interest to your outfits. Grab this go-to pair of sneakers in Off White or Skull Grey- both are cool neutrals that match with anything. The Grey pair has the added element of a mint green sole, which is an understated pop that will draw the eye without being over-the-top. This shoe will never go out of style and continues to stay relevant. The Classic Leather Shoes are wardrobe essentials that have stood the test of time and remain on-trend today.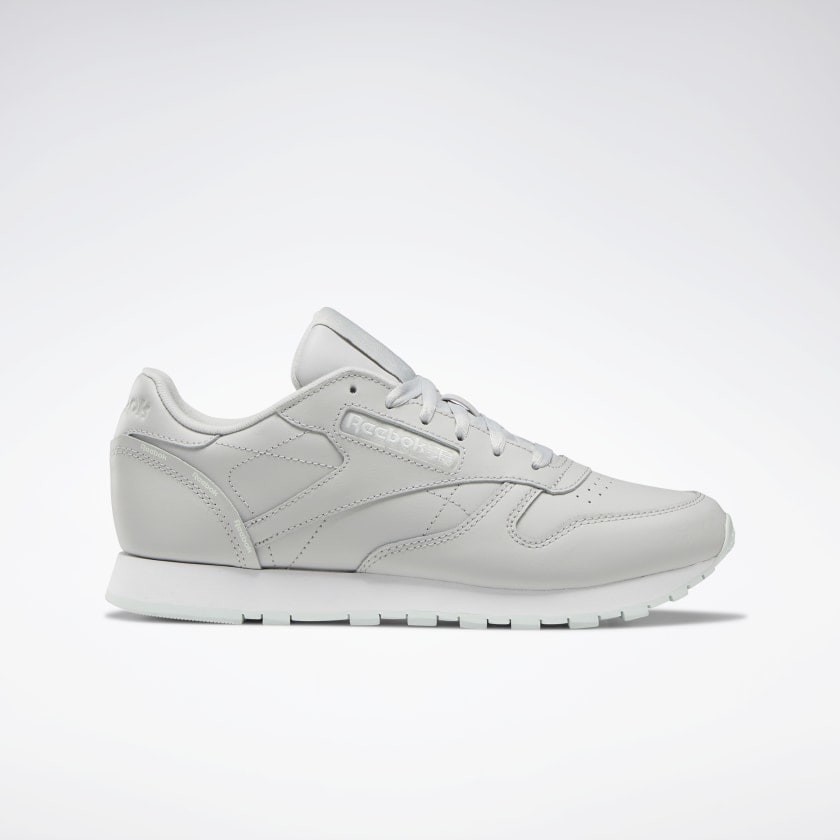 For the free-spirited: Modern Monochrome
This spin on the iconic Classic Leather Shoes uses color to keep things interesting. The tonal contrasts and semi-translucent clip on the midsole of this shoe is fresh and cool. This accent is understated and adds a unique element without being overpowering. Find this sneaker in pastel hues that are just what you need on those days when you're looking for a pick-me-up. The entire shoe is a monochromatic as the color of heel detail is just a darker shade than the base of the shoe. This keeps things cool and ultra-trendy. These kicks are the perfect mix of vintage heritage and modern details. There's no need to worry about staying comfortable thanks to the soft leather upper of these sneakers. Keep it fashionable and durable in these trendy sneaks. Rock the Classic Leather Shoes when you feel like upgrading and want to take your style up a notch.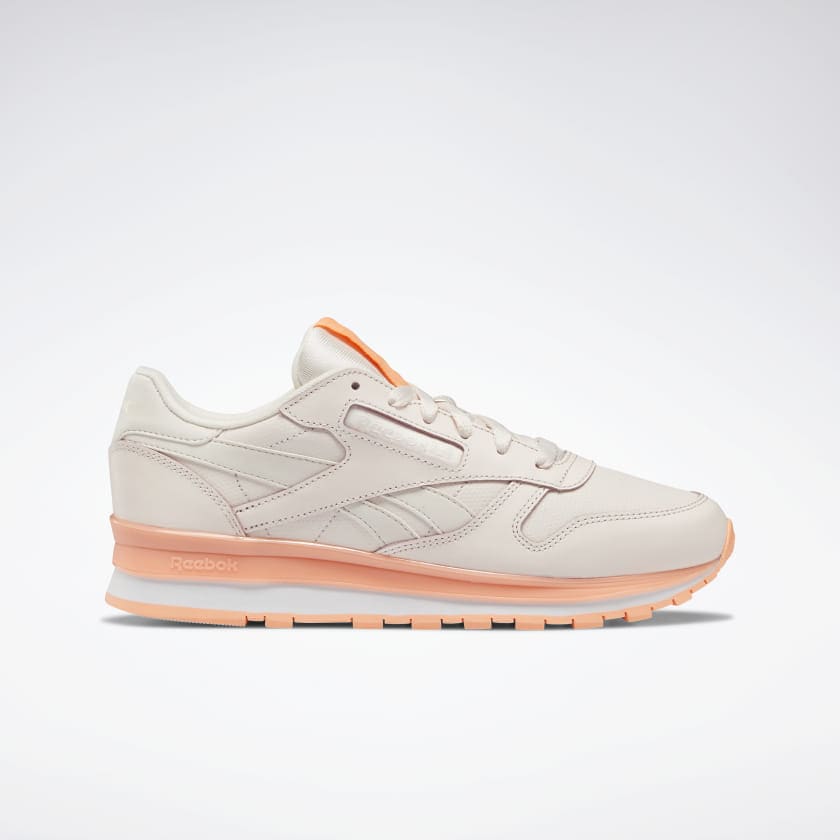 For anyone who wants to throw it back to the '90s: Chunky "Dad" Shoe
The Reebok Aztrek Shoes first debuted in 1993 and were designed for off-trail runners. Today, this chunky silhouette has become the latest trend. The Aztrek is an authentic style that has gotten a modern-day makeover thanks to the monochrome palette. Both colorways are simple-choose from either a white or off-white upper. These neutral options are paired with vintage-inspired blue or green accent shades.This shoe stays true to the era with Hexalite cushioning, which helps keep you comfortable.The impact of your steps will be softened due to this hexagonal cushion. The Aztreks are a foolproof look for casual, everyday wear. This shoe's authenticity maintains a retro style with its asymmetrical features. The Aztrek Shoes are a classic tribute to Reebok's rich heritage that keep up with today's chunky "Dad" shoe trend.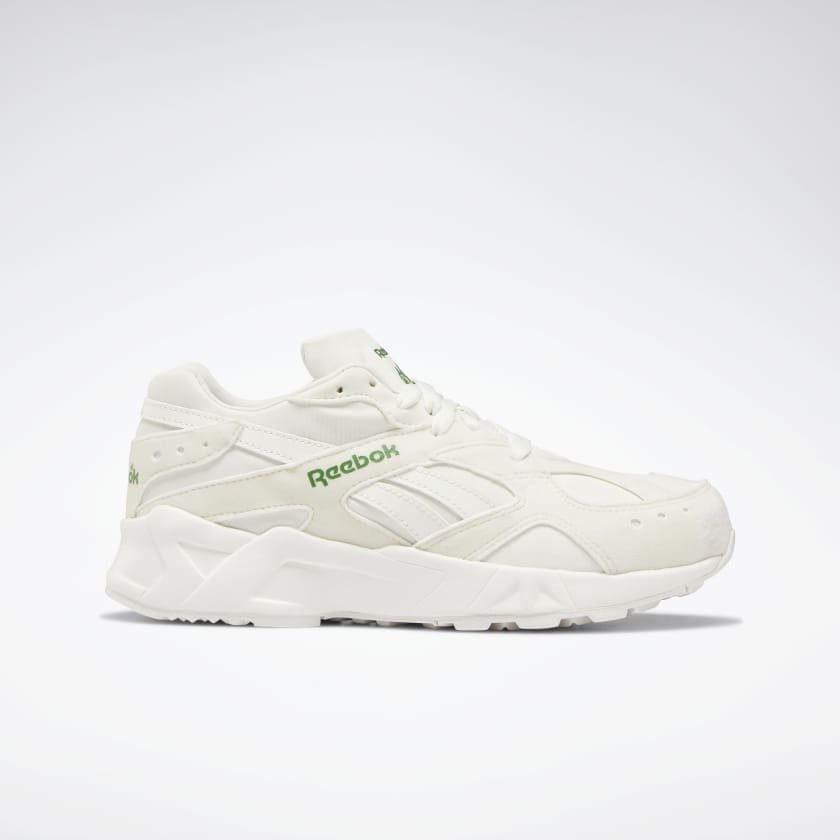 Check out the entire Reebok women's sneaker collection
here
.