How Embroidery Artist Brian Blakely Is Leading The Personalization Trend
Blakely shares the inspiration behind his recent collaboration with Reebok and how one machine changed his career trajectory forever.
The desire to personalize clothing is not a new idea. Everyone wants something that's different than what other people have, and being able to put your personal stamp on a look is empowering, and it sets you apart. As trends from the '90s come back into play, like band pins on lapels and patches on jackets, customization is as alive as ever.
The need to put claim to what's ours is what has put embroidery artist
Brian Blakely
in such high demand. He's been called an embroiderer extraordinaire and an embroidery pioneer, but Blakely never planned on turning embroidery into a career path. Four years ago, he was working at a New York based clothing company learning sales and garment production, touching each piece before it went out. Before he knew it, the machines caught his eye.
"Being surrounded by all these machines helped me know I wanted to learn something" says Blakely. "Embroidery had always been intriguing to me and I loved the way the machine sounded and ran. I was instantly hooked on the machine from the moment I sat down on it."
Once he learned to thread the machine, Blakely started teaching himself everything else and slowly made a name for himself among friends.
"Soon enough, I was making patches and jackets to give to friends, slowly promoting the fact I was doing this as a hobby at first. Fortunately, I was already in the clothing world where I was able to know the right people, who would want to have pieces done. That was what was able to help bridge the gap between the clothing and vintage world."
He did embroidery as a side job for a year and a half before taking a leap to full time two years ago and never looked back. Blakely became a modern-day artisan practicing his craft in a fast-paced digital landscape. While social media and anything digital tends to trend, Blakely's OG art remains relevant and contemporary.
Most recently, Blakely teamed up with Reebok for the
Sport the Unexpected
campaign, as one of three collaborators asked to create an exclusive capsule collection inspired by the
Club C 85
sneaker, an '80s tennis shoe turned skate shoe in the '90s that still remains popular today. Since the capsules aren't available to the public, Reebok is offering the chance for people to
enter to win
the items from all three artists.
Blakely chose to make a unique canvas tote bag sporting the Reebok logo. With so many choices, a bag may seem like an unexpected item, but for Blakely, it made total sense, somewhat redefining the term customization.
"I think the best part about customization is the fact that it truly makes every individual piece a one of one," he says. "Even with this collection of bags where essentially every piece "looks" the exact same, they all have their own individual characteristics that set them aside. Whether it's stitch pattern, how sharp a corner may hit, etc…"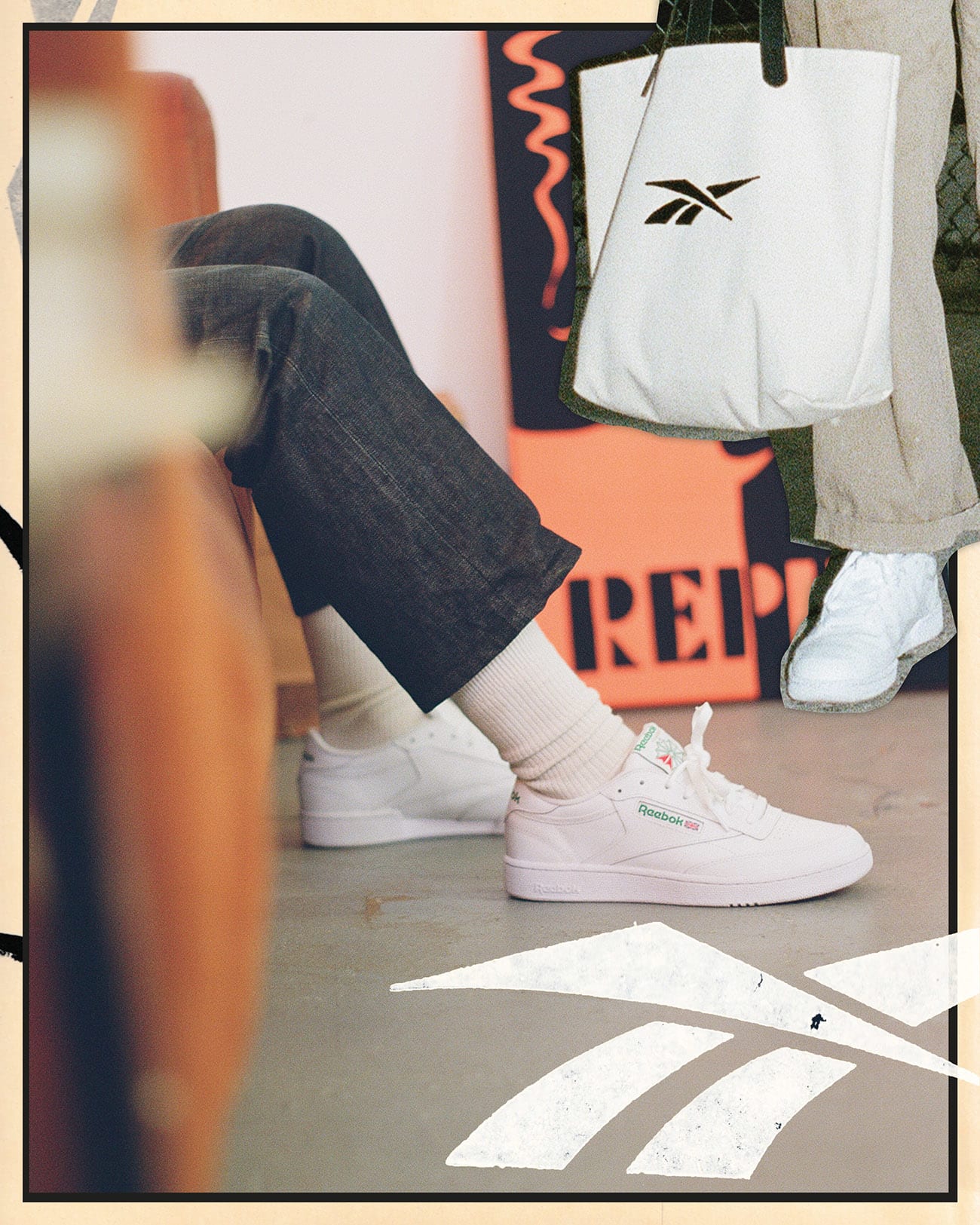 The bags are each distinctive in their own right.
"The bags themselves at first glance are seemingly standard, natural canvas tote bags that you've seen all over the place. The devil is really in the details on these though—the bags are a 13oz canvas, extremely durable and ready to be beat with use."
Blakely wanted to create something people could use every day. And when he says details, he means it. He kept the embroidery as the main focus, and his careful craftsmanship allows for his work to live as a stamp of creativity and ownership.
"The embroidery embodies the essence of the bag itself: understated but straight to the point. That Reebok logo is instantly recognizable. Keeping it clean and understated forces people who care to take a second look and notice the craftsmanship that went into every step of this process."
Custom embroidery on clothing, jackets and bags, allows people to differentiate themselves and make a statement of individuality. As the trend continues to grow, Blakely continues to expand his craft to remain top of his game.
"Embroidery as a whole has really taken off in the past year or two. It's everywhere. People want personalized garments that can build them a unique piece. With more and more people emerging doing embroidery, it really only pushes me to keep moving forward with personal work doing things I haven't seen anyone else do."
While honing his craft there have been times when Blakely has doubted himself. With the personal effort that goes toward each piece it can be difficult not to second guess your work at times. But for him, it's always worth it.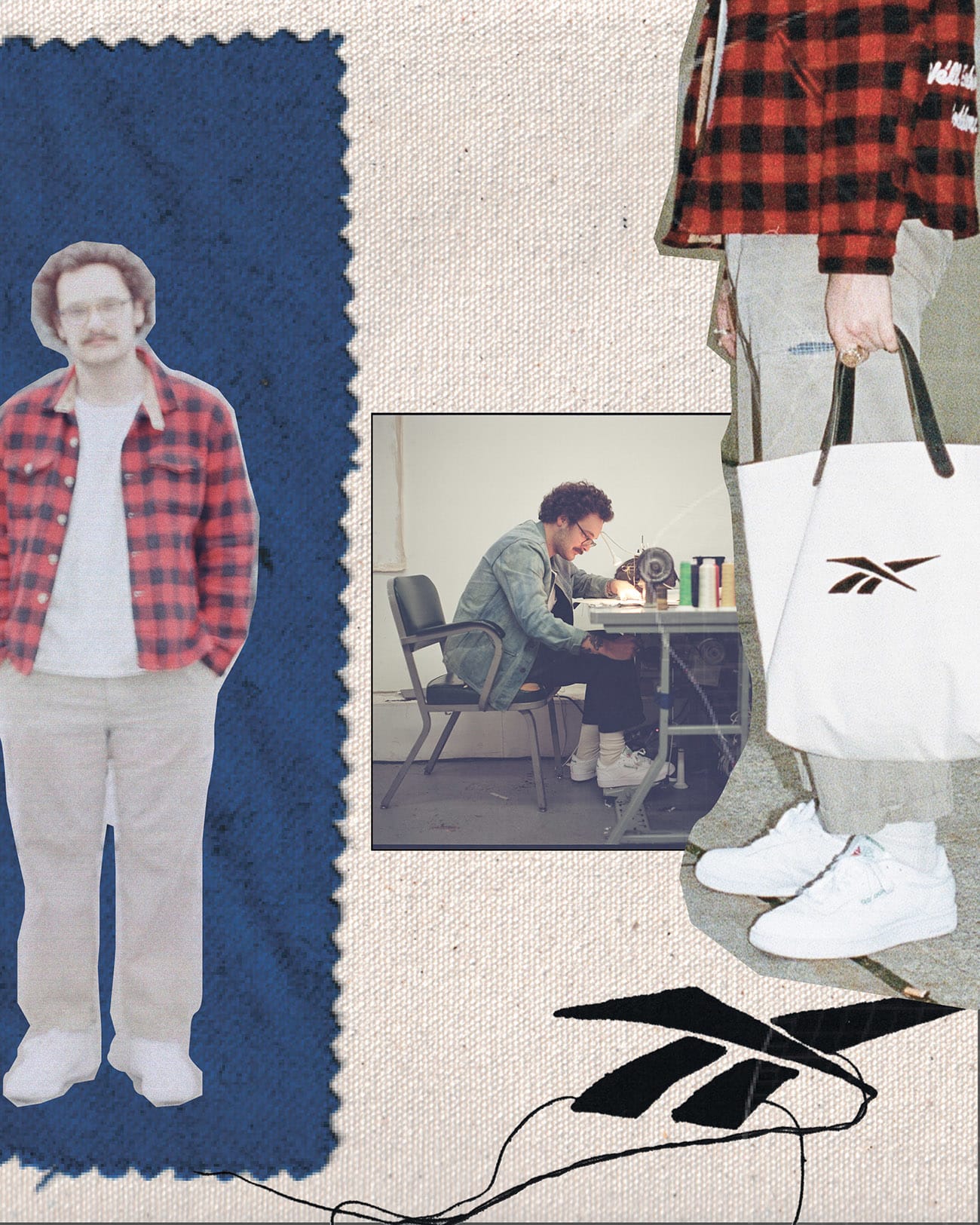 "The process of getting there can also be the most rewarding. The actual stitching itself when I get to watch those blends come together or see the finished outline really make a graphic pop out the way I knew it would. There's always that moment of uncertainty when you're stitching of, 'Is this even good? Will anyone give a shit that I'm making this?'"
Working on embroidery full time was never part of the plan, but Blakely credits his support system who encouraged him to branch out and turn it into something more.
"If you would've told me 6 years ago that I'd be doing embroidery full time, having my own studio and being able to travel the country doing live events for clients I would've laughed in your face," he says. "I owe everything I've accomplished and made here to that machine and my friends and family who've supported every crazy idea I've had, continuing to push me to take the leap."
He says going outside your comfort zone and pushing past fears is the only way to find what you really enjoy doing.
"Doing the unexpected and being open to whatever comes at you is the only way to let yourself grow. It's how I've been able to sustain a business doing what I love every single day."
To enter to win Blakely's tote bag and a few other Club C inspired items created by artists Jimmy Gorecki and Uzumaki Cepeda,
click here
.