Where You Can Find 90s Clothing
The '90s trend isn't going anywhere- so here's where to get style staples so you can rock this look.
Styles inspired by the '90s are making a reappearance. Whether it's the chunky "Dad" shoe look or bright pops of color, this look is not going anywhere. It's no secret that '90s clothing is here to stay. This time, this trend has returned to stay and to be bolder than it's ever been before.
Trends come and go so quickly. It can be overwhelming to keep track of what's in and what's out at any given moment. It's also tough to know where to look for clothing that's on-trend. Knowing where to go to find things that are just what you're searching for can be difficult. That's because if you're trying to rock a trend, you want to stay genuine and make it your own.
Right now, it's all about the '90s clothing and this trend is here to stay for a long time. From grunge-inspired details to bold pops of neon, '90s style has made a major comeback. One major aspect of this trend is how easily it can be incorporated into street style looks. The retro fashion of the '90s tends to be laid-back and breezy, so showing off this trend in athleisure is the easiest way to make it a part of your wardrobe.
If you're wondering where to buy '90s clothing, we've got you covered. That's because Reebok has brought forward some of our most iconic looks directly from the '90s. Many of these pieces are modern takes on vintage styles that came straight from the Archive. You'll see heritage logos, details, and even some of the original colorways from the era. Reebok made its mark in the 90s and truly has it all when it comes to the ultimate in retro outfits for men & women.
If you want to go all-out on this trend, you can pair many of these pieces together. The track jackets and joggers go together and have been created to work as coordinated sets. However, if you want to be more subdued and laid-back, then you can rock one '90s fashion piece as the focal point of your outfit. No matter what direction you go with your style, these pieces are just what you need to nail the look. So get ready to mix and match these '90s clothing looks to create the perfect look for you.
Check out the guide below for some of our picks for retro outfits for men and women. Reebok has totally nailed the '90s trend, and you'll definitely want to hop on board and rock one of these looks.
The Reebok Archive Vector Track Top will be your go-to streetwear essential. The Collegiate Navy and Primal Red colorway features hints of white for a simple yet sophisticated classic look. This jacket is patriotic and fun but subdued enough for everyday wear. This zip-up jacket has come straight from the Archive and been revamped with new touches. This retro fashion look has a relaxed fit that will keep things casual. You can rock this '90s clothing piece with virtually anything. Keep it streamlined with the matching Vector Track Pants (featured below!) or pair with jeans or khakis for a more polished look. This retro fashion essential will warm up your ensemble and have you feeling nostalgic. Complete the heritage look with a men's retro fashion staple in the Reebok Archive Vector Track Top.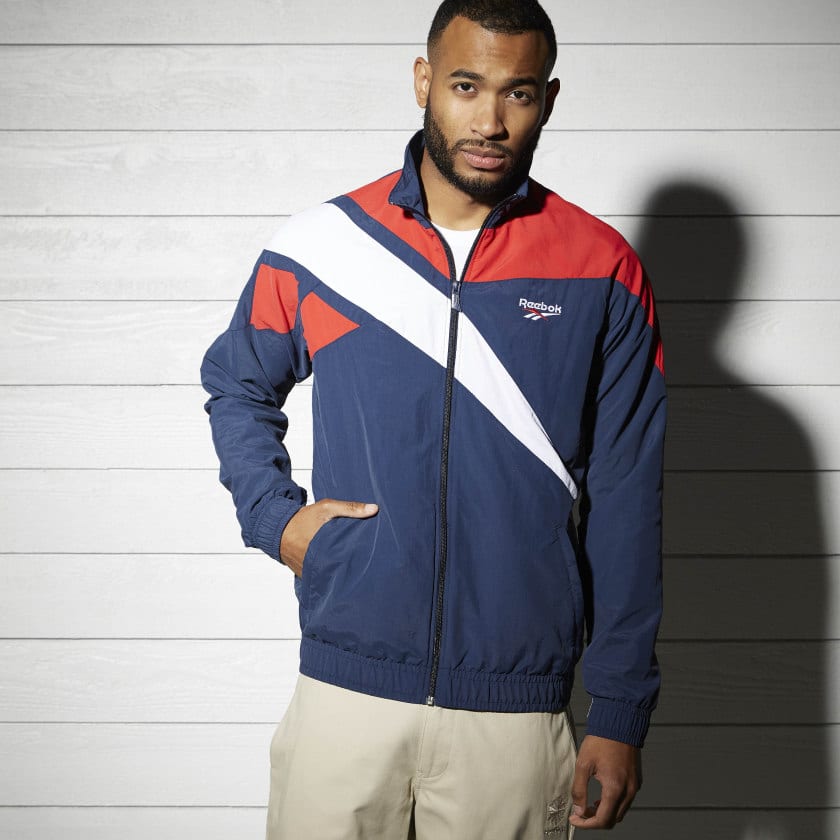 Get classic in the Classics V Alter The Icons Jogger Pants. This slim fit lifestyle jogger has a modern, updated silhouette. Cotton makes these joggers comfy and cozy. The cuffed hem adds style cred. The overbranded graphic on the left leg is a tribute to Reebok's heritage. These iconic sweatpants are the ideal choice if you're looking for a '90s clothing that's simple and effortless. They come in either black or grey to keep things neutral. You'll get added pops of bright hues with the teal and purple logo detailing. For anyone who likes to throw it back with subtle hints of '90s clothing trends, these are the joggers for you. Minimalistic, yet statement-making, the Classics V Alter the Icons Jogger Pants are a style must-have.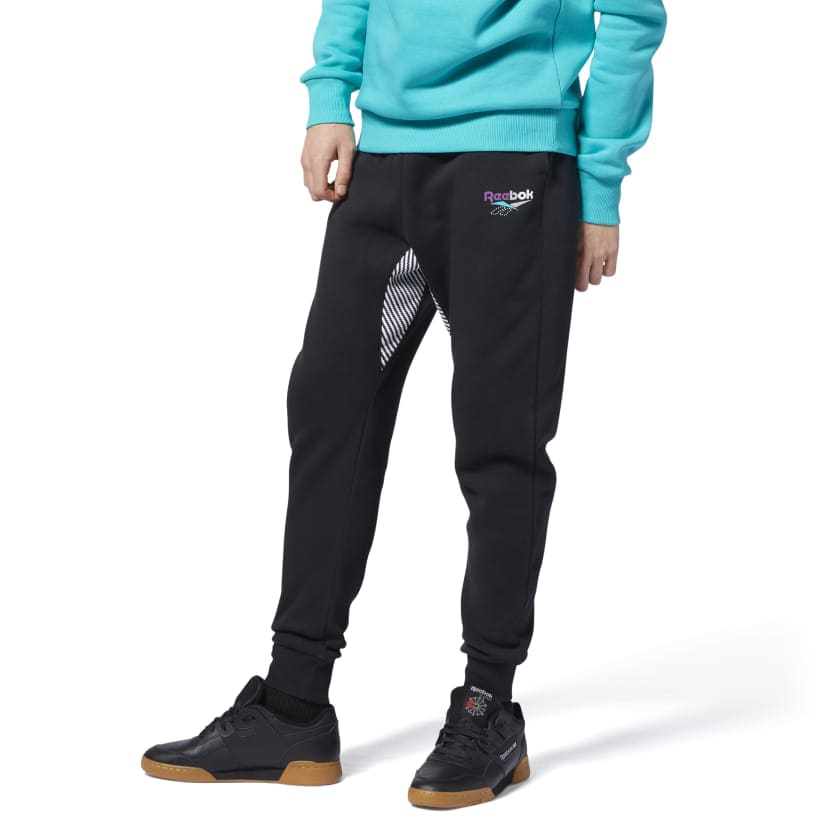 Classics V Alter the Icons Jogger Pants, $60;
Reebok.com
This crop top has been created to bring nostalgic vibes to any layered look. Crop tops are the style staple of the 90s. The vector graphic on the Classic Logo Crop Top keeps things looking retro. This piece of 90s clothing can be paired with virtually anything since it is so versatile. You can rock it with shorts for a casual vibe. Or match up with leggings if you're going for more of an athleisure look. No matter what you wear this crop top with, you're sure to give off a cool vibe. This women's retro fashion essential comes in heathered grey or white if you're looking for a neutral look. If you want something bolder, go with the Trek Gold shade that is eye-catching and bright. The Classic Logo Crop Top is an everyday '90s fashion staple that you'll find yourself constantly reaching for.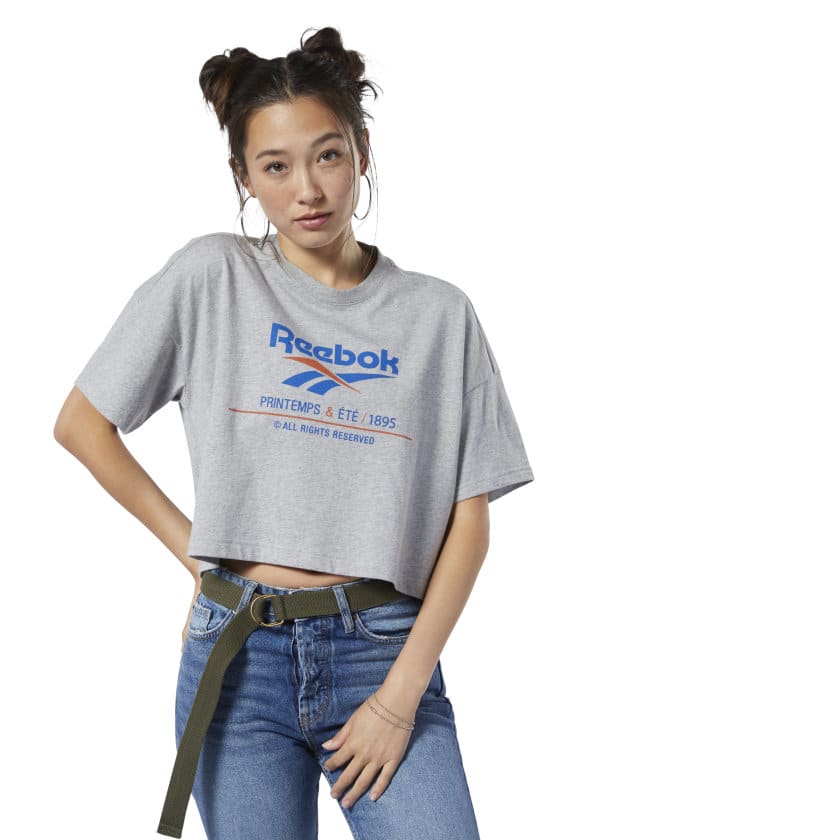 The Classics Vector Joggers have emerged from the Archives ready to take on today's streets. These women's retro fashion pants bring back a highlight of Reebok heritage and are a '90s clothing staple. This simple, effortless style is made of cozy fleece. So not only do they look soft, but they feel super comfy too. These will be your athleisure go-to since they look amazing but feel even better. The large logo on the leg is the on-trend element of these joggers that finish off this sporty style. The best part? These '90s fashion joggers have been created with the Better Cotton Initiative, which improves cotton farming globally. So you can feel good about giving back when rocking these joggers. If you want a retro-inspired look, the Classics Vector Joggers are just right '90s piece of clothing for the job.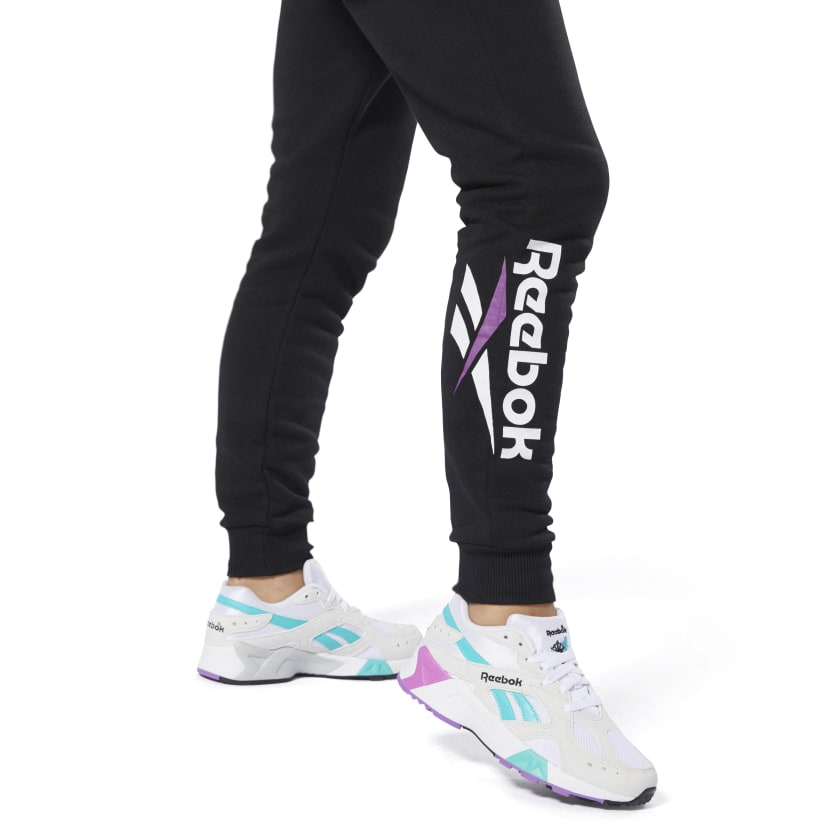 If you were worried you'd never find old-school track pants like these again, have no fear. Track pants are a piece of '90s clothing that are back and better than ever, and this pair will become your style essential. The Reebok Archive Vector Track Pants are too good to have been left back in the day. These pants have pocketed style and elasticized details. The waistband and cuffs offer a secure fit, so you can rock these no matter where your day brings you. They're so comfortable that you'll want to put them on every day. These pants have been modernized with a slimmer fit to bring them forward. The slim fit keeps these pants close to your body so you get a sleek, sophisticated silhouette. Fashion meets function in these pants since they feature front pockets for storage. Retro vector graphics on each leg boost the heritage vibe on these sweats. The print is a direct tribute to the '90s as it is the same vector logo that was used in the past. Find classic comfort in this men's retro fashion essential. The Reebok Archive Vector Track Pants are a '90s clothing essential and a must for any on-trend wardrobe.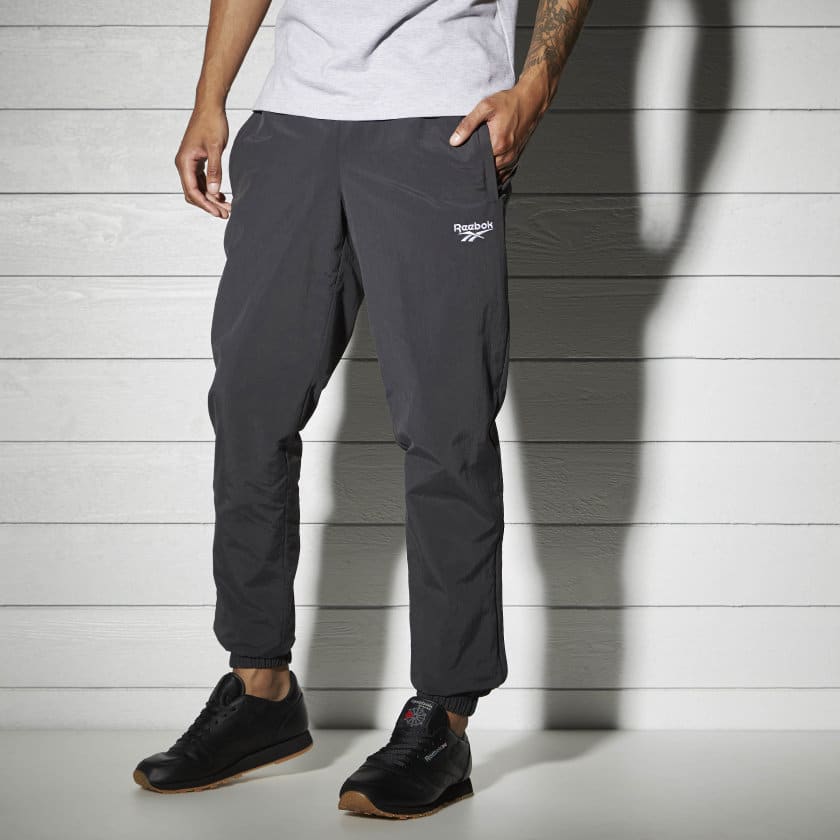 Brought forward from the vault, this '90s-inspired zip-up jacket is the perfect match for any outfit. The Reebok Archive Vector Track Top is a bold '90s clothing look that you'll want to pair with everything. This zip-up is the epitome of '90s fashion and '90s clothing. It's made of nylon, plain weave fabric that offers classic comfort. The relaxed fit is loose so that you can have traditional style and keep things breezy in this track top. Reebok's iconic vector logo sweeps across the shoulders of this jacket for a bold refresh on an era-spanning classic. The cut-and-sew panels and raglan sleeves make for an authentic vintage look. This track jacket comes in so many bold shades that you'll have trouble picking just one. The Crushed Cobalt is a bold-hue that makes this look even more retro, but there's also plenty of other colors ranging from bright to more understated. For a casual fit, go for the Reebok Archive Vector Track Top as your next street style meets athleisure staple.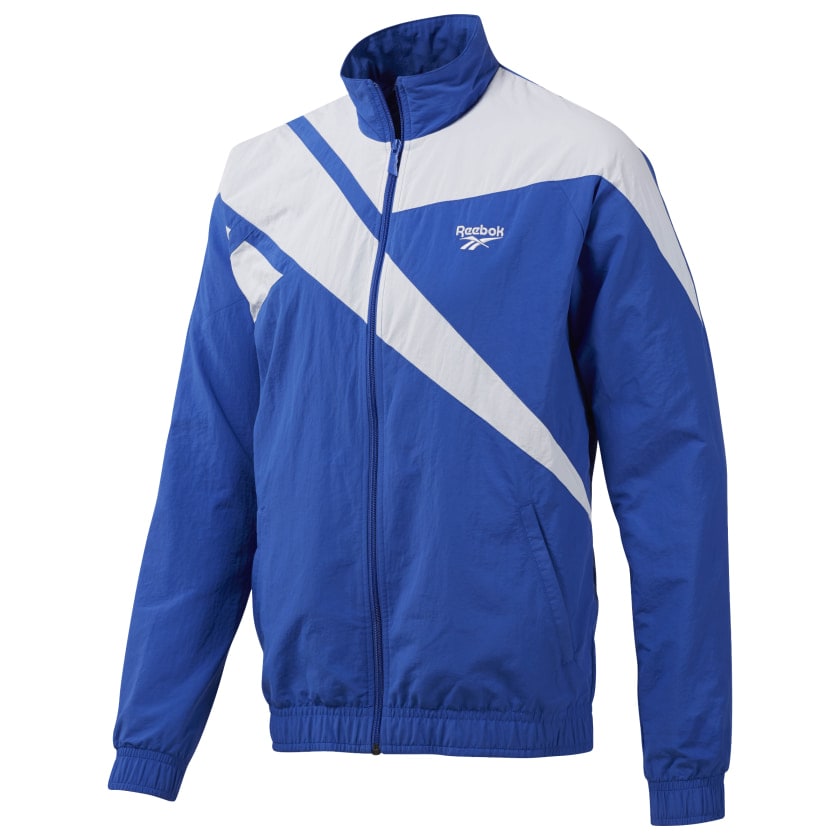 Reebok Archive Vector Track Top, $64.97;
Reebok.com
Kick back in this casual tee. The Reebok Classic Vector Tee is a celebration of Reebok's vintage heritage. Bold, simple, and to the point-this tee's got you covered as a '90's fashion must-have. This crew-neck style will allow for effortless style. You can throw on this top to go with any outfit. The black and white is striking, but fresh and clean looking. A large vector logo is a perfect tribute to the '90s. For classic style that comes straight out of Reebok's Archives, go with the Reebok Classic Vector Tee.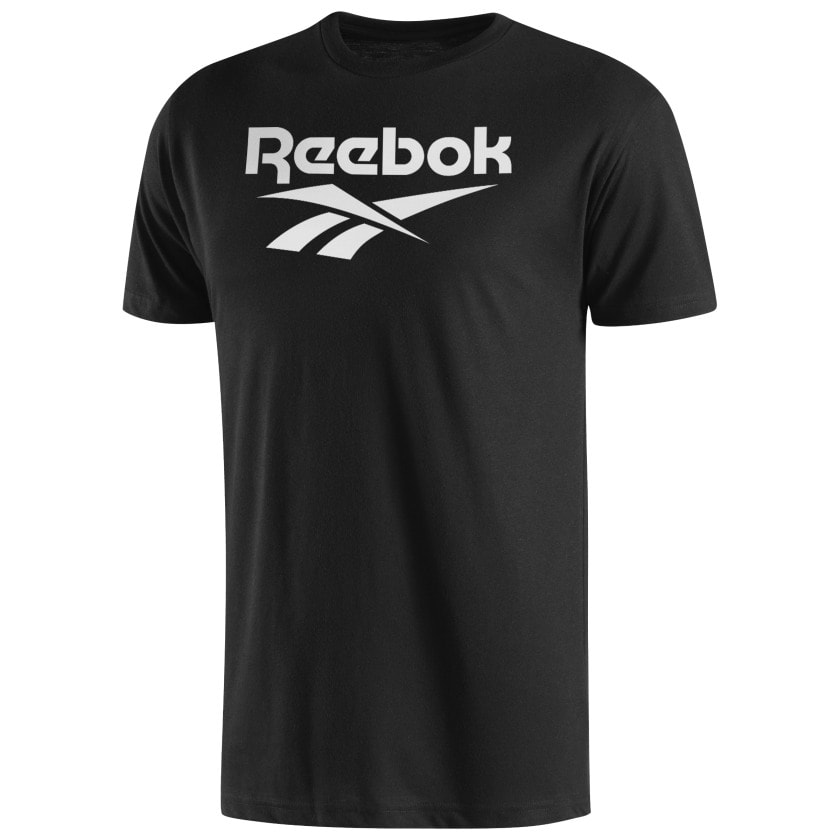 To shop the entire Reebok Classics collection of clothing and footwear
click here
.