One Nail Artist Shares Exactly How To Match Your Nails To Your Kicks
Nail artist Miss Pop is showing us step by step how to create a nail design to match your Reebok Classic Club Css and talking all the hottest trends of the summer.
From adorning the hands of A-list celebrities like Gigi Hadid to models walking some of the hottest runway shows at fashion week, to influencers at award shows and on magazine covers, the work of nail artist
Miss Pop
can be seen almost anywhere these days.
Not only does Miss Pop's work, for lack of a better word, pop, she uses her passion for color and unique designs to make her artwork truly unique and innovative. This means part of her job is staying on top of the trends of the moment and also creating a few of her own. Now matching your nails to your outfit is an obvious choice, but matching them to your sneakers? That's how you create a trend.
"Everyone always thinks about matching their nails to their outfit, and that's great for the day…. But what do you wear every day? You know I'm obsessed with a fresh white sneaker. Why not get inspo from the shoes you're living in?"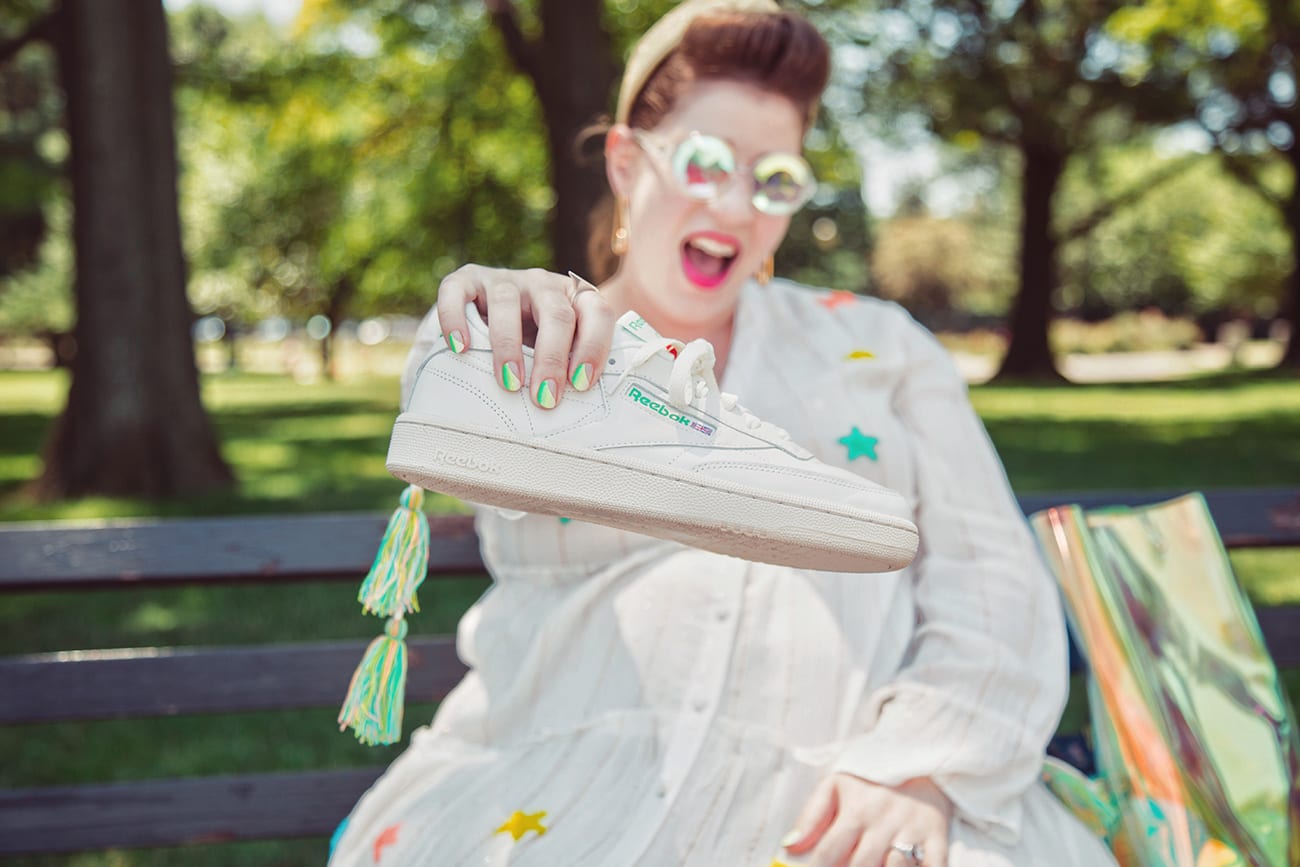 Great question. So, when Miss Pop created a design to match her
Reebok Classic Club Cs
—those go-to white kicks everyone has in their closet—we had to get the recipe on how she did it. Plus, if you haven't noticed, we're a little bit
obsessed with nails these days
.
"My Club C kicks are off white with green accents. They were originally big tennis shoes and I wanted to nod to their history and bring in the neon yellow of the tennis ball. Together green, yellow, and off white make the perfect fade. And it's worth mentioning acid yellow and rainbows are big nail trends this summer, so it seemed like the perfect way to connect my fingertips to my feet."
Not only did she take into account color and heritage she even used the shape of the shoe to inspire her.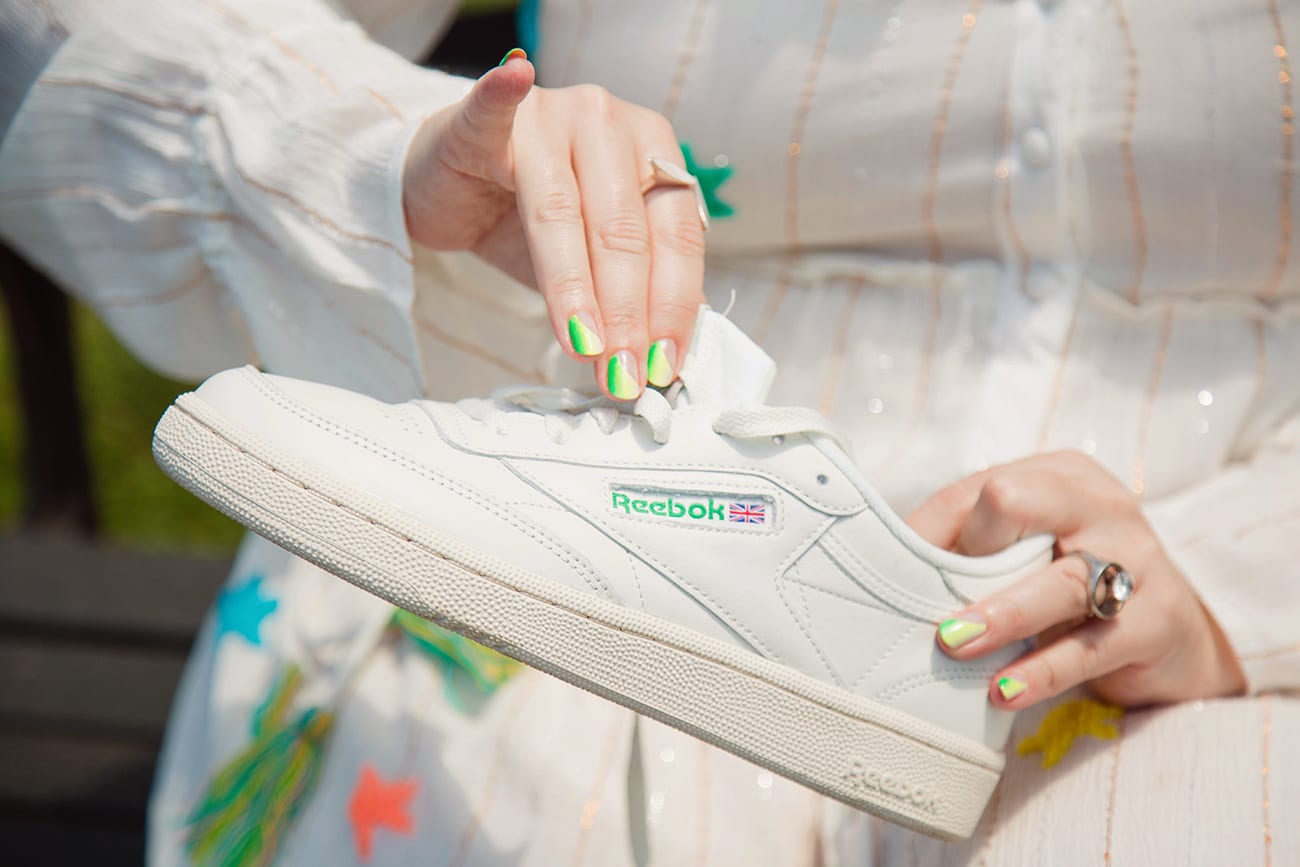 "As for the negative space shape, I took that from the curve of the toe of my Club Cs. For my DIY people out there, this look is super easy to recreate with French tip sticker guides."
While creating designs based on the sneakers was fun, Miss Pop has an equal amount of fun styling these classic sneakers particularly in the summer. For someone who is constantly on her feet all day they're comfortable and easy to wear.
"This summer, I'm all about the colorful, comfortable mumu. I'm wearing blousy dresses with bold prints. Then, I pile on the accessories— metallics, especially if they're iridescent. Nothing polishes off a summer look like clean white sneakers. They match every outfit."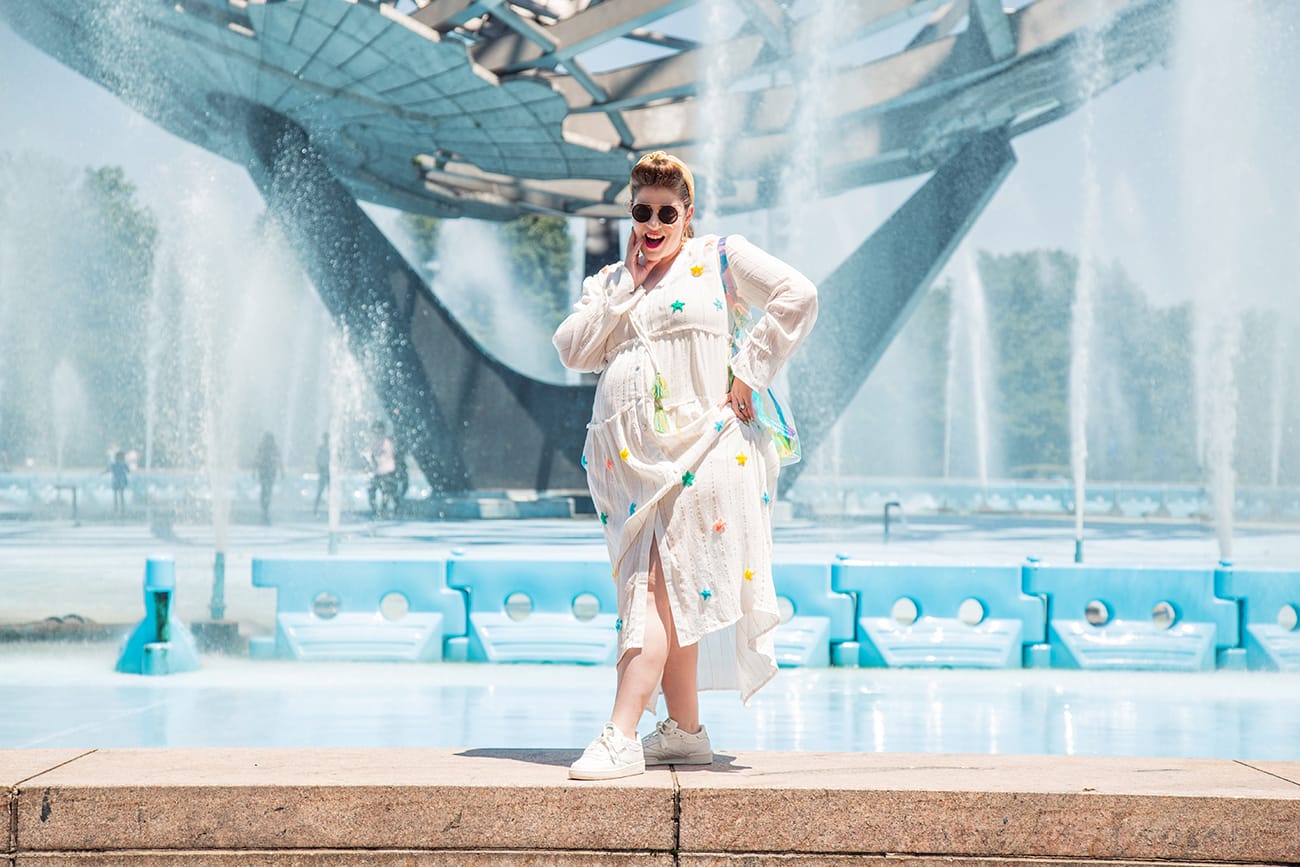 Miss Pop says that the nail art has grown so much over the last few years that it's opened up an entirely new world for art and creativity to be seen in a new format.
"Nail art has grown from a beauty ritual with a cult following into a worldwide art form and industry. Like fine art, music, dance, and fashion, it's always evolving. Nail Art now has a stable of dedicated, talented, and diverse artists designing and creating all over the globe."
To check out our Reebok Classic Club C's
click here
.
Feeling inspired? Here are the seven simple steps to get Miss Pop's Club C inspired nails.
Note: Since we're mixing polish which dries quickly and using stickers, I like to paint one hand at a time.
To recreate this look you will need:
French tip sticker guides
3 shades of nail polish to match your Club Cs—any three will do!
Base Coat
Top Coat
A small paintbrush
A piece of tin foil or palette to mix your paint
Acetone or nail polish remover
Optional: Clean up paintbrush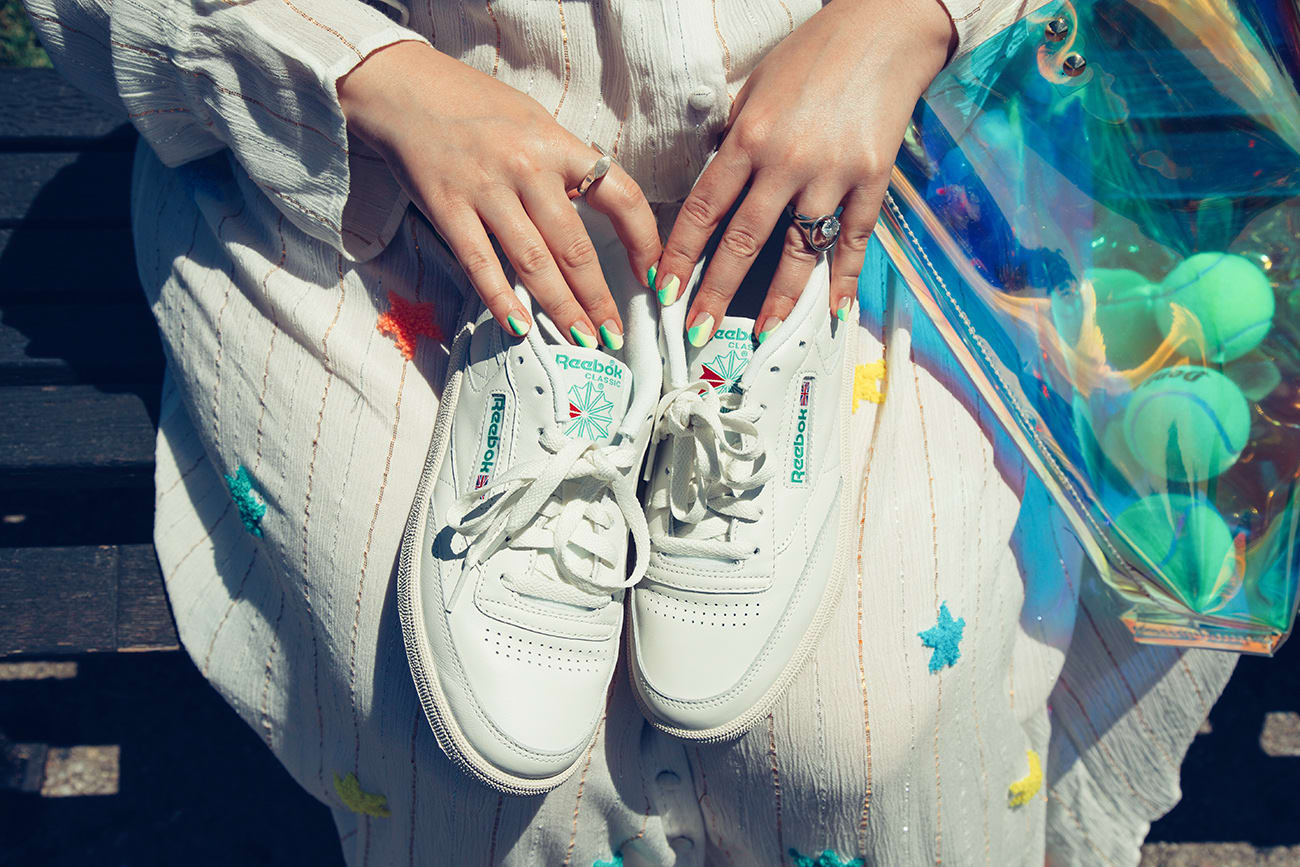 Step 1: Cleanse your nail bed with nail polish remover or hand sanitizer. Then, holding a French tip sticker so it looks like a C, place it on the bottom right 1/3 of your nail. Be sure to smooth the sticker down and press it in the corners to create a seal. Repeat this on every nail on one hand.
Step 2: Paint base coat from the sticker to the tip of your nail. Then, paint on two coats of your lightest color. It's totally fine to get some polish on the sticker, just be sure not to completely cover it so it's sealed in polish. Paint all five fingers.
Step 3: On your foil or palette, use your bottlebrush to pour out a little of your off white polish and your acid yellow. Mix them up, 50/50. Then, right where your arch begins to crest, paint a few strokes of that shade from the sticker to the tip of your nail.
Step 4: Next to that blended color, add a few strokes of pure yellow.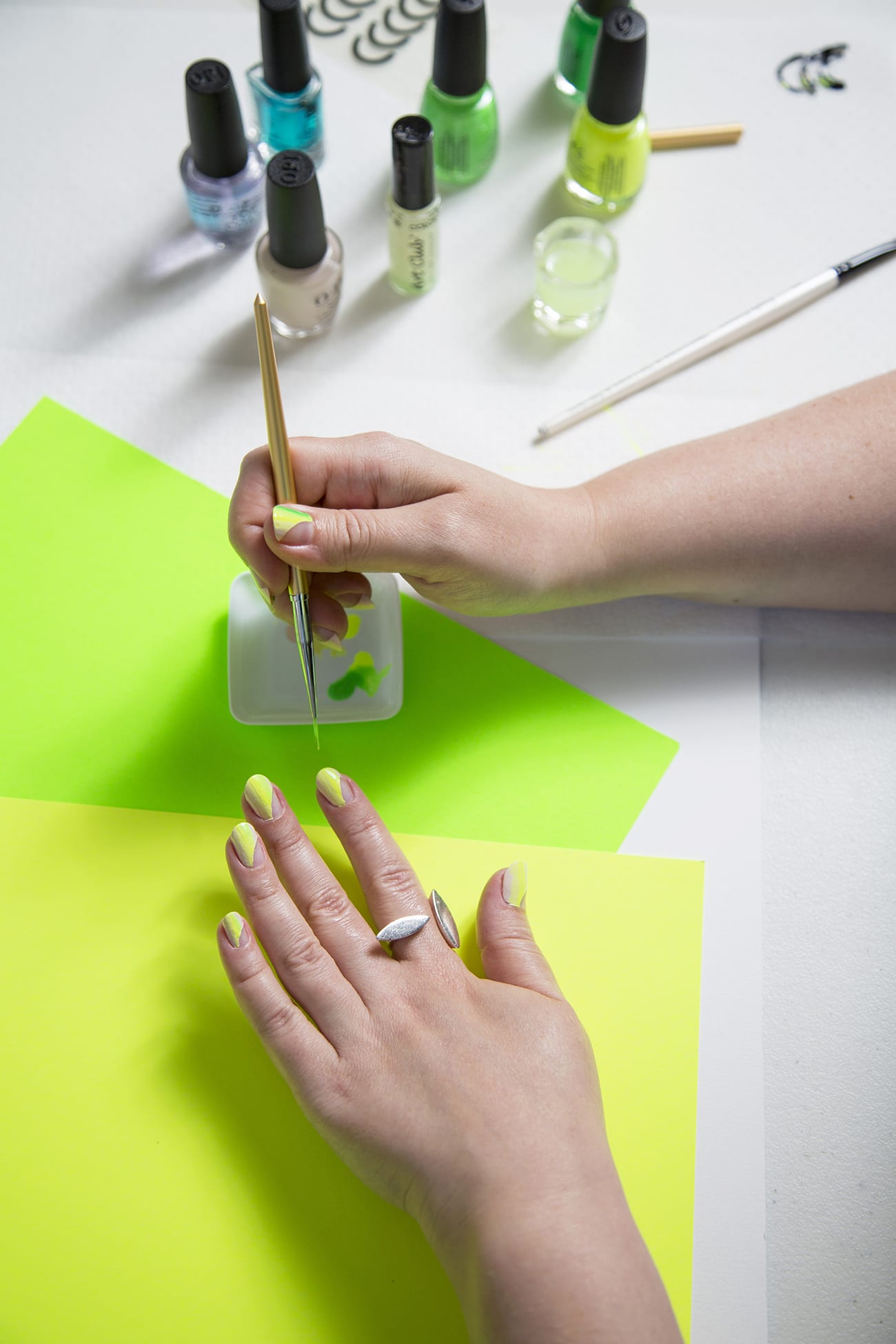 Step 5: On your palette, use your bottlebrush to pour out some of your green polish. Mix it up 50/50 with some yellow. Next to the acid yellow, paint a few strokes of that shade.
Step 6: Finish your fade with a few strokes of solid green.
Step 7: Lift your stickers off slowly. If you have any leaked polish, you can clean up with a paintbrush or cotton stick dipped in acetone. Then, seal your finished look with top coat.