How To Upcycle Your Closet, According To (Extremely Creative) Designer Nicole McLaughlin
The designer and creator talks about how you can win a piece from her new vintage handmade 1-of-1 collection with Reebok and why thinking sustainably is critical to the future of fashion.
A year ago,
Nicole McLaughlin
was working as a graphic designer at
Reebok
in Boston and had never touched a sewing machine. Cut to today, she's now living in New York City working for herself creating upcycled goods from vintage sportswear and accessories. Did we also mention she's speaking on panels across the country, being flown around the world to teach design workshops and now has almost 200k followers on social media?
McLaughlin
is proof that lot can change in just one year. But all really started with some good old fashion thrift store shopping.
"I started thrifting not even out of sustainability purposes more just because it was a cheap solution to be able to learn how to sew and create things," she says. "So I started to thrift and the more garments that I would get, the more I would realize the fabrics I like to work with and the colors that went together and I started learning more about trims and hardware."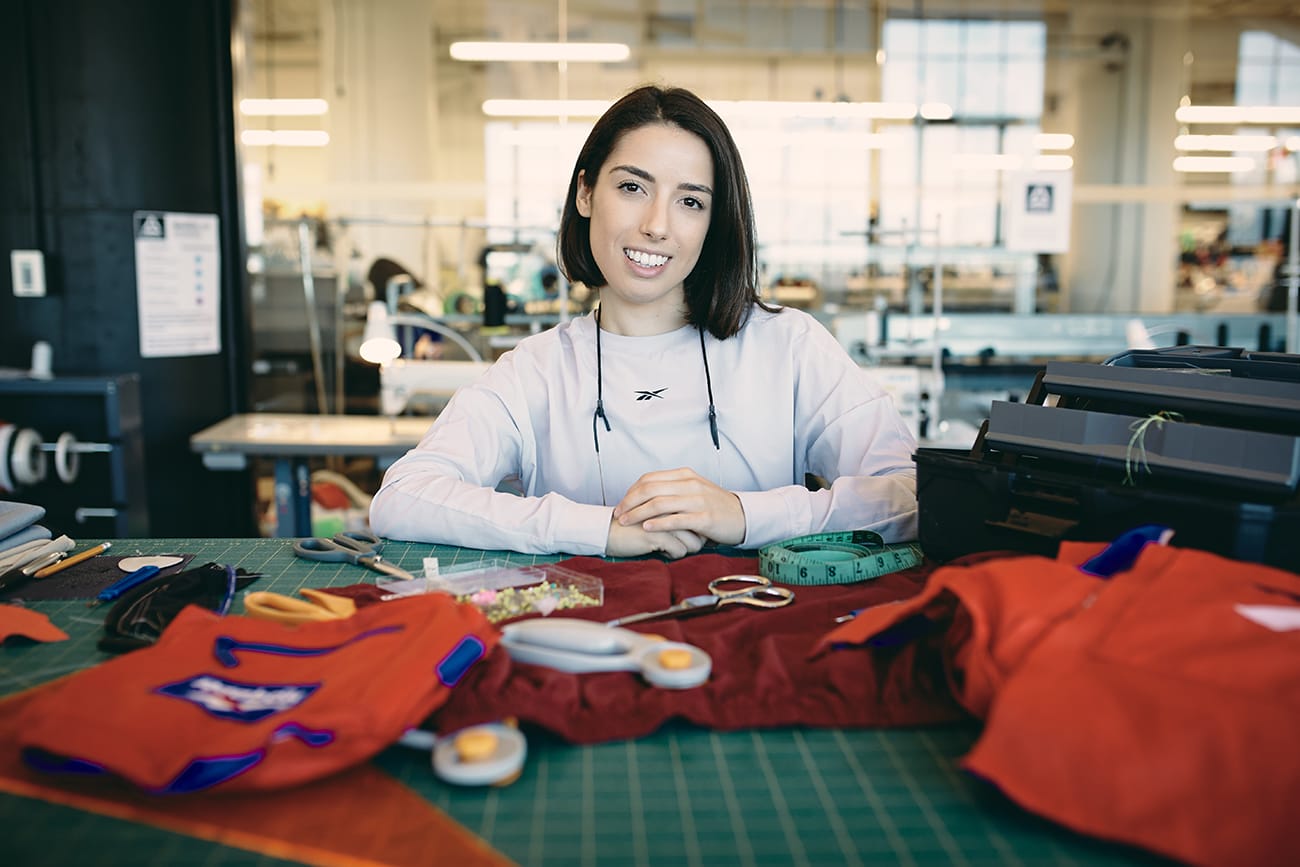 After spending the last year learning to sew and tinkering with taking old items to see what she could make with them, McLaughlin's desire and passion eventually turned into a business she couldn't walk away from. She was gaining a larger following on social media, had been featured in the press, and had started to recognize her opportunity to use her new upcycling skills for good. So, she took the leap, quit her job and never looked back.
Now she's partnering with Reebok to release NM x Reebok Collaboration, a 17-piece collection of all handmade and 100% upcycled vintage Reebok items like hats, jackets and bags.
"I'm trying to highlight things Reebok was doing in the past and kind of the irreverent past. Working for Reebok for the past four years, I saw so much of our archive and history and I wanted to be able to bring that into the modern-day pieces."
On September 12th McLaughlin will be hosting an event at the Reebok Union Square FitHub in New York City from 7-9pm where people will have the opportunity to purchase these items in store and hear her speak about her process. Everyone who attends is asked to bring unwanted used clothing to be donated and recycled.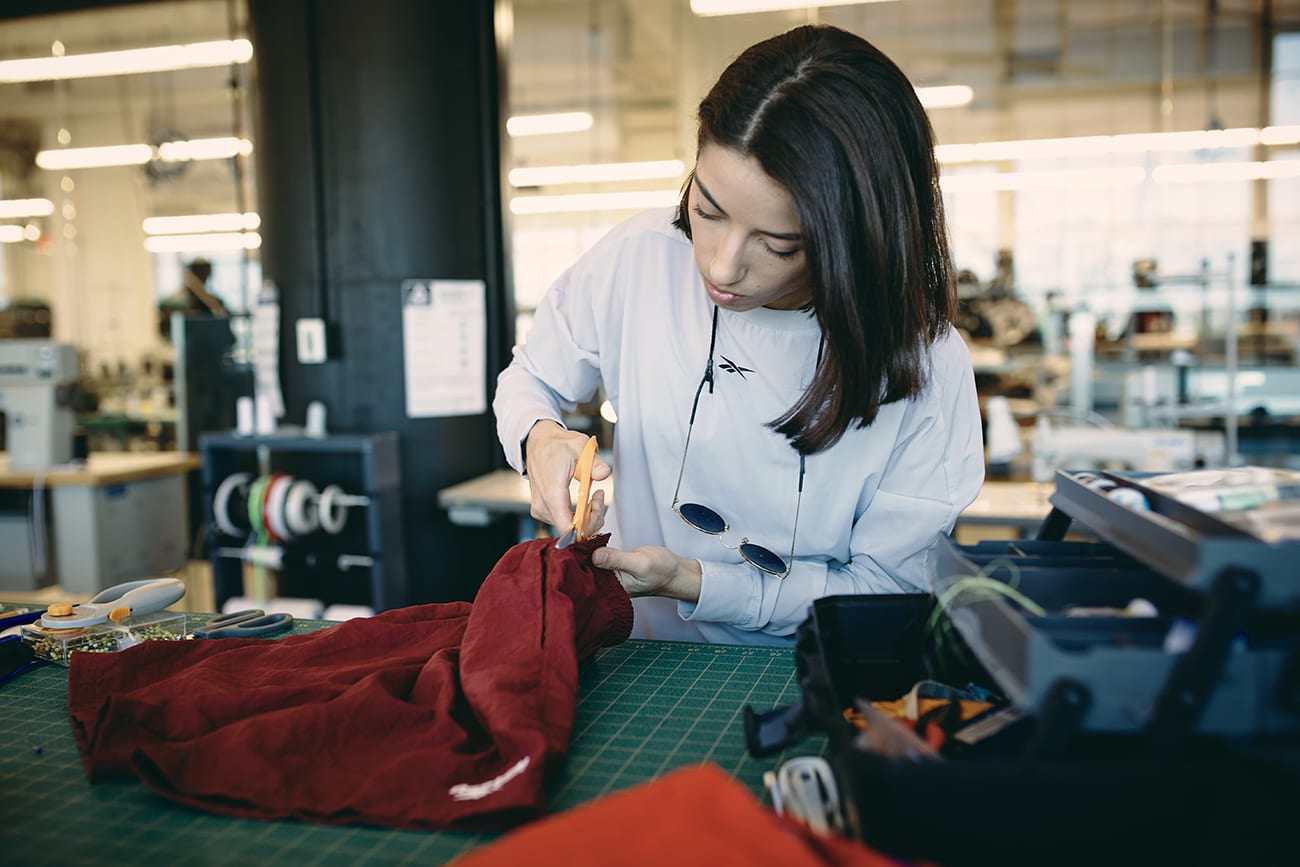 If you're wondering what some of the items will look like, expect unique and…unexpected. When it comes to McLaughlin's design process, she says there are no patterns or plans.
"I don't use patterns and that's how it can get pretty tricky because there's no math to this. It's just me going with whatever the garment is doing and I just figure it out. So every piece is truly unique because it's never duplicated…I love to just go in with no plan sometimes and just see once I start moving around and start shaping it what happens. I think that's just worked the best for me."
That's right—for those who have seen her unbelievable creations on Instagram, like the shoes she made from an ice tray, or a bra made from camera cases (seriously) there really is no method to this design madness.
"It happens the majority of the time. I'll have an idea, and I'll go and try to find that material and sometimes it works sometimes it doesn't."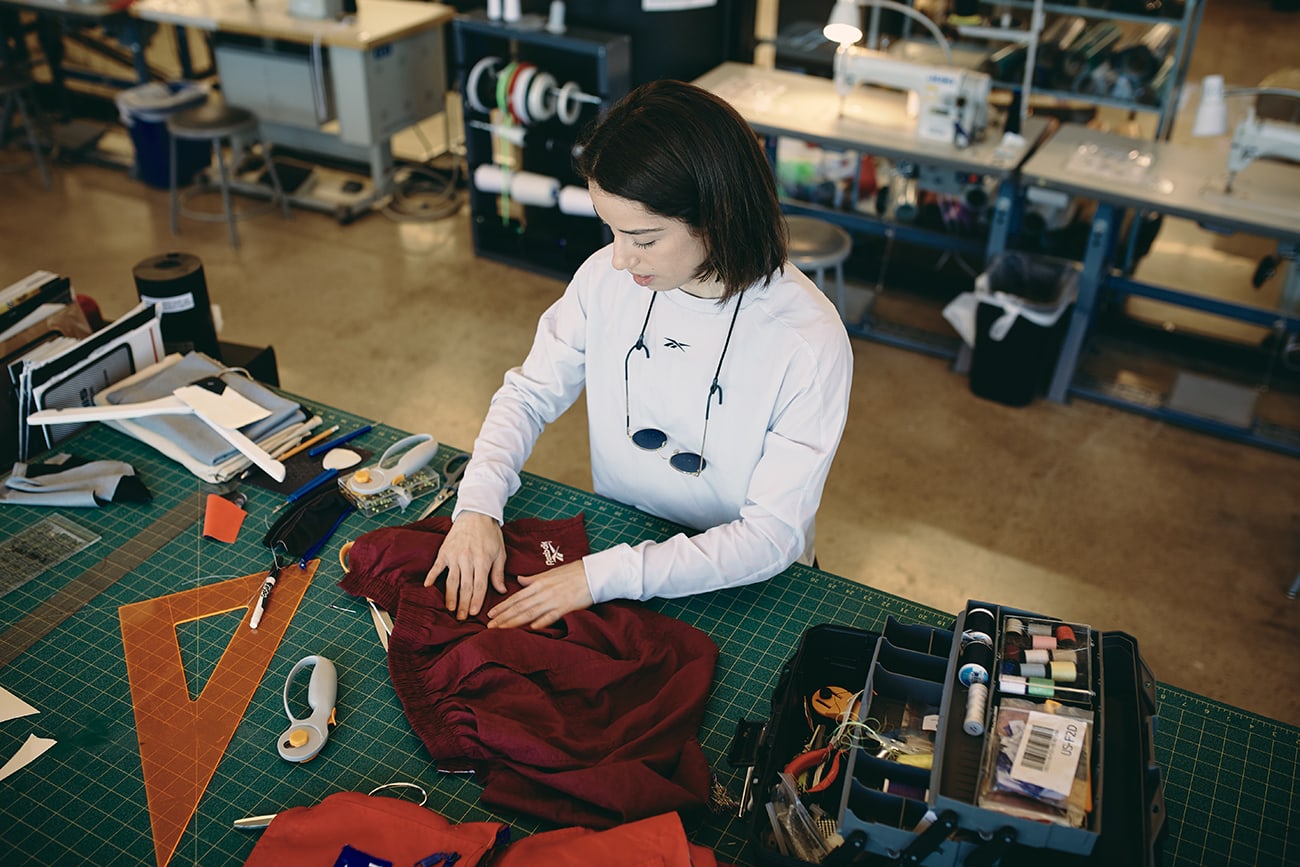 However, if there are pockets it's a game changer and a signature in a lot of McLaughlin's designs.
"I love storage. As a designer, that's usually the first things to go when you're cutting costs which is super unfortunate, so for me to go freaking wild on the pockets I'm like 'Let's do it.' But I try to make it functional in a way that it hasn't been done. I put pockets on shoes all the time. You don't really see that. Some of the stuff I make is more conceptual. It's not meant to be fully functioning."
McLaughlin says she decides which pieces to work with by evaluating just how much she can really get out of an item, looking at it strategically for all its useful pieces and identifying characteristics.
"For me a gem piece is the largest amount of things I can get out of one item. So, if it's a backpack, I look at how many branding hits it has, how much webbing or how many pullers or zippers, or anything that I can maximize when I take it apart and use it for other things."
McLaughlin says taking all she's learned and being able to partner back up with Reebok, where she started her career, is pretty special.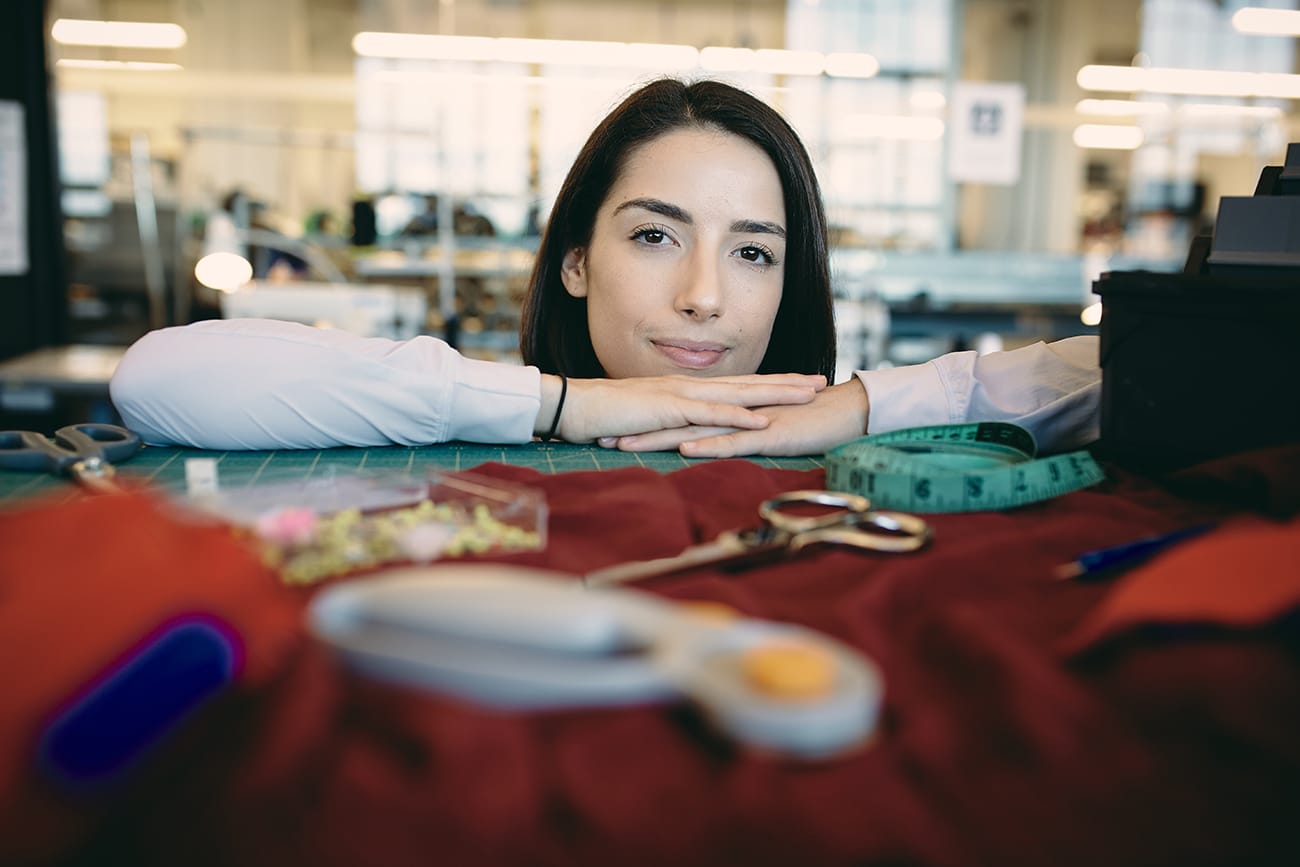 "This has been the coolest project. I can say that confidently because it feels like home to me because Reebok was my first job. I learned everything that I know in this industry here, so I feel very honored and grateful to be part of it…Reebok taking this step and working with someone who's taking a step into the sustainable industry—that's huge. Brands need to be watching and seeing there are people that are trying to make a difference and ask what they can do to play a part in that."
And it's not just on the brands but consumers, too. McLaughlin says it's important first to be aware of how much you're purchasing and also conscientious of who you're giving your dollars to.
"You want to buy something and feel good about it. You want to feel like you bought it from a brand that stands for something. If fast fashion is promoted and idealized as it is, it won't change."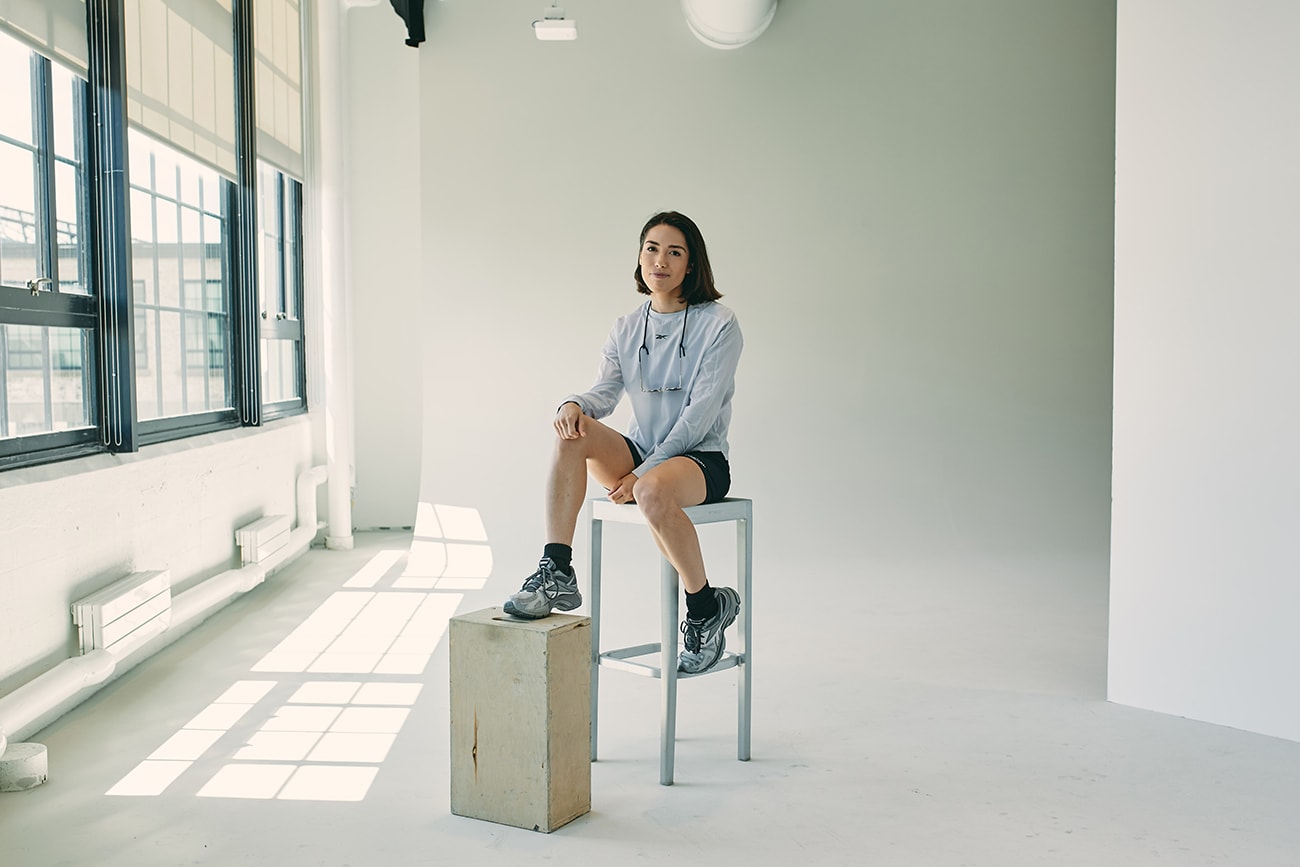 As McLaughlin continues to try to navigate her new platform and world of sustainability and upcycling, she says the main goal is to spread as much awareness as she possibly can.
"For me, it's just getting in the industry and making noise and creating awareness around it. I also think people have such a preconceived notion of what sustainability and fashion looks like and it's usually this very monochromatic vibe. I'm trying to show it in a very different way. It can be fun, it can be playful it doesn't have to be one thing. There are so many great designers now that I'm getting inspired by that are doing different forms of upcycling. It can mean so many different things. So, there are steps being taken but it has to continue, and brands need to wake up. It's time."
If you're not able to attend the event in NYC you can enter to win a one-of-a-kind retro jacket from McLaughlin's collection just
click here
.
Want to know more? Check out McLaughlin's tutorial on how to turn your track jacket into a bag in just 6 steps
here
.