The Power of Pyer Moss
Designer Kerby Jean-Raymond launches his latest collection with Reebok
A fashion show is never just about the clothes, and few shows this season have been quite as thoughtful and impactful as the Pyer Moss show which took place in the historic Kings Theater in Brooklyn, New York on September 8th. The show included the debut of Reebok by Pyer Moss Collection 3, the next chapter from Pyer Moss designer Kerby Jean-Raymond's series "American, Also" which continues to explore the human condition while bringing a voice and light to untold stories.
Even before getting to the clothes, Jean-Raymond designed the location of the show to be a statement in and of itself, steeped in history and culture. Jean-Raymond told Nylon Magazine, "I grew up here. This is my zone school area. I worked across the street for three years at a sneaker store. I think the success [of the concept] is bringing people closer to me rather than trying to assimilate into whatever else people are doing."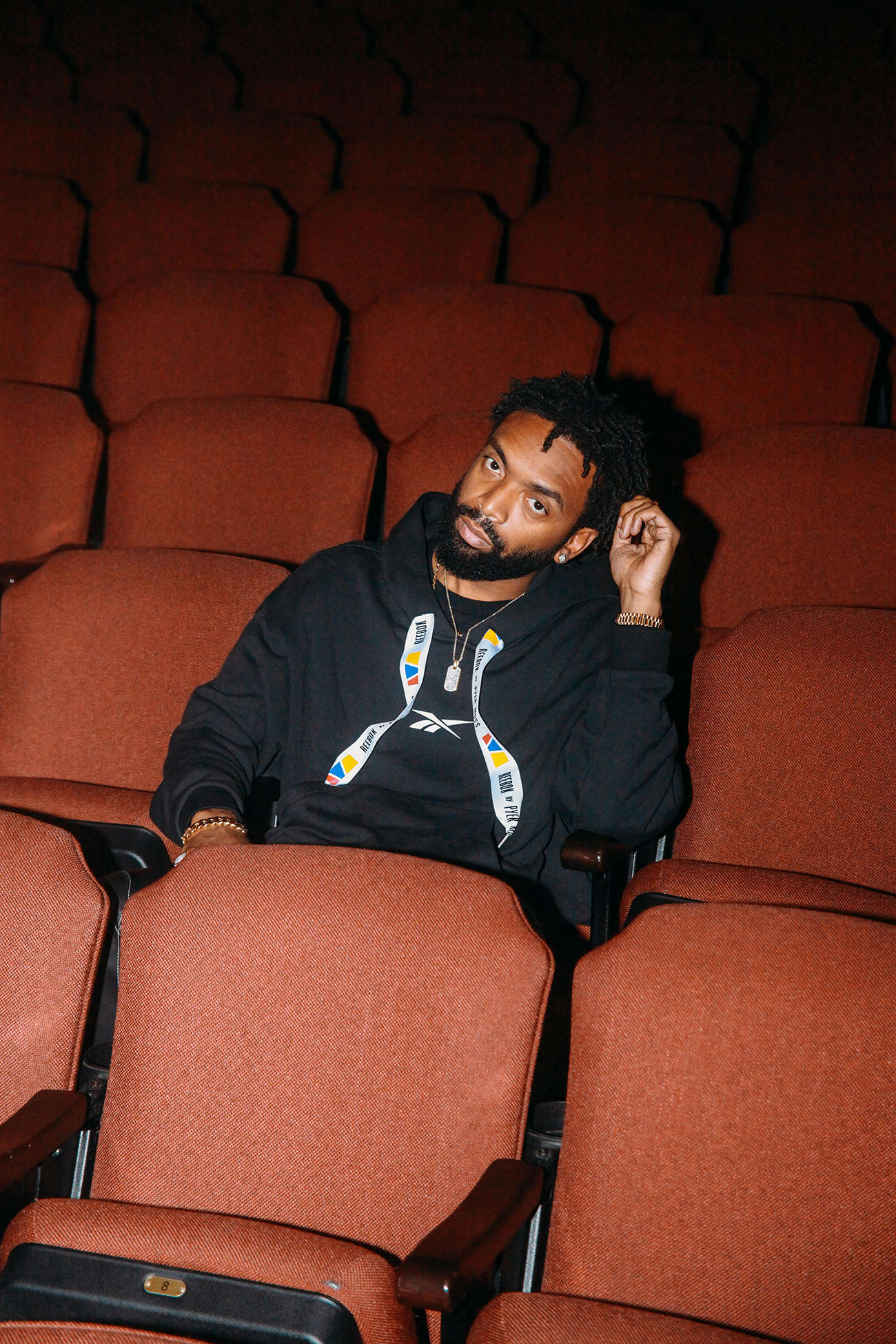 While most fashion shows have a musical soundtrack, Jean-Raymond also took this one step further. The show opened with a monologue that took the audience from plantation fields of North Carolina to the Carnegie Hall concert stage, where Sister Rosetta Tharpe, the Godmother of Rock and Roll music, rose to fame. The message that came across was clear: the oppression and mistreatment that black people have endured for centuries will never be forgotten, and that in the face of the history and the present, people have "…a freedom on the inside that the world didn't give them and the world could not take away."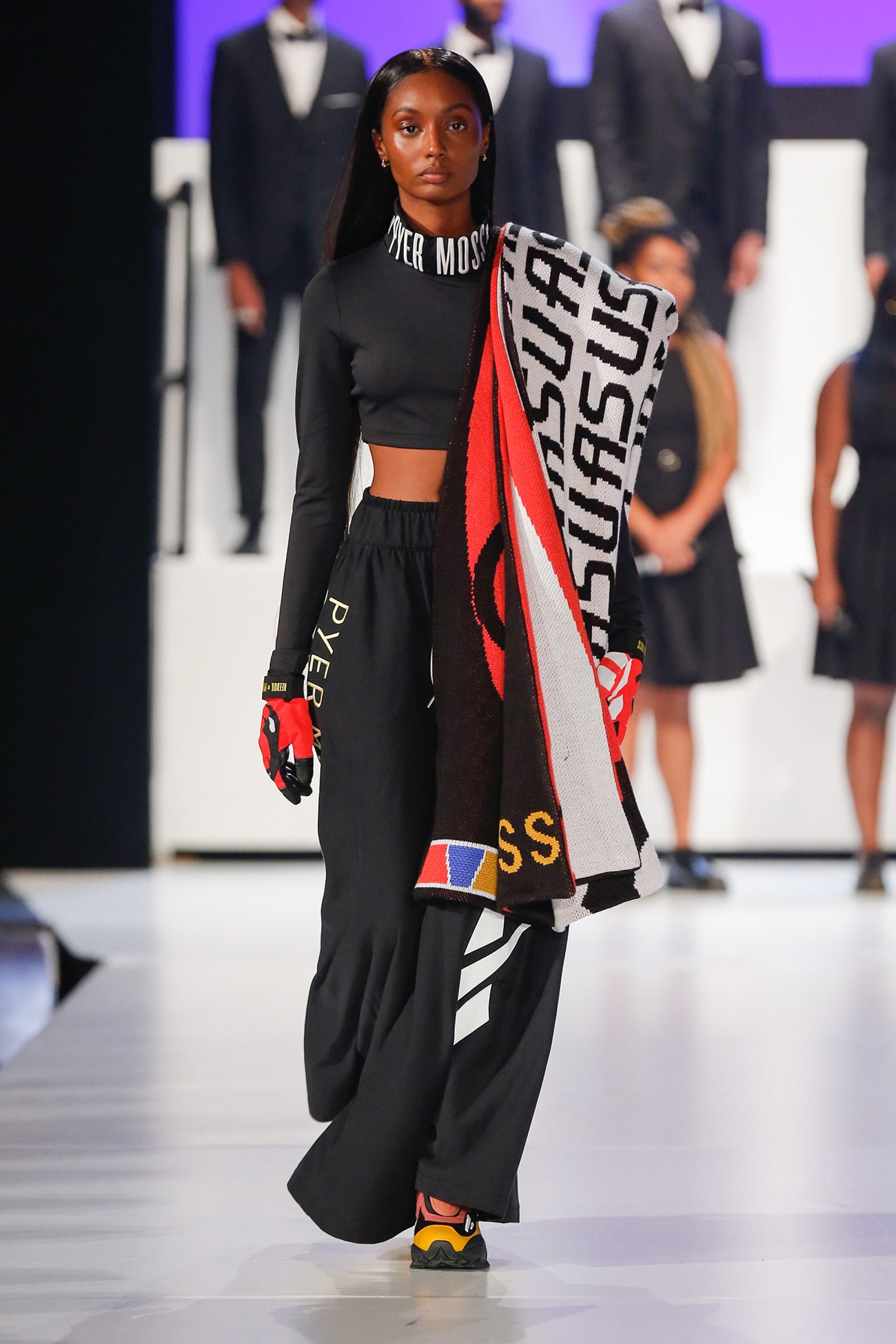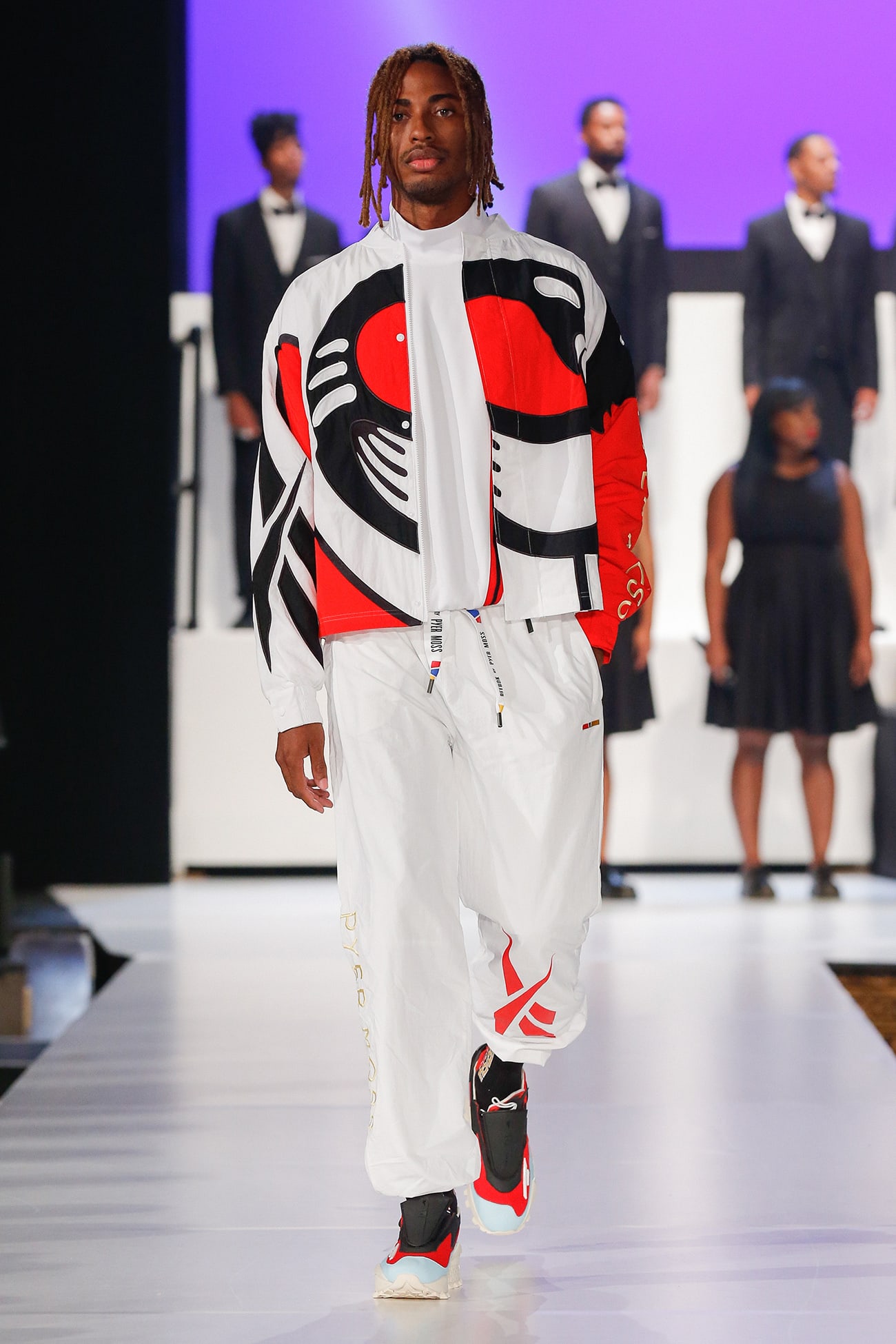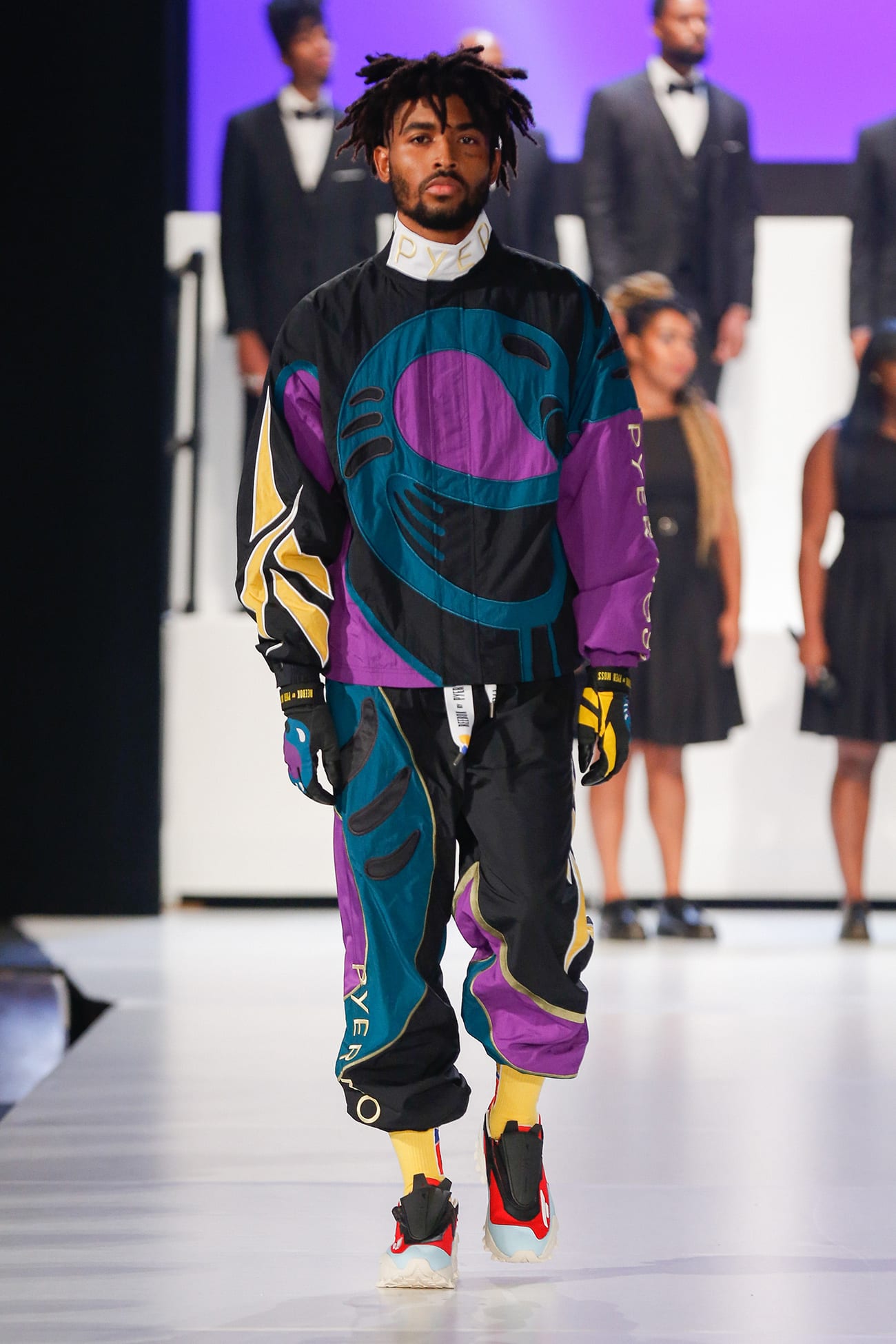 The concept of Sankofa is integral to Reebok by Pyer Moss Collections 3. Sankofa is a Twi word from the Akan tribe in Ghana that translates to "Go back and get it" and is represented by a bird fetching an egg from its back. This idea is artfully integrated into several key pieces in the collections. Sankofa symbolizes going back to the history of your past to take what is rightfully yours and reclaiming your narrative.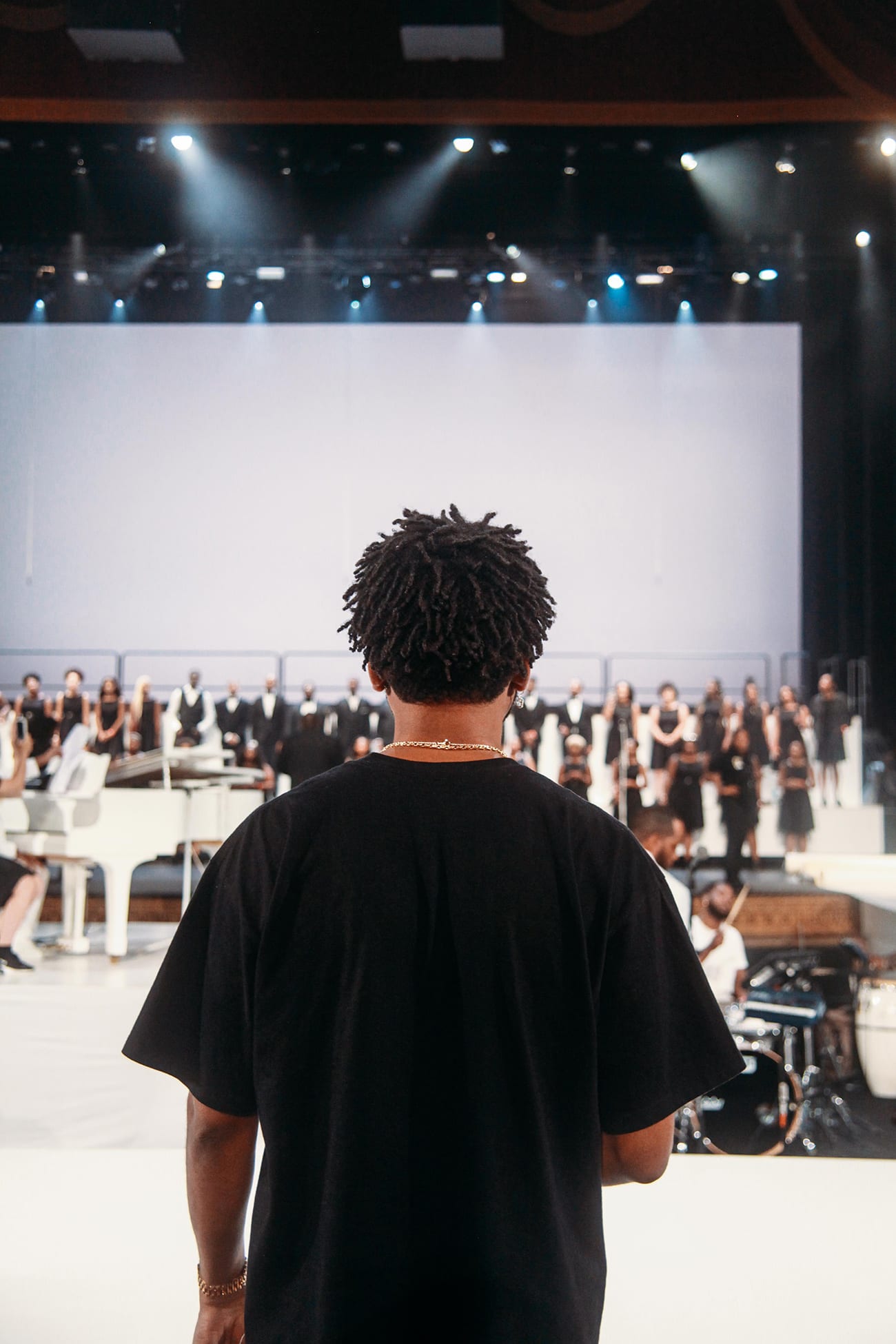 As the opening monologue ended, the curtain went up on the choir, named "The Tabernacle Drip Choir Drenched in the Blood." The choir served as the inspirational music accompaniment for the entire show as the models walked the runway. It was an evocative choice that transported the audience and, in the end, brought the crowd to their feet during their final song of the night.
By the next day the reviews were in, and the response was overwhelming. As with his previous shows, Jean-Raymond gave people a new perspective on art and fashion and what it can all mean, wrapped up in a story they'll never forget. It's about being conscious about culture and designing with a purpose.
Reebok Global Design Manager, Priscilla Shum, who has been working with Jean-Raymond on the Reebok side of the collection since its foundation, says the collaboration has been very meaningful to her.
"Working with Kerby and the Pyer Moss team has been incredibly rewarding," says Shum. "With Kerby I get to witness a creative genius in his element. Being able to extract that vision and put that expression into something he sees in his head is something I can't really put into words. It's such a fulfilling, motivating feeling."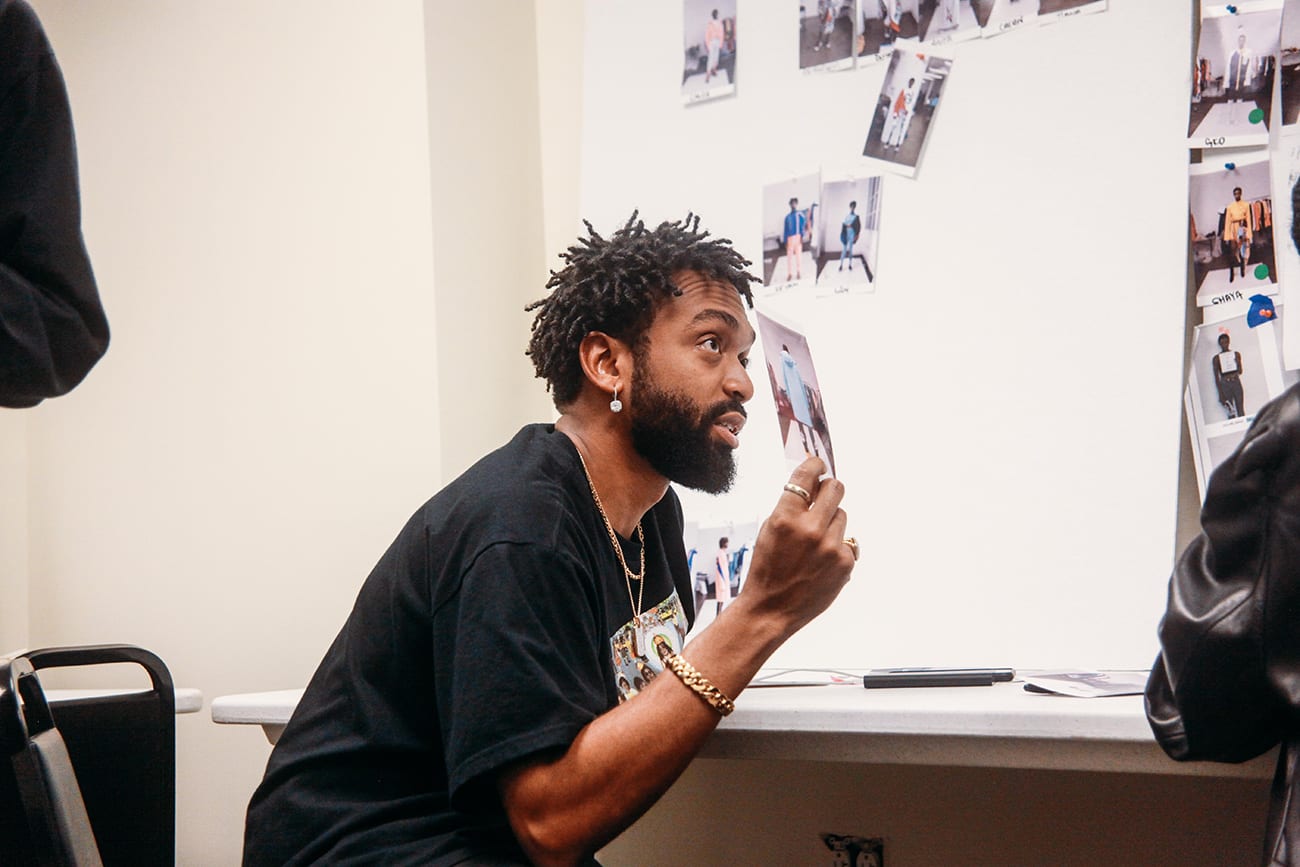 Reeboks relationship and design process with Jean-Raymond and Pyer Moss has evolved and grown quickly.
"This collection differed in the sense that both his mainline, Pyer Moss and the Reebok by Pyer Moss collection fluidly told a story and fed off each other," says Shum. "In previous seasons, we were establishing a relationship, understanding each of our needs. In this collection that relationship harmony really came through."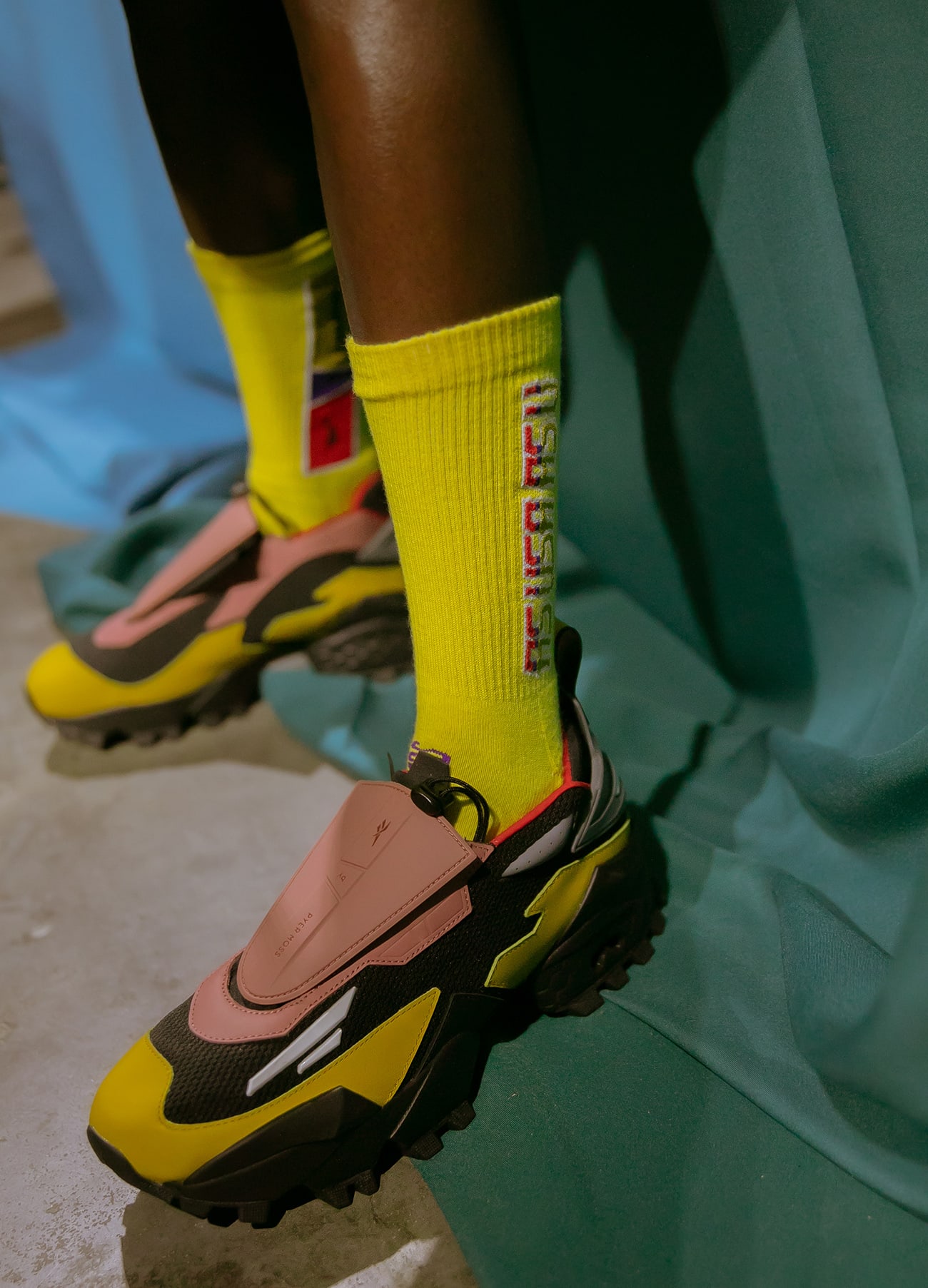 The Sept 8th fashion show also debuted the new Reebok by Pyer Moss Experiment 4 " Fury Trail" sneaker, the latest style to join the Reebok by Pyer Moss footwear collection. The shoe was designed as a sacred object split into three layers, each one representing all those who climb to success through the creation of something sacred in the face of adversity. The first offering of the Reebok by Pyer Moss Collection 3 is available now, with the second offering becoming available in December.
In a recent interview with Footwear News, Jean-Raymond said it was a dangerous move for Reebok to start working with him.
"Reebok did a dangerous thing by signing me. I was not an ideal candidate. I wasn't doing wild sales numbers, I wasn't trending, I didn't have any celebrity backing, I was speaking politics in my art and somebody there saw the potential in that and how I can [mobilize] a community, and they took a chance. All you companies that have profitability with no souls can reach back down and reinvest that money into communities, and you'd be shocked with how fast your growth would accelerate. Reebok did it and you should do it."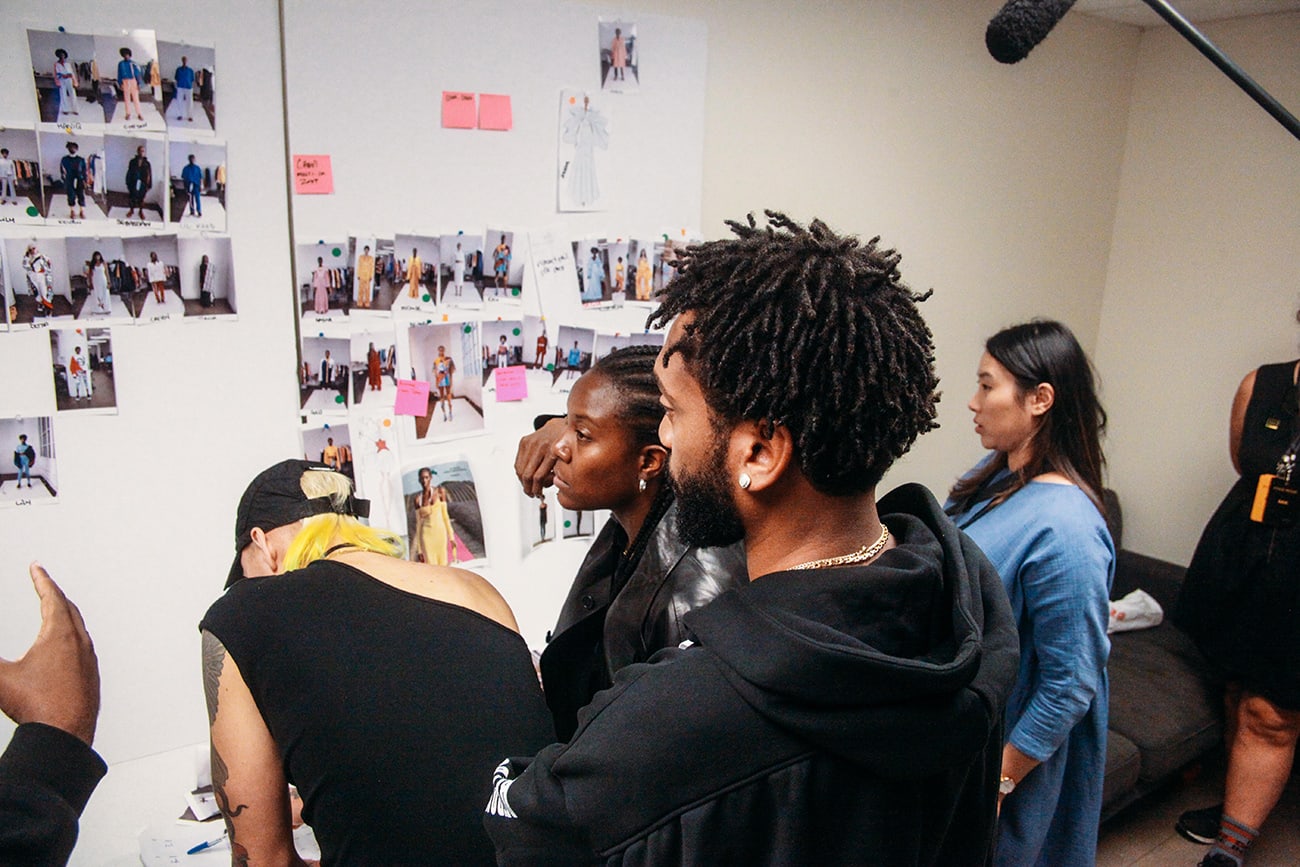 Jean-Raymond was recently named Artistic Creative Director for Reebok Studies_, a new division that will focus on exploring human nature and show the importance of people's lives and stories. As he explained to Footwear News, his vision for this new branch with the brand is to expand talent and build a pathway for other artists.
"My vision is to not only work with existing Reebok talent and partners; it's also to champion new ones," Jean-Raymond said. "Having my own division at Reebok allows me a way to provide a pathway for bringing in designers, artists and personalities that we feel can marry well with the Reebok brand. As the first designer to ever work with Reebok in this capacity, I feel honored to be a part of such an important moment in the brand's history."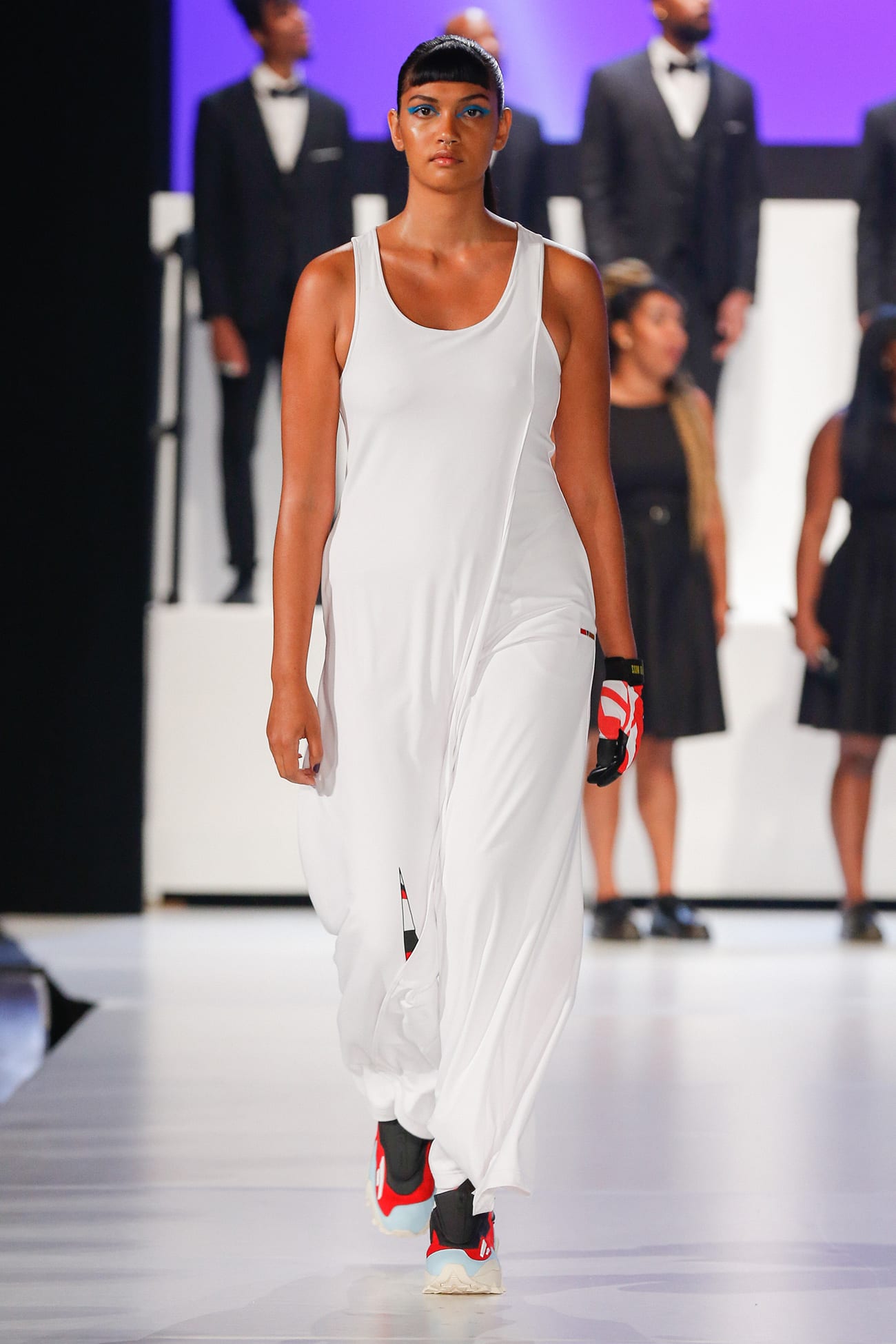 Shum says Jean-Raymond's storytelling through his designs is unparalleled and that partnering with someone with such vision is a game changer.
"Working with Kerby is unique in the sense that no one can tell a story like he does," she says. "His ultimate vision far surpasses what any of us would think of. The partnership puts Reebok in a whole different light and spectrum. So many different eyes and voices that wouldn't normally be exposed to what we do now have eyes on us. It's pretty incredible."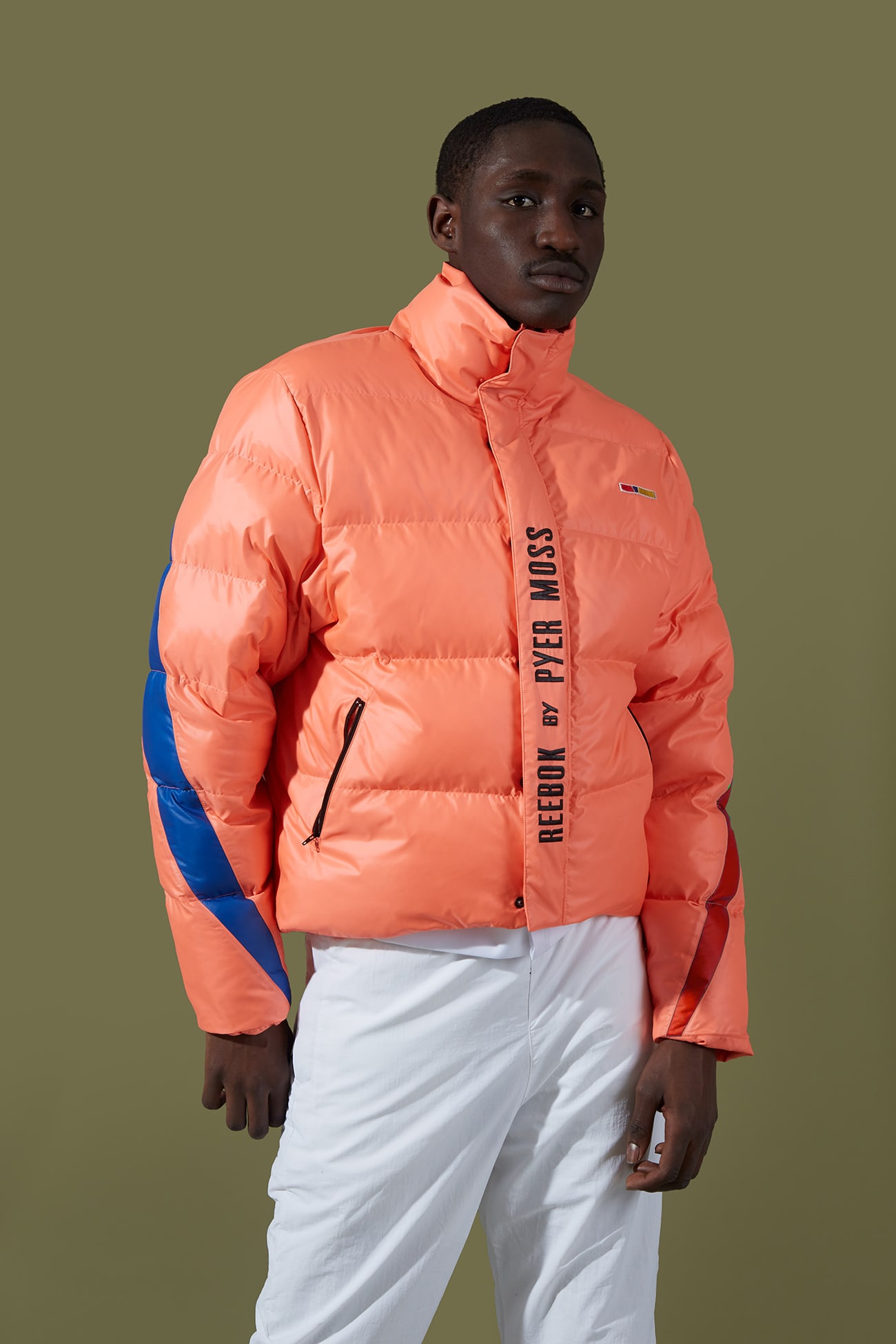 As for what's next for Jean-Raymond's future collections, he told Footwear News he is already working on the next one—and it's sure to shift the fashion community yet again.
"The next one is not going to be a trilogy; it's going to be a one-and-done. I am halfway through with it, I did the Reebok portion of it already," Jean-Raymond said. "I have the concept, I think it's really fire. All I can say is it's not about race because that's not my thing, that's not my schtick. I'm not the race guy. I'm the social [guy]; I care about people."
The first offering of the Reebok by Pyer Moss Collection is available now. The second offering will be available December 14th.