These Fitness Masks Could Amp Up Your Workout
Reebok designers lead us into an odyssey of potential fitness masks that would make fitness fashionable, functional and fun.
These days, a mask has become a common accessory (cue your Instagram feed of masked selfies). And, you've surely seen a running list online of all the masks - colorful, patterned and even floral – to help battle what's outside your door. But while cloth masks do their duty in keeping droplets from spreading, they aren't optimal when the time comes to crush a workout. You want a mask that can handle all the sweat while letting your lungs breathe. Sadly with most masks, you're left choking for air, making attaining that 6-minute mile, well, unattainable.
A potential shift in mask functionality conducive to athlete performance has been embraced by the design team at Reebok. The challenge: explore the potential designs of a mask that can handle sweat and air flow, but function like no other mask can. These designers pursued all kinds of avenues to take a problem for athletes and imagine solutions.
Reebok designers created multiple fitness mask concepts in the interest of innovation, and these ideas are more than welcome for those trying to navigate a self-distancing workout. From incorporating sensors to VR technology, the designers took a decidedly futuristic approach. Below are some of the ingenious mask concepts our talented designers will use as a springboard for future innovations in protective workout wear.
SENSORIAL Mask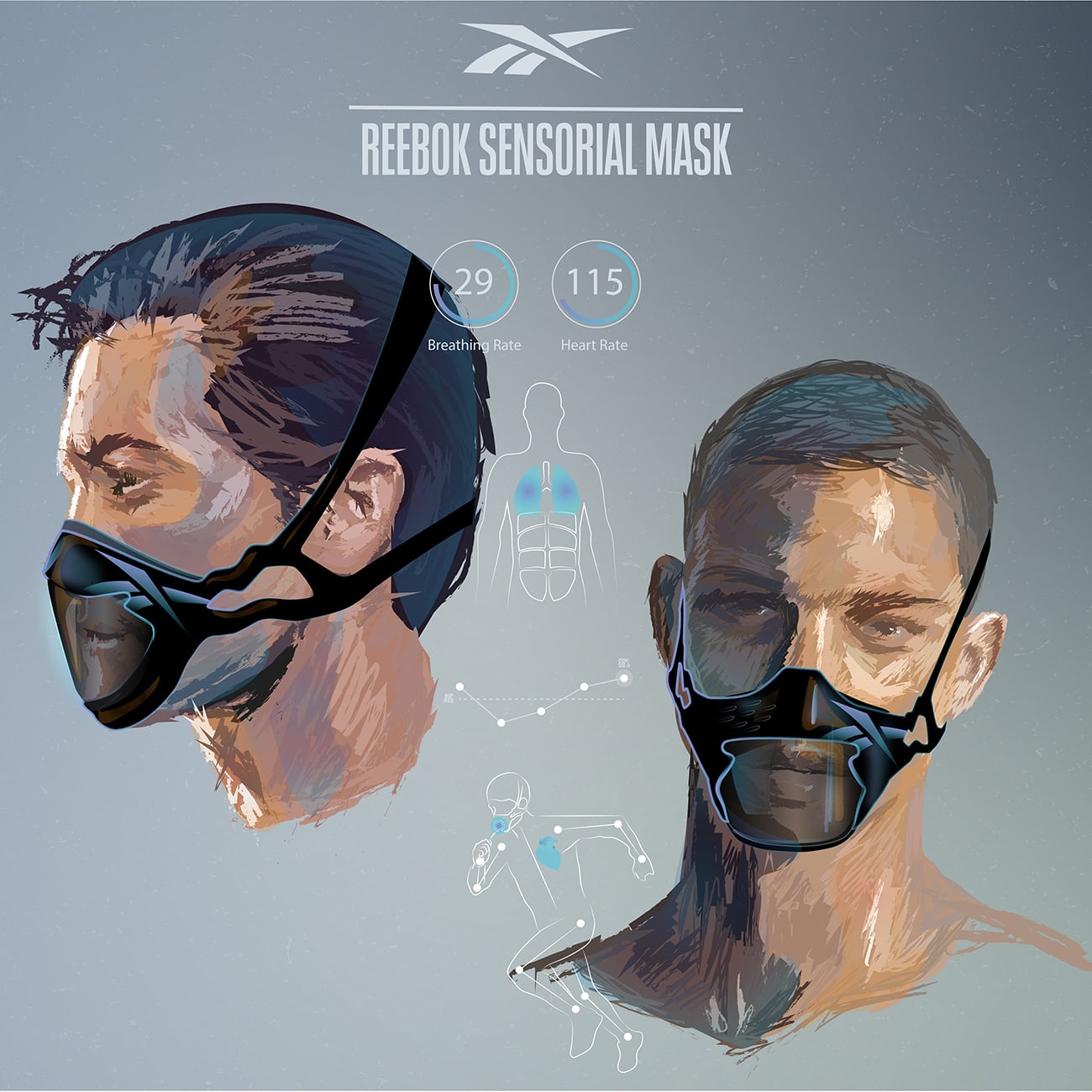 As demand for masks has increased, Reebok designer Elena Vivas wanted to focus on a pertinent feature that current masks lack: the ability to see expressions or lips moving. For the millions of people who have some degree of hearing difficulty, reading lips is essential, and Vivas wanted to remedy this problem. "We are social beings, and we have a constant need to show our emotions as well as see those of others. This mask would differ from a regular cotton mask by offering a transparent window, enabling expressions to be seen."
For those looking for a mask to wear outside for physical activity, this smart mask concept would take innovation to the next level. Vivas enthusiastically points out how the mask would benefit someone just as a smartwatch would. "Since it's a smart mask, it helps a lot! Sensors stuck invisibly under the mask are able to track breath, heart rate, activity, temperature control, sleep and stress levels." And, as a just-in-case for those who unwittingly throw items left in pockets in the laundry and get a mangled mess in return, the sensors would be washer and dryer safe.
Vivas' devotion to improving the user experience stems from being inspired by Reebok's own
Pump Fury
aesthetic - a shoe truly indicative of where function meets style – and this is revealed in the mask's master plan. "The type of tech you choose will be as much a lifestyle statement as the clothes you wear. That's why the mask incorporates the aesthetics of the Pump Fury. I also added some reflective elements so anyone working out could be seen at night."
SYMBIOSIS Mask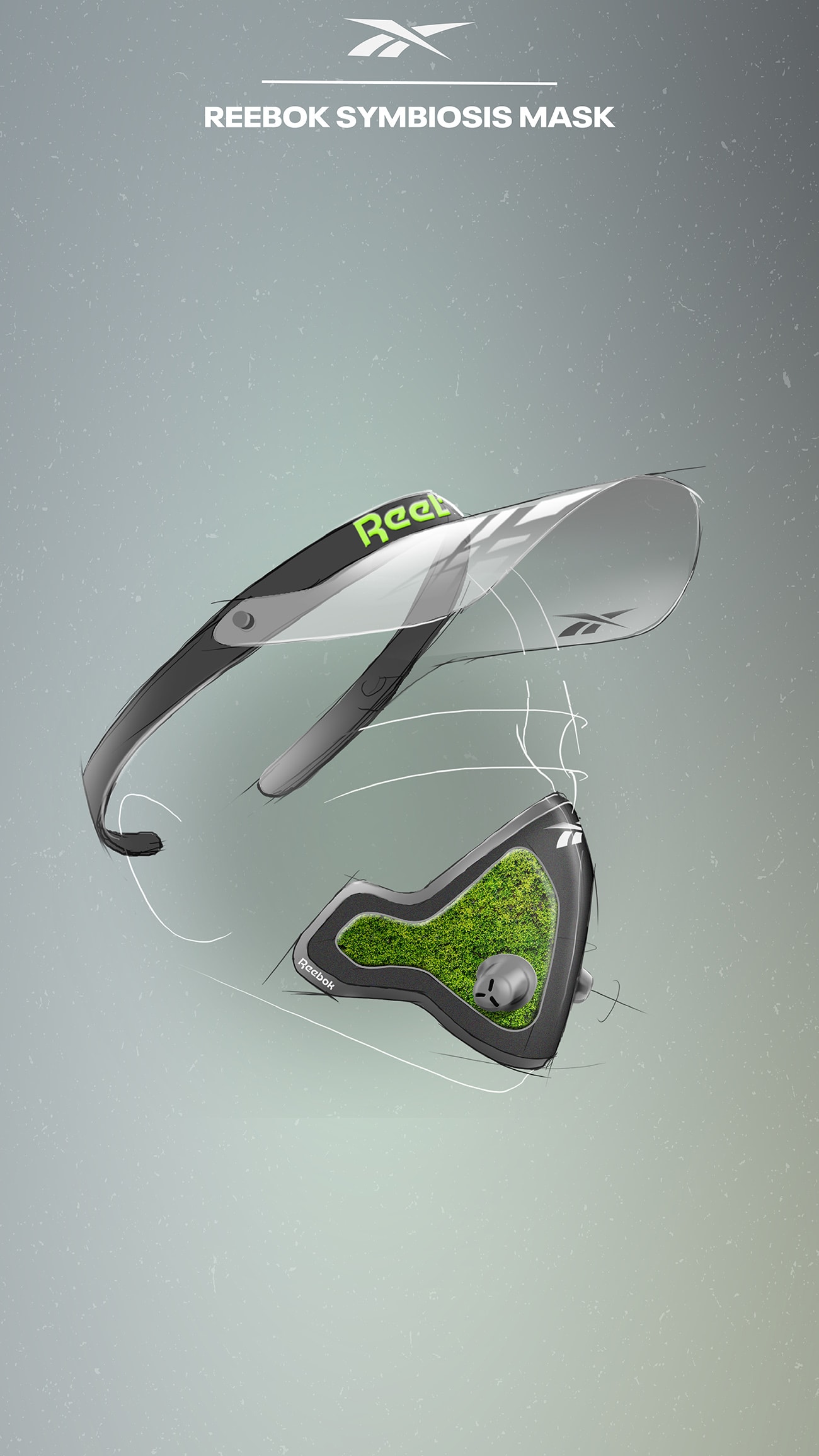 As an unexpected benefit in this strange time, people have had increased opportunity (and time) to connect more with nature. Kleina was inspired by the idea of sustainability and the need for humans to connect with the outside. "This mask is designed for performance lifestyle use, as it envisions using a natural, living material (sea weed, bacteria, etc.) to purify the oxygen naturally. Humans provide humidity (through breath humidity and sweat) so the product is living directly with the consumer, in a sustainable way. This mask would be completely reusable and a natural way to purify oxygen."
The concept, inspired by Reebok's Pump DNA, could use a valve system to regulate breathability. "The consumer could adapt the valve of the Pump system if they need more or less oxygen." Kleina adds the ease of wear that the mask provides, saying "It wouldn't have the actual fixation system [that a regular cloth mask has] so people can wear it with sunglasses or other accessories easily."
REEMERSION Mask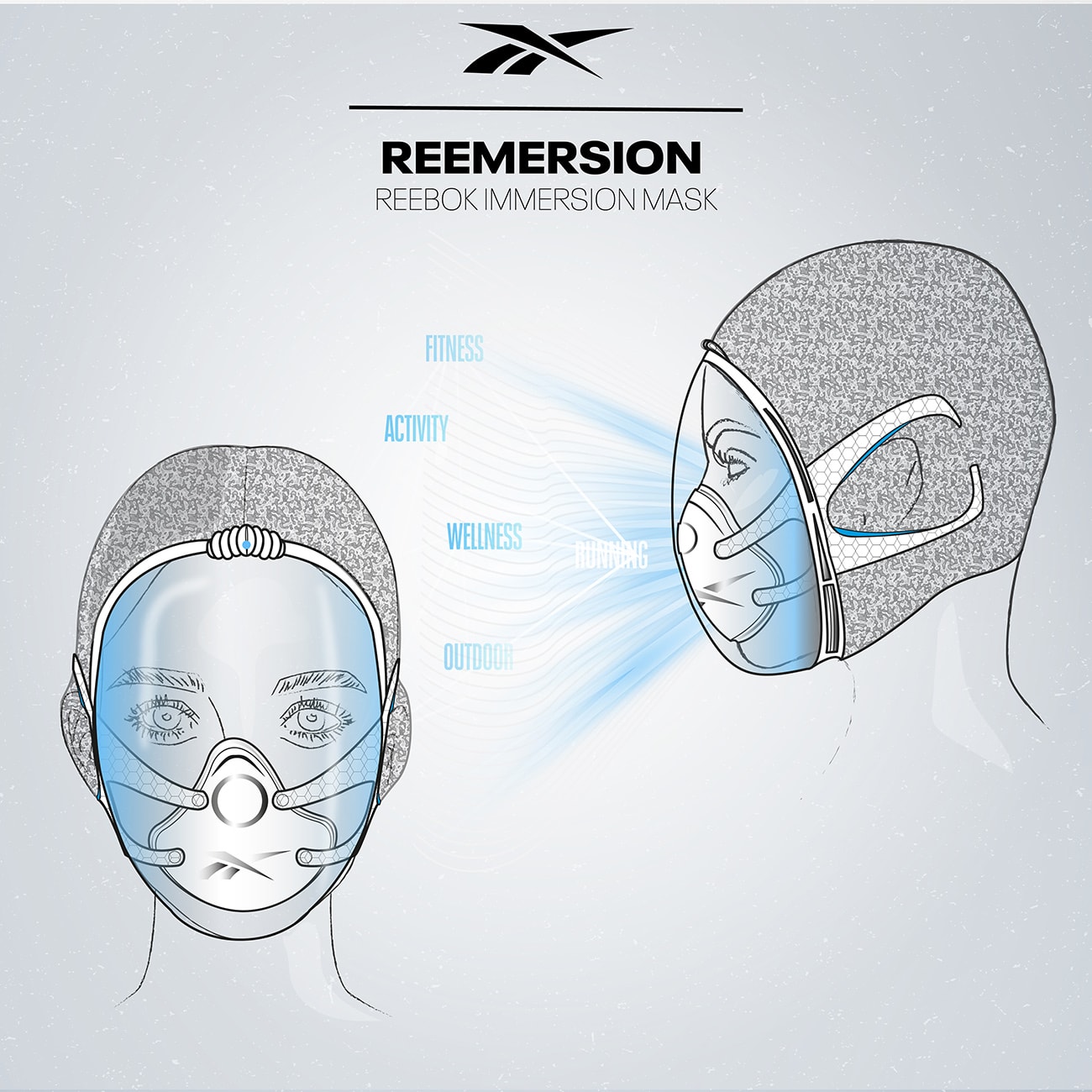 As Reebok design teams focus on a constant evolution in their designs, designer Sophie Dubourdieu, inspired by sci-fi movies, had been thinking for some time about face masks - but the world wasn't quite ready. "Unfortunately this situation has accelerated everything, and wearing a mask will be the new normal," she muses. "[But] creativity and innovation have always been part of Reebok's DNA, and we believe that we should be one step ahead of our competitors to challenge conventions and unleash our creative potential."
Dubourdieu's goal was to try to take the inconvenience of wearing a protection device and turn it into something positive and useful for athletes. She is quick to point out that this proposed concept is far from a regular cotton mask. In addition to being protective, "The mask could use many technologies like an air regulator technology to improve athletes' performances or improve the efficiency of their training. A whole range of sensors could track vital signs to train in the most efficient way."
With a multitude of inventive concepts like an "anti-fog screen, ventilation, VR Technology, camera, video, audio (connected with the mask's branches), and the ability to be controlled by eyes or voice, this mask would be the ultimate tool to improve your workout," Dubourdieu says. "This is only the beginning of an infinite quantity of apps that could be developed in the future to be used with this futuristic mask that could one day become the new normal."
In the interest of offsetting the downsides of social distancing, these mask concepts could be just what we need to restore our fitness and the mental wellness that comes from venturing outside. Reebok's reevaluation of
effective face coverings
presents an opportunity, especially as we long for the days of going for a run mask-free. But for now, keep that stress to a minimum,
try some new training plans built for the outside
, and just breathe.
Related Products: