How Fitness Helped this Trainer Discover Their True Self
Trainer Zoe Ubaldo shares thoughts on proper nutrition and building an inclusive fitness community.
While in search of a creative outlet post-college,
Zoe Ubaldo
didn't realize that fitness would be the answer. After joining a gym and realizing their strength, Ubaldo eventually tested the waters at a few powerlifting meets. Ubaldo says it was there that they found where they belonged. "It was during a time where I was really trying to figure out my place and what I wanted to do with my life. Lifting weights became a positive outlet for me to express and build myself up, not only physically, but mentally as well."
As a member of the LGBTQ+ community and a newfound fitness community, Ubaldo says they have learned a lot about themselves. "Fitness has helped me better accept and grow into my identity as a queer non-binary person. By training, I've become so much more confident in my body and how I present myself. The community I've found in lifting has been very important in creating a strong support system as well."
After a few years of training, competing and working as a special education teacher, it was time to take on a new challenge. Ubaldo wanted to share their knowledge and love for fitness with others so they became a
certified personal trainer.
Now, Ubaldo says they are working hard on building their own supportive community. "I am really trying to help people that are either intimidated by gym culture or don't think they have the ability to do certain physical fitness things." They are searching for people, similar to themselves in the beginning, who don't know yet just how impactful fitness can be. "I am really trying to open a door for people who don't think it's open to them. I'm looking at beginners and people who are trying to find a healthy outlet for themselves. It's about getting anyone to start moving."
Ubaldo is also ensuring that in addition to taking on fitness, their clients are adopting a healthy lifestyle. Ubaldo says education around proper nutrition is key. "I've seen a lot of harmful things happen with, what I like to call diet culture, and the fitness industry. Of course, there are extremes on both sides, but I think diet culture can be very harmful. I've seen people struggle with eating disorders, which can start as a mental illness. But it's definitely exacerbated by all these commercials and other influencers telling you to do this or that or quick fixes." Ubaldo says people don't focus enough on what being healthy really looks like. "I think there's a lot more science coming around now that shows you can be, what's considered 'overweight', and still be healthier than someone who is following a strict diet. I'm very much about spreading awareness that how you look on the outside does not indicate your health on the inside."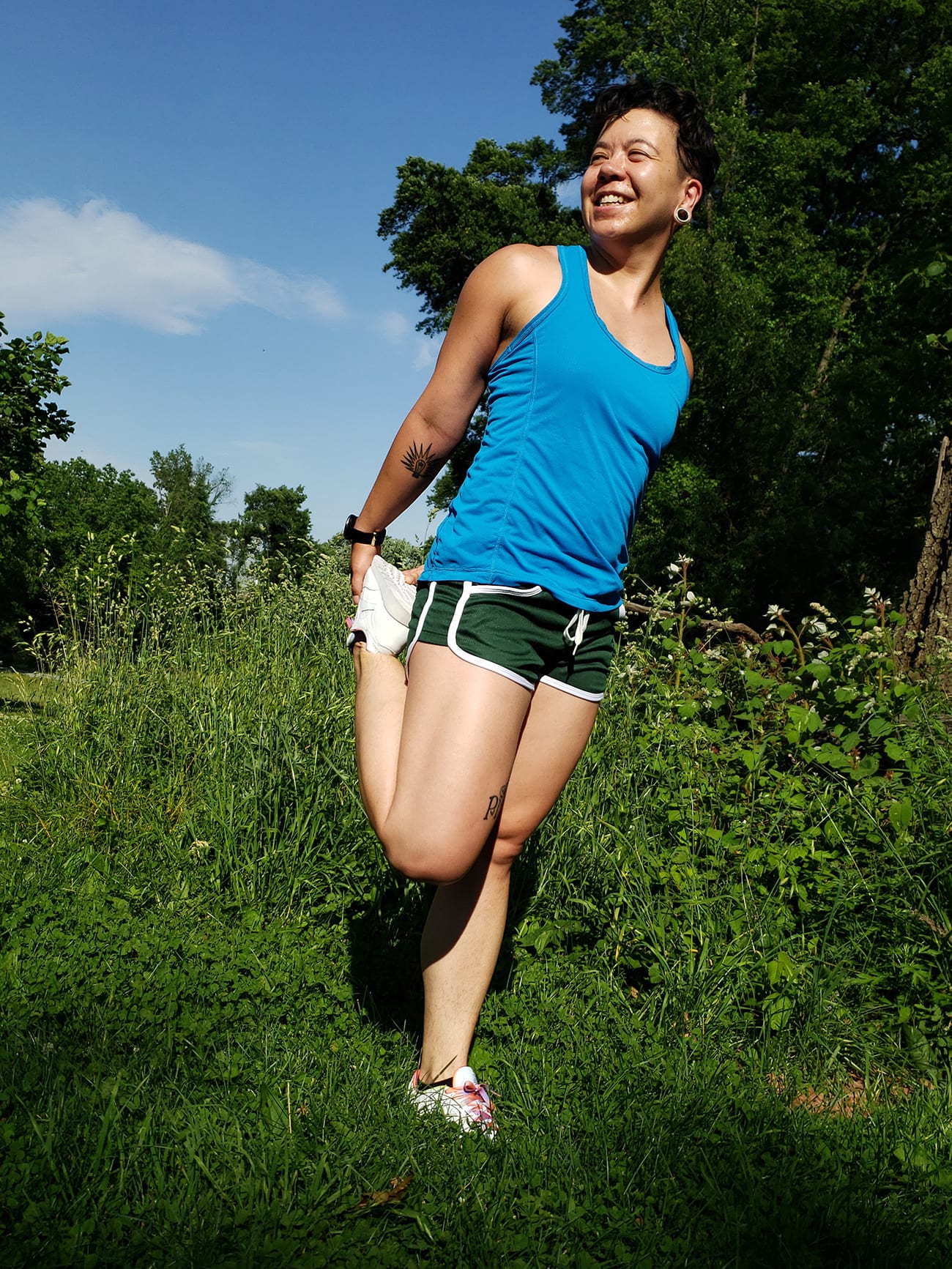 Ubaldo has been
training clients virtually
given the state of the world. But as gyms open up again, they understand another piece of someone's fitness journey is actually being comfortable in a gym. They realize how tough it can be to sign up or to get back in there. "I do understand that feeling of walking into a gym and seeing all these super jacked people and thinking everyone knows what they're doing and not feeling comfortable." While Ubaldo says they themselves have never felt intimidated by places that may seem unwelcoming, it's a real reality for many. "For people in the LGBTQ community, the gym might feel like a straight world jock place to be. At the same time, we have to push ourselves to go into these places that we see as primarily one certain type of membership. Representation is important."
Ubaldo says there are actions that gyms can take to become more inclusive and welcoming to different communities. "It's as simple as having a sign or something in your policy that says you're accepting of all of the following people. It's easy to look at a gym and assume the crowd that goes, but you won't know unless you go, or they have it stated somewhere the people who are accepted. It's just making sure that you're giving the voice to the ones not necessarily being heard right now." Beyond signs, it's also about being considerate of the different needs that people may have. One move can make a huge difference. "A big concern for trans people that are trying to go to gyms, is having the option for a gender-neutral bathroom and not just having men's and women's locker rooms. It can be as simple as one extra bathroom."
As more gyms open and are hopefully more welcoming, Ubaldo hopes for a gym of their own. "In the past few years I've seen specific gyms open for people of color and LGBTQ people to come to. It's always been a dream of mine to open up my own gym eventually, something that's really inclusive."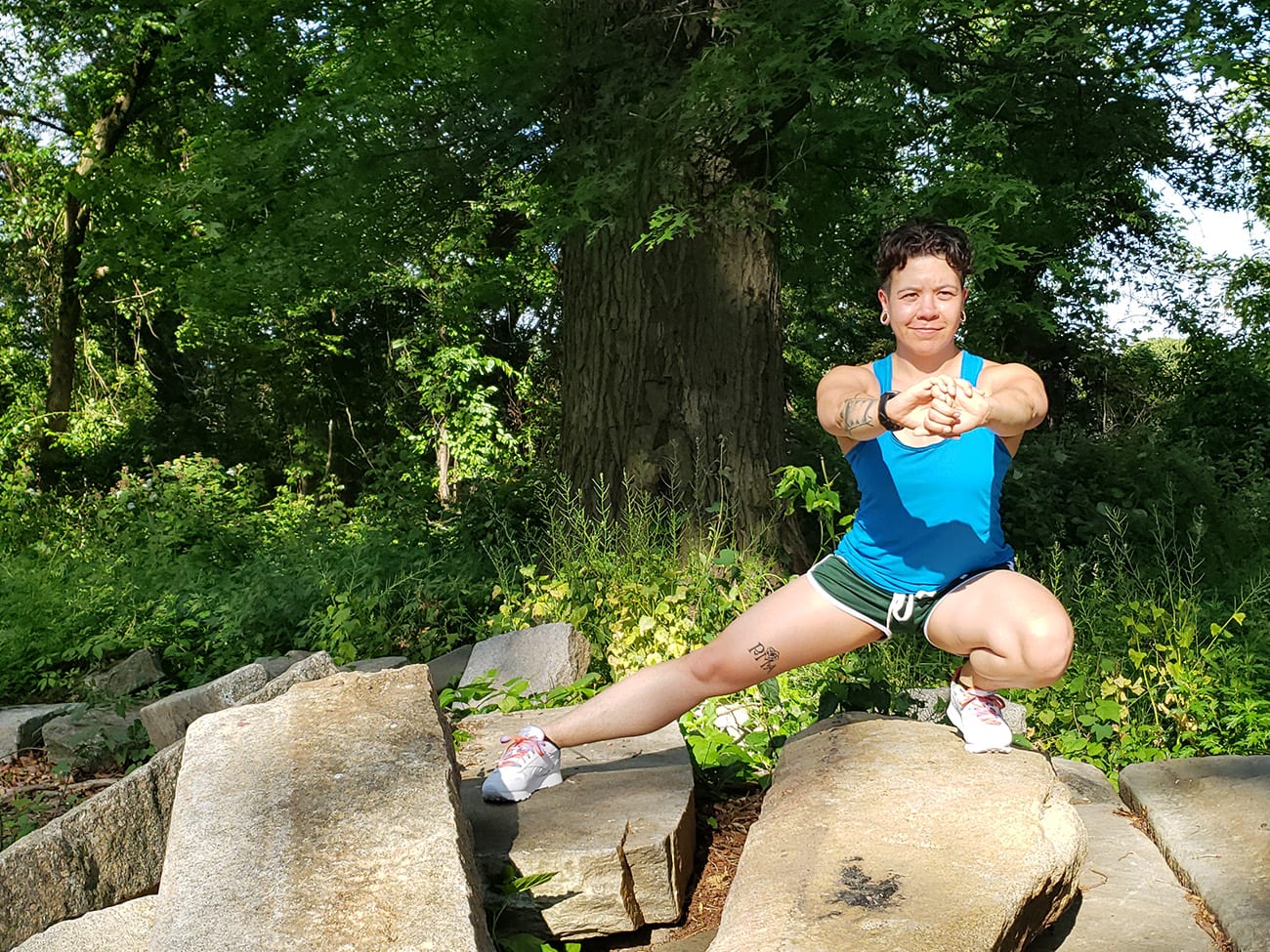 While June is Pride Month, Ubaldo says that Pride is about so much more than just one month. It's about supporting a diverse community all year round. "To me, Pride is about being unapologetically YOU. It's all about recognizing the diversity in our own community and how we can uplift each other to understand one another and come together to improve our lives and the lives of LGBTQ folks in the future." For larger companies and brands looking to support the LGBTQ+ community, Ubaldo says to remember that actions speak louder than words. It's about finding ways you can support, no matter the month. "For any brand trying to be a good ally, it's being able to back athletes and people in the community who are LGBTQ and making sure they're heard and you're listening to what they need."
During these uncertain times in the world, it's crucial that all different communities feel heard and accepted. For Ubaldo, that means building a fitness community they can support on their mission to improve their lives and become strong. "I continue to teach because I genuinely love seeing people better themselves. I continue to train for powerlifting because the progress, no matter how small, is always rewarding." Just as fitness helped them find their path in life, Ubaldo is now paying it forward so that everyone can feel accepted, no matter who they are.