Work Out Like CrossFit Athletes Haley Adams and Saxon Panchik
Reebok's newly signed CrossFit athletes are talking about how fitness has impacted their lives, training for the 2020 Games and giving us workout breakdowns.
This year's 2020 CrossFit Games are expected to be an entirely new experience for the athletes competing. Without a crowd of spectators and with significant changes to the Games format, this year is expected to be even more intense than in years past. As members of the CrossFit community gear up for competition, Reebok announced today that
Haley Adams
and
Saxon Panchik
have been added to the roster. Both Adams and Panchik ranked within the top 10 in the men and women's divisions during last year's Games and have their sights set on out-performing themselves this year.
For both athletes, the training and prep all leads up to that one weekend. For three days, they'll push themselves past their limits to prove that they are the best there is (and hopefully take the coveted spots of Fittest Man and Fittest Woman on Earth). Adams and Panchik gave Reebok an inside look into how CrossFit has changed their lives, their training and shared workout breakdowns. Check it out and see if you can hang with the pros.
Finding CrossFit
Adams discovered CrossFit as a freshman in high school. There was a CrossFit box next to her gymnastics gym and once she saw what it was all about, she was hooked. Adams says, "I would look through the windows at these girls lifting weights and jumping rope and I was like, 'What in the heck? I want to try that.'" From there she said goodbye to the cross-country team and gymnastics and took CrossFit head on. Once travel with the sport started to pick up, she moved to online classes for her last three years of high school and fully committed to her training.
Panchik also discovered CrossFit at a young age. After a traumatic hiking accident at the age of 11 that left him and his twin brother severely injured, they were both told they could no longer participate in contact sports. As all-around athletes, the news was a devastating blow. After a few months of home schooling and fitness falling to the wayside, Panchik's dad introduced both brothers to CrossFit. It soon turned into a family affair with the entire family going to the gym for sessions to take each other on and sweat it out. Panchik says, "My brother and I dreamed of playing college football and that was ripped away from us really quickly. We got into CrossFit and saw how competitive it could be. My older brother Scott qualified for the Games in 2012 and seeing him compete switched our whole mindset. We saw that you can become a professional athlete by being extremely fit."
CrossFit allowed Panchik to make the best out of his situation. He says, "It's about taking something that negatively impacts your life and being able to pull out the positive and ask what you can do. I want to share that with people."
For Adams, CrossFit has also become about so much more than just a competitive sport. She says it's turned into a lifestyle. "Finding CrossFit, finding a routine, learning how to eat better and how to move my body is something I will honestly carry with me forever. I'm obviously not going to be training this hard my whole life, but I'll be moving my body and eating healthy my whole life just because I found fitness like this."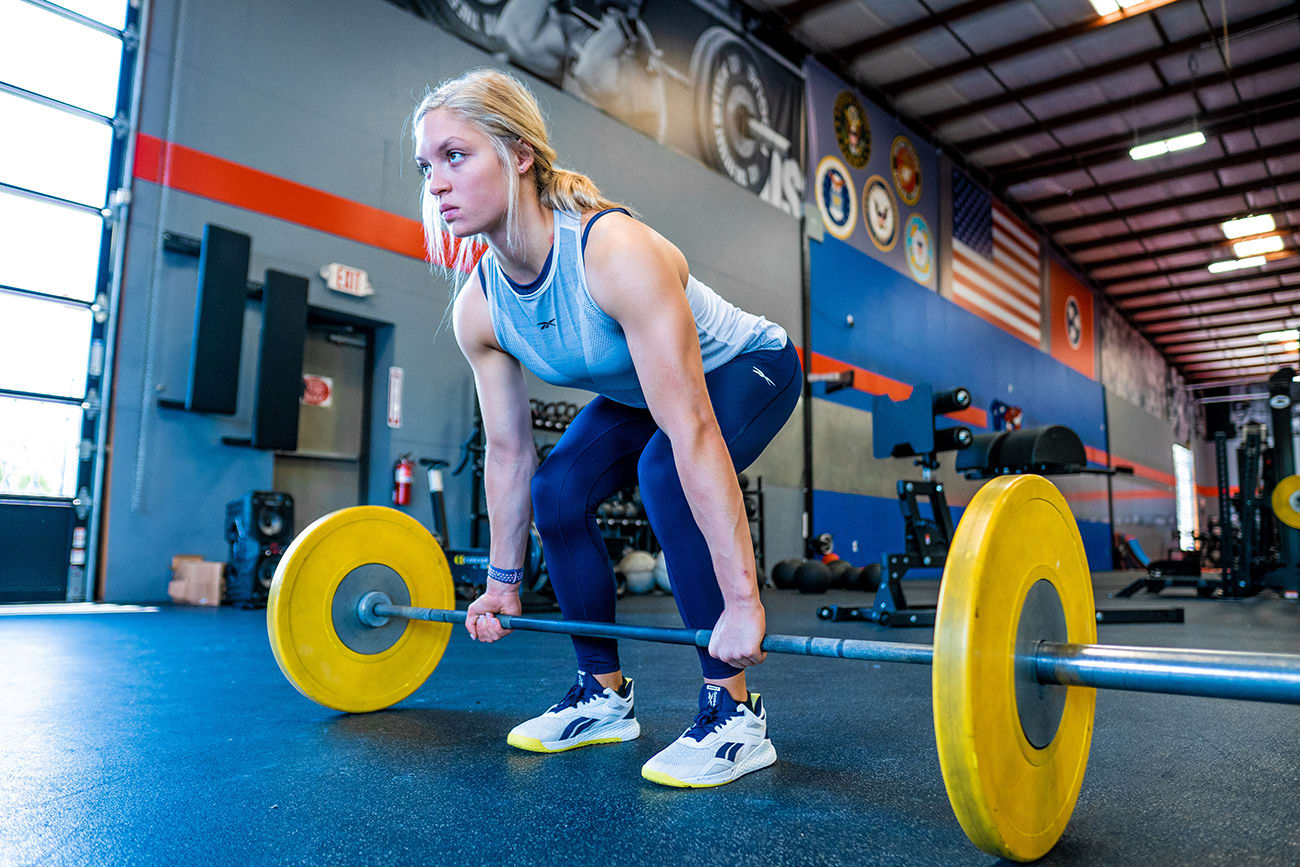 Photo Credit: Ben Davidson


Schedules and Routines
As far as schedules go, these two are pretty busy these days. Adams just finished up her freshman year of college in Tennessee and Panchik owns his own CrossFit affiliate gym, CrossFit Cliffside, in Ohio with his brother. But when they aren't doing their full-time jobs as a student and as a business owner, you better believe they're making time for their training.
Panchik says while he wears many different hats (husband, gym owner, athlete) it's all about routine. "I start each day waking up around 7:45am and spend time with my wife making breakfast. I get into the gym around 9:30am and check in with my brother and then around 10-10:30am is the first training session until noon. Then we have classes come in and training again until the evening hits. After that we're back to coaching and business, working with our members." Splitting the hours as a professional athlete and coach can be demanding but Panchik's commitment to the sport is what drives him forward.
Now that school is out for Summer, Adams has more time to dedicate to the gym. She says it's a grind, but you have to put in the work. "Right now, with Games training I wake up around 6-6:30am, head to training at 8am and train until about noon. Then I come back, chill out for 2-3 hours and then head back up for another training session that usually goes to about 5:30pm. Then I head home and crash for the night." Spending those crucial hours in the gym is what makes Adams the young high-level pro she is.
Nutrition and Meal Prep
Of course, neither Adams nor Panchik would be where they are professionally if they weren't fueling their bodies properly. Panchik is learning from his performance last year and making changes to his meal prep. He says, "In training I have meals set up that I'm eating in between sessions. This way when I get to the Games my body knows and is ready to eat. It may not fuel you at the time, but for a long weekend, that's going to add up and that's what I learned last year."
Adams says she continues to learn about nutrition as she goes. "It's always been a learning experience for me. I count macros, so I have a certain number of proteins, fats and carbs I eat for the day. With my schedule I have to be pretty prepared for what's to come so I pack my meals and stay ready." But she does have a favorite healthy go-to meal right now. "My favorite meal right now is broccoli slaw, cooked portobello mushrooms and chicken with a bunch of different sauces."
But it's not all meal prep and weighed out portions. Panchik says when it's a real tough day in the gym, he's all for grabbing a few slices. Why? Because he earned it. "I'm doing a big pizza after a hard training day. I wouldn't consider it great and I wouldn't consider it bad." Professional CrossFit athletes…they're just like us.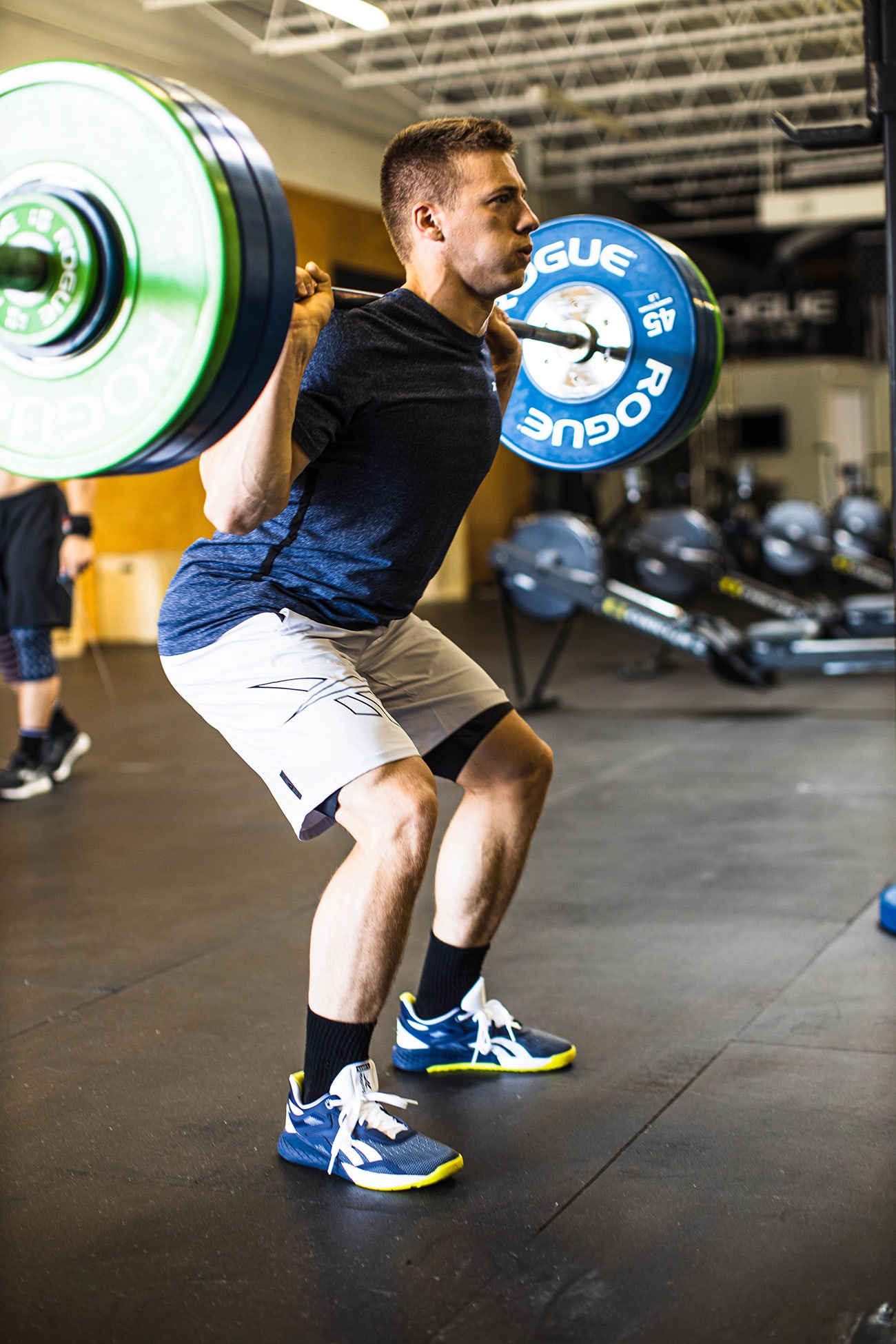 Photo Credit: Chris Chavez


Training and Prep
At just 19 years old, Adams has already made her presence known at the CrossFit Games. In 2018 she earned the title of Fittest Teen on Earth winning the teenage girls 16-17 division. So, it was no surprise that her first time competing as an adult in the Games last year, she was ready. She ended up skyrocketing past the competition landing the title of 6th Fittest Woman on Earth and says she's ready for 2020. "Last year was perfect because physically I was there, but mentally I needed that confidence boost. Going into this year I'm not changing anything with training; I'm going to train the same because it worked pretty well, and I'll just make sure I keep up that confidence."
Adams credits her success to the training she does with CrossFit Mayhem. "I train with literally the best people in the world and they're always kicking my butt, so I didn't know what to expect. But after the first event I ended up doing so well I thought, 'oh my gosh I guess I can compete with these girls.' That sort of flipped a switch in my head and I followed that through the rest of the competition."
As a two-time CrossFit Games athlete Panchik has learned the ropes and what it takes to truly compete. At 22 years old he placed 19th overall at his first CrossFit Games in 2018 and was ranked as 9th Fittest Man on Earth in last year's Games. Panchik says he's learned from his past mistakes. "My volume just wasn't there in 2019 to finish the weekend strong. When I finished 9th in the 2019 Games I wasn't satisfied with my placing." But, he's course corrected and ready to make a serious impression this time around. "The big thing I'm changing is cranking up my volume and intensity and hoping this is the year to make a splash."
Want to work out like Adams and Panchik? They each curated a workout below. See if you can keep up.
Haley's Workout:
AMRAP of 15-20 mins
50 Double Unders
50 Air Squats
25 Dumbbell Snatch
25 Burpees!


Saxon's Workout:
2 sets, 21-15-9
Shoulder to Overhead at 155 and then Bar Facing Burpees
Then 1:1 rest and repeat