Reebok Teams up With PLEASURES for a Desert-Inspired Classic Leather Legacy
The founder of the iconic streetwear brand talks about the PLEASURES legacy, the inspiration behind the collaboration with Reebok and his vision for the future.
Reebok recently partnered with the renowned streetwear label to create a legacy-defining take on
Reebok's new Classic Leather Legacy model
. Born from Reebok's rich running heritage, the Classic Leather Legacy takes inspiration from the brand's late '70s and early '80s running shoes and reinterprets it for 2020. The Classic Leather Legacy stands out through unique features like the serrated side check and it's emphasized die-cut EVA midsole that offers a lightweight cushioning. PLEASURES took this new style and provided their own take on the design and the definition of the word legacy.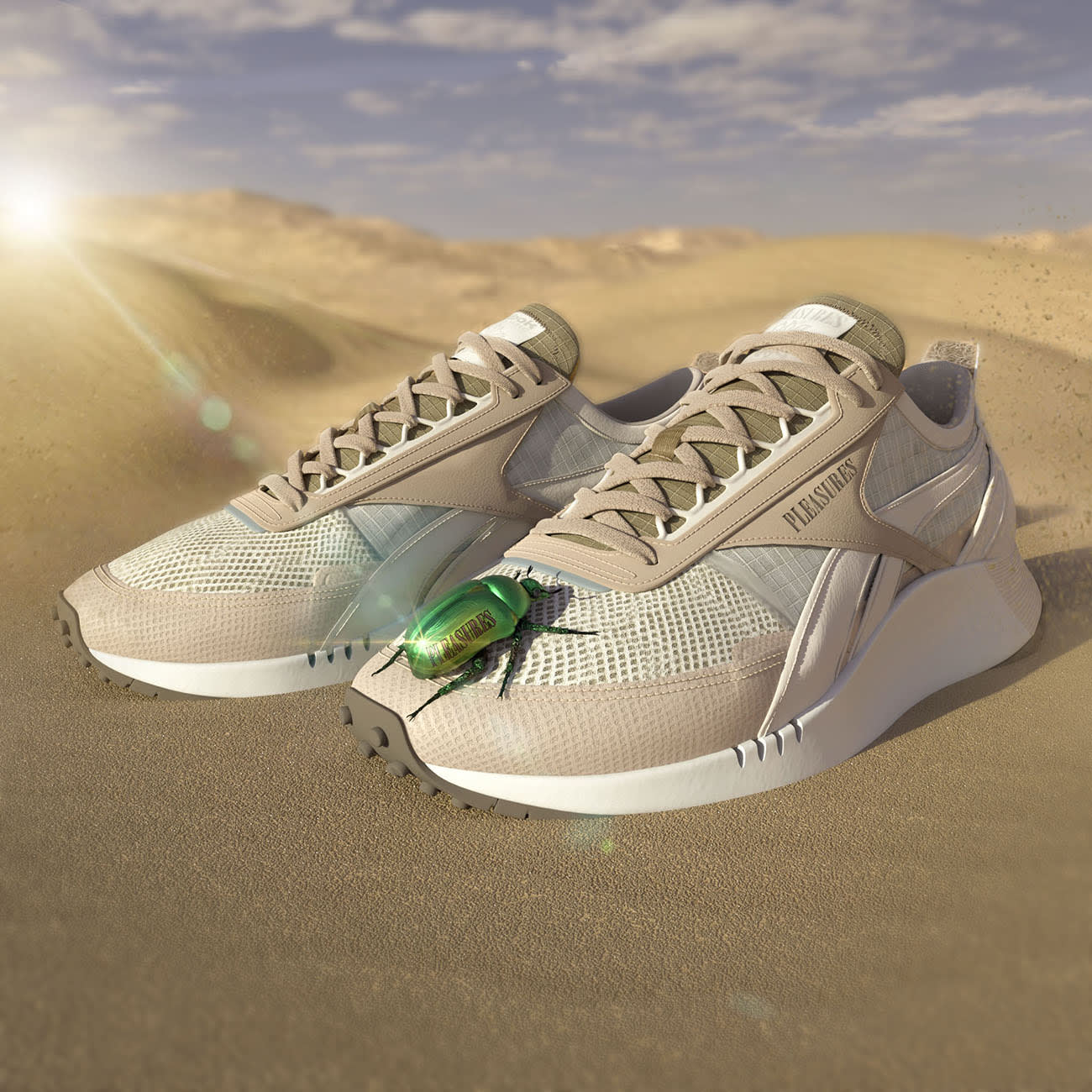 PLEASURES co-founder Alex James says legacy is all about creating for future generations. "A true legacy has no fear of time," he says. James co-founded PLEASURES with Vladislav Elkin back in 2015, but much like the origins of streetwear, the label has deep roots in '90s culture. Their clothes and accessories reference obscure and well-known graphics and musical artists, inspired by the grunge, metal and punk music they both listened to in their younger years. From popular celebrities to music fans, PLEASURES is cementing their legacy in streetwear by creating clothing that captures moments. Whether they're selling t-shirts emblazoned with iconic logos or collectible sticker packs, PLEASURES is creating fans of the brand that keep coming back.
PLEASURES has worked on several Reebok projects before, including their own takes on the Club C and Beatnik silhouettes. "Reebok always gives us the freedom to explore and create," says James. However, working on a new silhouette can be a challenging task, especially when it shares DNA with one of the most iconic sneakers in history: the Classic Leather. For James, working on a project that involved Reebok's iconic Classic Leather silhouette was fun. "I remember the Classic Leather growing up being worn by all different types of people, skaters, punks and hip-hop kids. It's easy to wear and can be worn a million different ways," he says. With that in mind, PLEASURES decided to create a modern and versatile colorway consisting of shades of tan on top of a white midsole. They also made sure to incorporate breathable fabrics like mesh and ripstop nylon.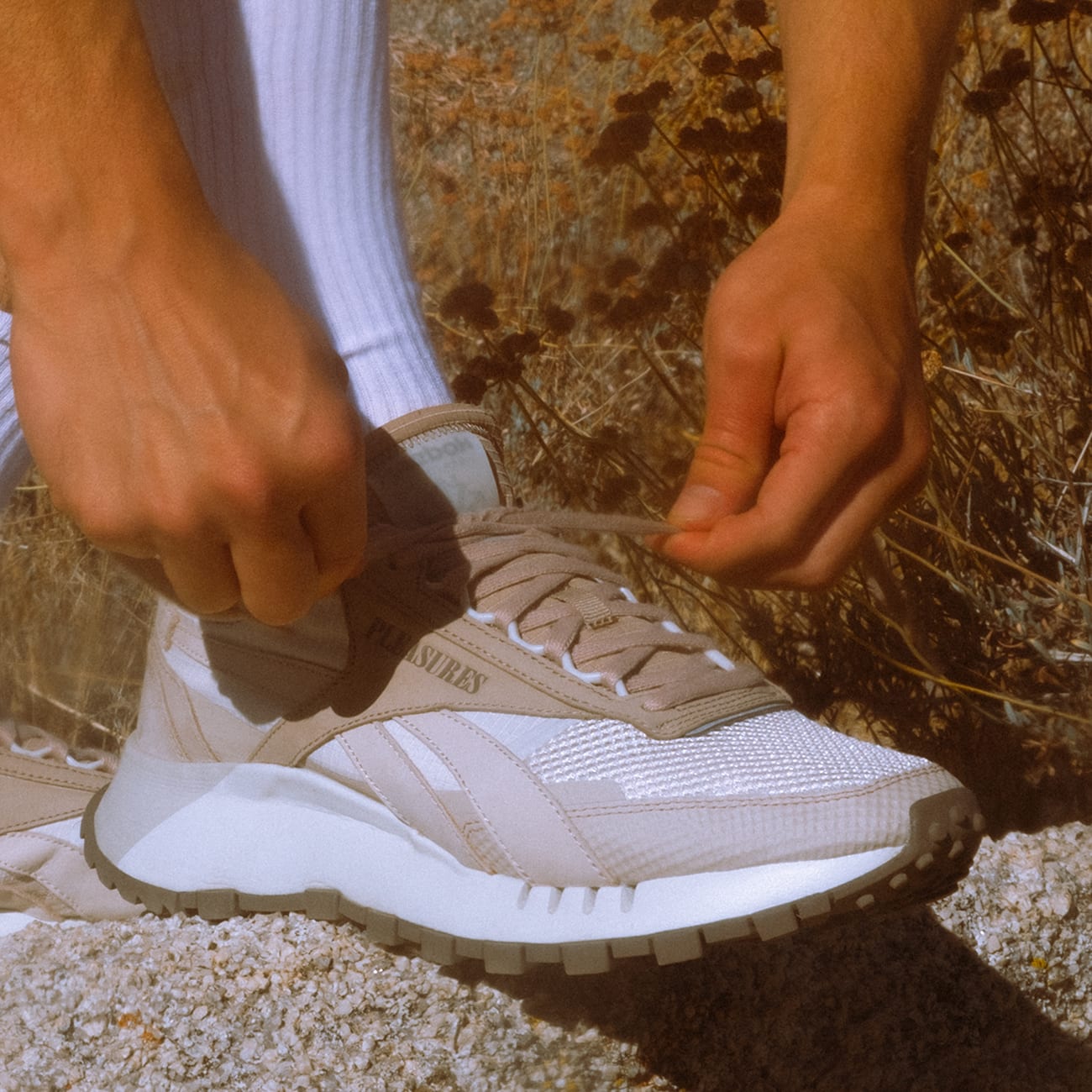 James says for the inspiration behind
their version of the Classic Leather Legacy
, the brand was inspired by the legacy of Joshua Tree National Park, located roughly two hours west of PLEASURES' home base in Los Angeles. "We wanted to add our love of California and the desert, specifically Joshua Tree, to the design." The park is home to two distinct desert ecosystems, the Mojave and the Colorado, and is named after the jagged and unusual Joshua trees that can be found throughout the park. For many Angelinos, Joshua Tree is a beloved place to escape the city and connect with nature through camping, stargazing, and hiking. "Taking cues from this unreal landscape, we landed on the perfect color palette and vibe," says James.
The unique way PLEASURES views sneakers and design is what makes them such a staple in the streetwear industry. James says they strive to create things that people can't get anywhere else. "In our unorthodox design process, we treat a t-shirt and a sneaker as a similar canvas. The end goal is always trying to create something unique and relatively unavailable in the current marketplace." When asked about PLEASURES' legacy, James is pretty clear: "Our brand platform is about equality, inclusiveness, and education. We hope the future youth learn from what we've created."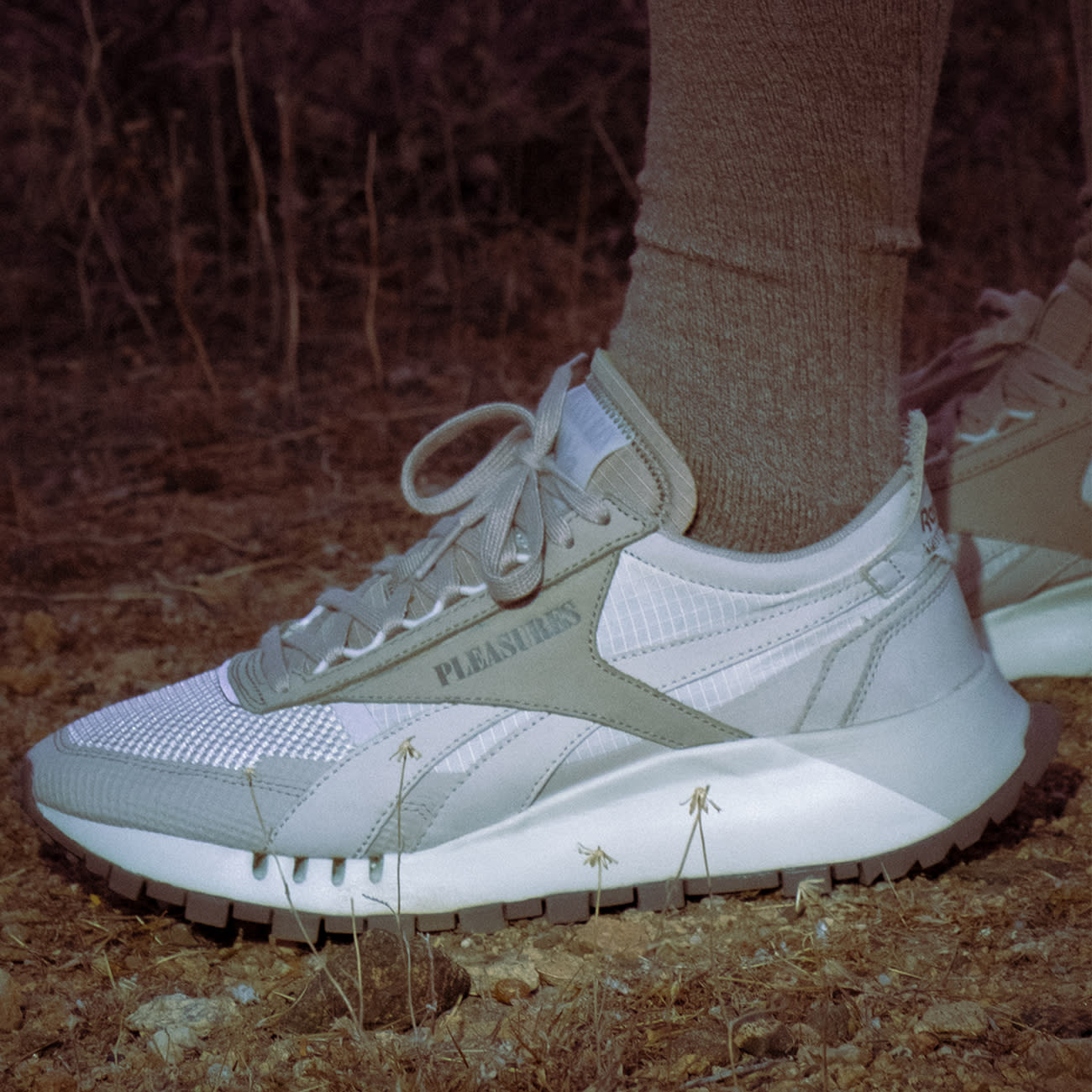 Reebok's Classic Leather Legacy sneaker was built on heritage and inspired by a silhouette that had already made an impact on the sneaker world. By putting such a personal touch on the design, they're extending their legacy and showing young people what it means to dig deep when it comes to creating a brand. Both Reebok and PLEASURES are ensuring that their creations stand for more than just trends.
The Reebok x PLEASURES Classic Leather Legacy will release on August 22nd.