The Pride Nail Art Tutorial You Didn't Know You Needed
You can celebrate Pride no matter the month. Here are 5 easy steps to match your colorful nails to Reebok's Pride Collection sneaker.
One of the best forms of self-care is getting your nails done. For one blissful hour you can be pampered, pick out a cool color and leave with a beautiful manicure. Unfortunately, lately it's been difficult to have such a therapeutic experience. The ongoing pandemic has made it hard for salons to open during a period when taking a little "me time" is desperately needed for your sanity. With few options available, choosing to do your own nails is a solid alternative. So, if you've been spending quarantine painting your nails that same blah color for months, nail artist
Miss Pop
is going to show you how to spice them up. Her inspiration and theme? Pride.
Pride Month is typically celebrated during the month of June, but it shouldn't stop there. Pride is so much more than just one moment, and the conversation around equal rights and representation of the LGBTQ+ community should happen all year long. "I owe a great deal to the LGBTQ+ community. They are at the forefront of the fight for gender equality, squashing gender norms and smashing the patriarchy," says Miss Pop. "To me, Pride is an opportunity to celebrate that all of our liberation is intertwined. But the gratitude doesn't end in June, we have to support and celebrate the community that gives us all so much freedom to be exactly who we are every day." Reebok's
All Types of Love Pride collection
is meant to be a physical representation of all the ways to love and be loved and the need for human connection. The hope is that the collection continues to raise awareness of the daily injustices and inequalities this community still faces, with product that is built for everyone.
When I saw these neon rainbow Pride Club C's my heart exploded, much like the splatter painted print. I just had to have them!
So, while you may be showing your pride through your footwear, there's no reason you can't show it on your nails as well. Miss Pop says the collection's Club C version was the perfect inspiration for her design. "Although my art is colorful, almost all of my Club C's have been fresh white. But, when I saw these neon rainbow
Pride Club C's
my heart exploded, much like the splatter painted print. I just had to have them! And since I'm a nail artist, I wasn't going to let my feet have all the fun. I had to put the print on my nails."
From painting the nails of supermodels before they hit the runway backstage at Fashion Week to sitting on-set creating works of art on the nails of celebrities, Miss Pop knows a trend when she sees one. For 2020, she says the bolder the better. "There is one trend I could not have predicted that makes me so happy to see— bold color and design choice." That's why using Reebok's colorful Pride collection for inspiration is the perfect way to get loud with your nails. You can jump on the trend and use your nails to go outside your comfort zone and break out of the routine you're in.
Many people who work in corporate jobs may be too afraid to try anything beyond a neutral palette for fear of being viewed as "unprofessional". Miss Pop says nail color is an expression of who a person is, and it shouldn't be up for judgement. "I've always wondered how a simple nail polish shade could possibly turn a perfectly competent person into someone who is perceived to lack the necessary skills to do their job. It's ludicrous. I feel that it is a form of discrimination to judge a person's ability to do a job by the color of their nail polish." But, since most of the world is working from home now, everyone has a shot at self-expression. "We are all able to wear whatever makes us happy, whatever inspires us, and that includes nail polish colors. Even in a time when we don't want to wear pants that button, our nails can be extra fabulous. After all, we are all walking around every day with 10 tiny canvases ready for a splash of color."
While quarantine and restrictions have been tough on everyone these past few months, Miss Pop says painting nails can be a time for relaxation. "I wish I could meditate. I find it impossibly difficult to sit still and relax. Hey, I'm a New Yorker! But I have to admit, I find so much peace in painting my nails." Even though mediation isn't for her, painting nails comes pretty close. "I get lost in the color and get into this magical zone where it is all I am thinking, feeling and doing. It's a beautiful break. Every week, I get the opportunity to express myself with a new design in lacquer and have a little staycation for my soul." If you're worried about your nail skills, don't be. Miss Pop says making the art your own is half the fun. "If you are at all intimidated by nail art or painting with your non-dominant hand, just be patient with yourself. Nail art is art. It doesn't have to be perfect to be pretty. It doesn't have to be hard to be good. It can be easy and it can be quick. Nail art can be whatever you want it to be. That's the fun of it." To boost your nail game and share your Pride in a unique way, check out Miss Pop's DIY tutorial below.
We are all walking around every day with 10 tiny canvases ready for a splash of color.
Supplies To Get This Look:
• Small Chunk of a Make Up Sponge
• Tweezer
• Clean Up Brush (Here I'm using a Simply Simmons Filbert Head Short Handle #4. A small paintbrush or old eyeliner brush is perfect! If you don't have those, you can use a q-tip.)
• Acetone or Nail Polish Remover
• Pallet or piece of tin foil
• Painters Tape (The blue kind available at any hardware store is great. I prefer the vinyl kind of painter's tape often used for nail art.)
• Piece of Paper Towel
• Rainbow selection of nail polish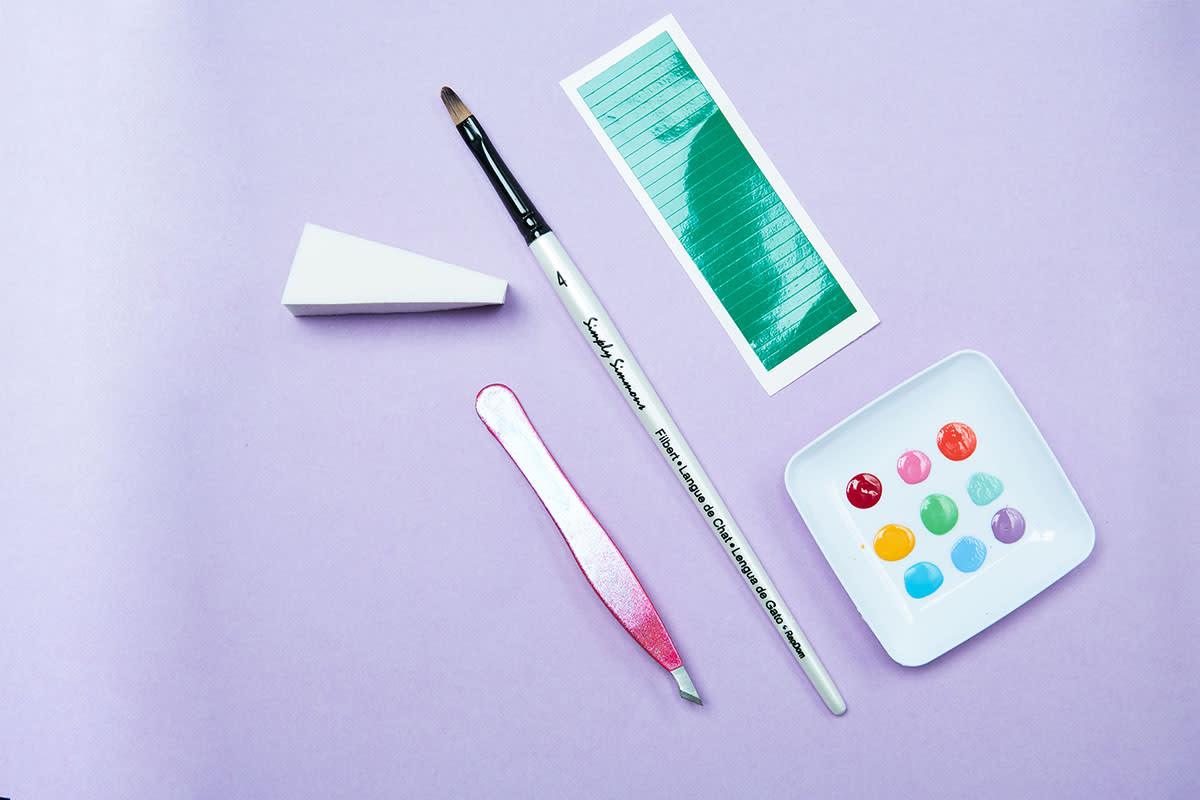 How To:
Step 1: Paint on base coat and two to three thin layers of a white nail polish. Keep your layers thin to speed up your dry time. Speaking of which, allow plenty of time for your fresh mani to completely dry before moving on to Step 2.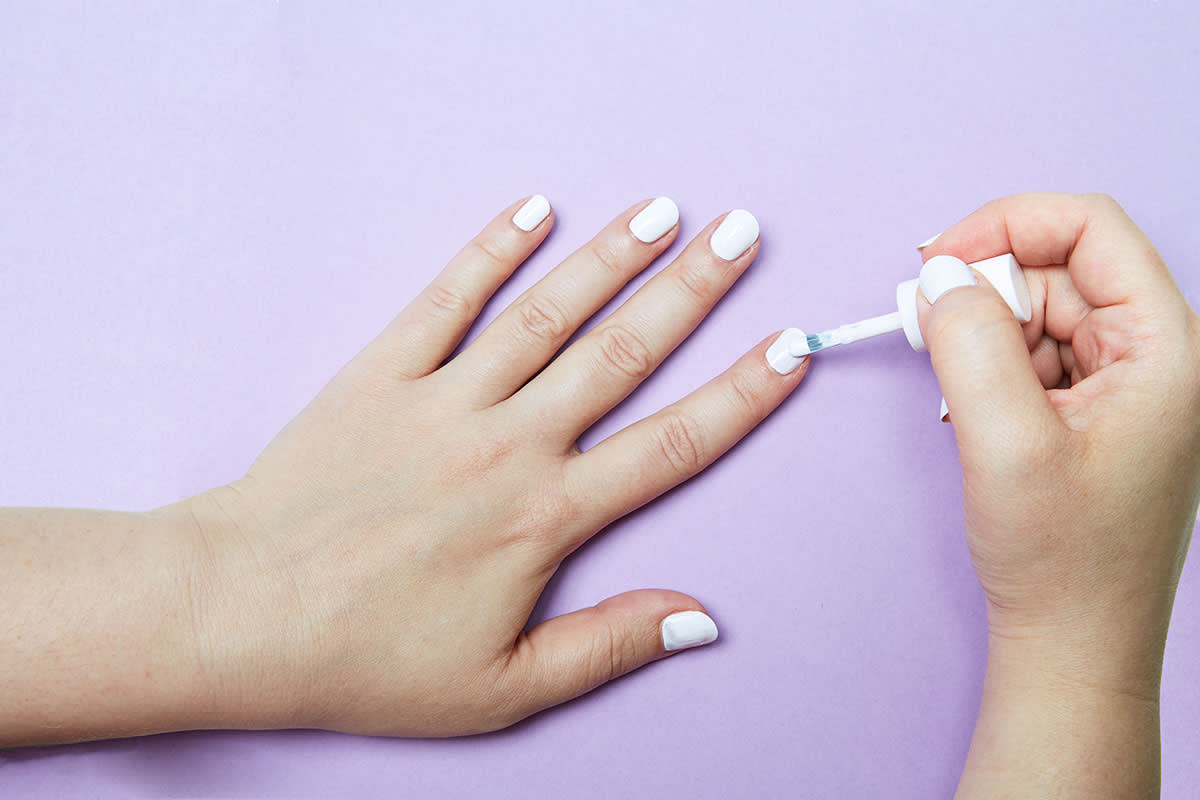 Step 2: Apply painter's tape over different corners of your nail. I like to rotate the placement of the tape on my nails to create a feeling of motion. The taped off corners are the areas that will remain white in the design. Be gentle with the tape, don't press it down too hard on the nail.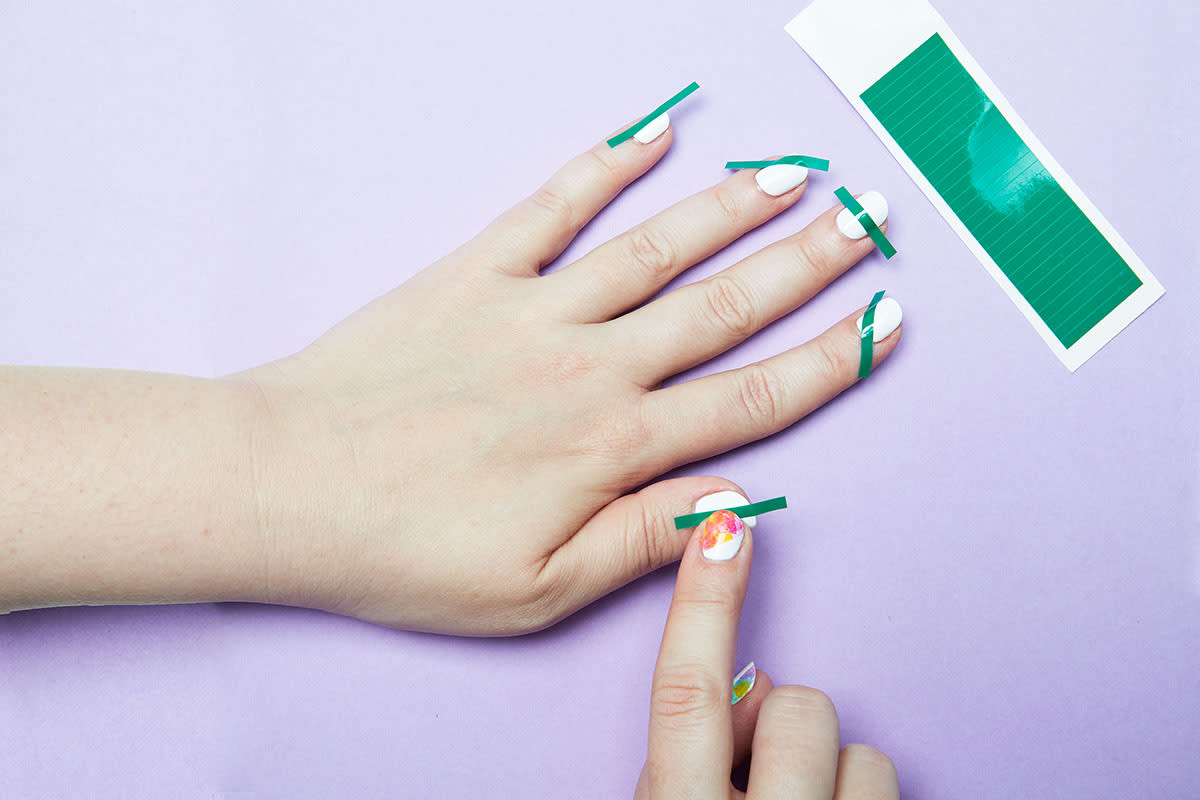 Step 3: Break up a chunk of a makeup sponge into little uneven pieces. With the bottlebrush, spoon out the rainbow selection of polish onto your pallet. Using your tweezer, dip a little piece of makeup sponge into one of the colors. Then, tap it down onto the nails. You should see soft splats of color appear on your nail. Continue to place the color in little spots, wherever you want it! Repeat this technique with all the shades until all the parts of your nails that are not taped off are completely covered in color. Don't worry if you get some paint on the tape, that's what it's there for! Also be warned, this look can get a little messy. So, we'll clean up the stray polish on your skin in Step 5.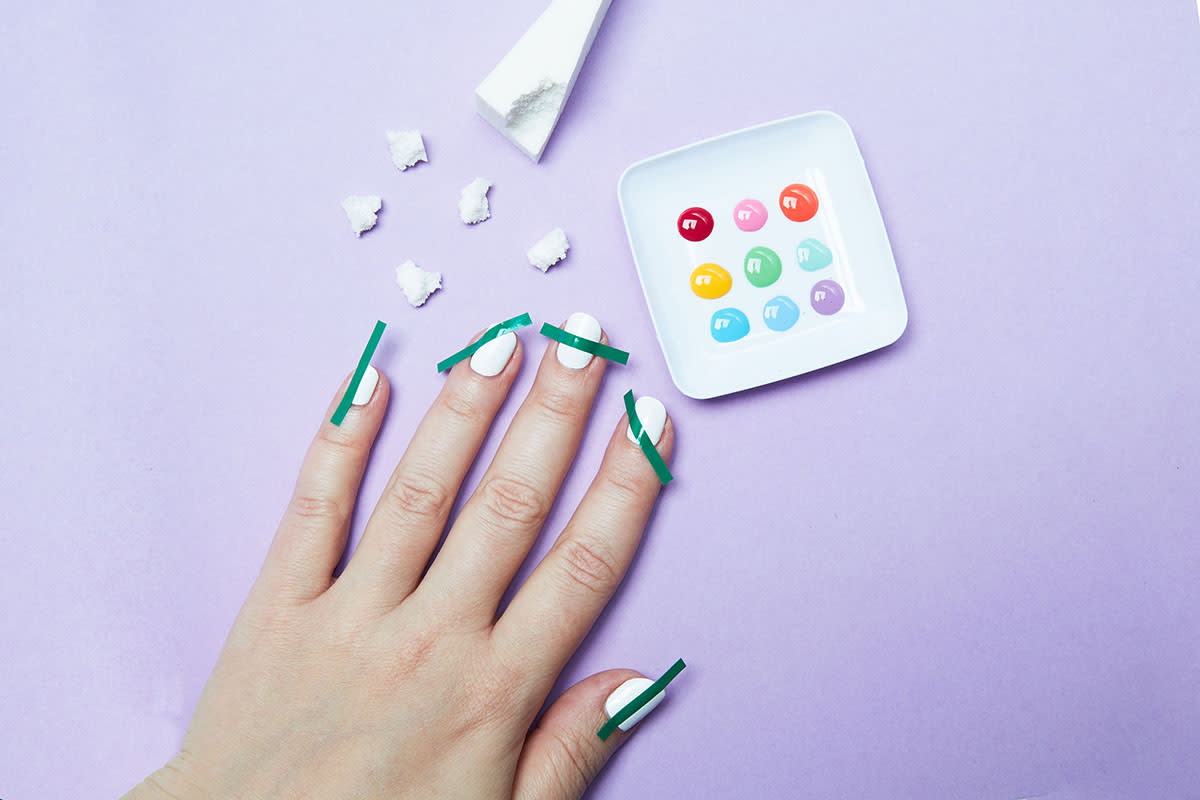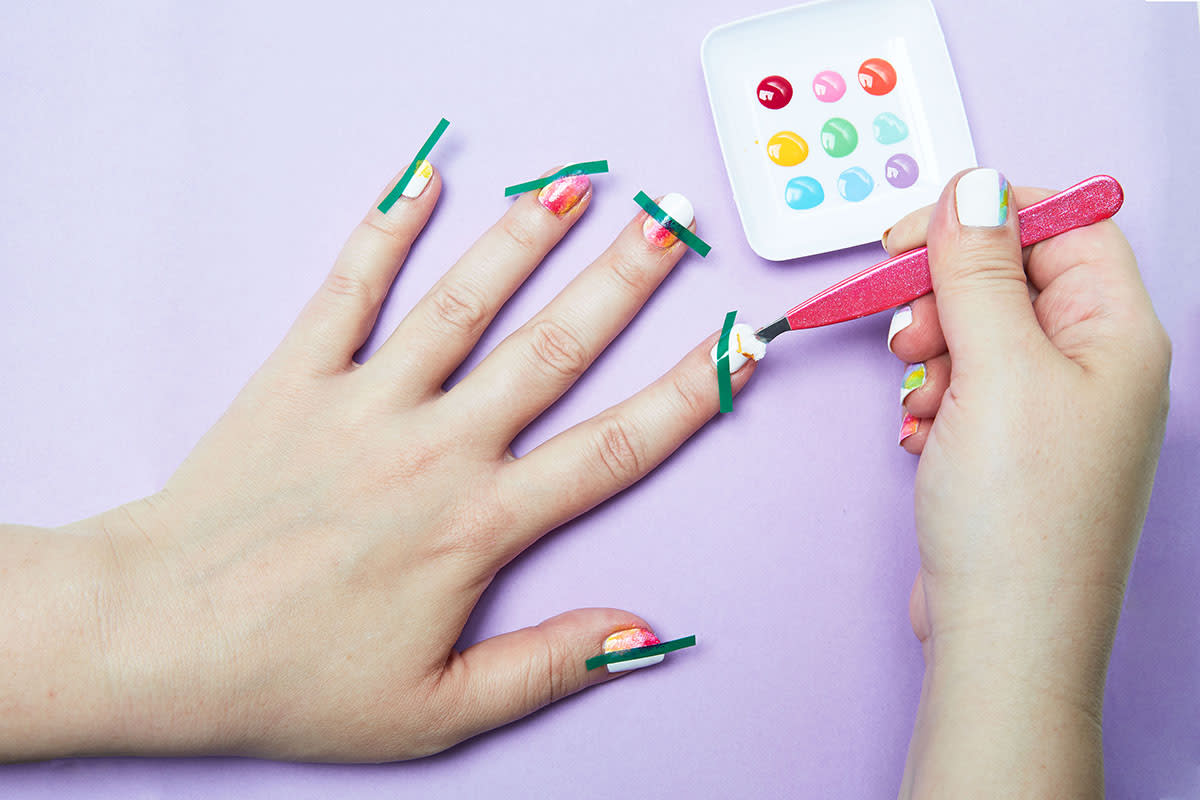 Step 4: No need to wait, gently lift the tape and check out your cool Reebok Club C Pride design! Take your clean up paint brush (or q-tip) and dip it in nail polish remover. Swipe away any excess polish from your skin.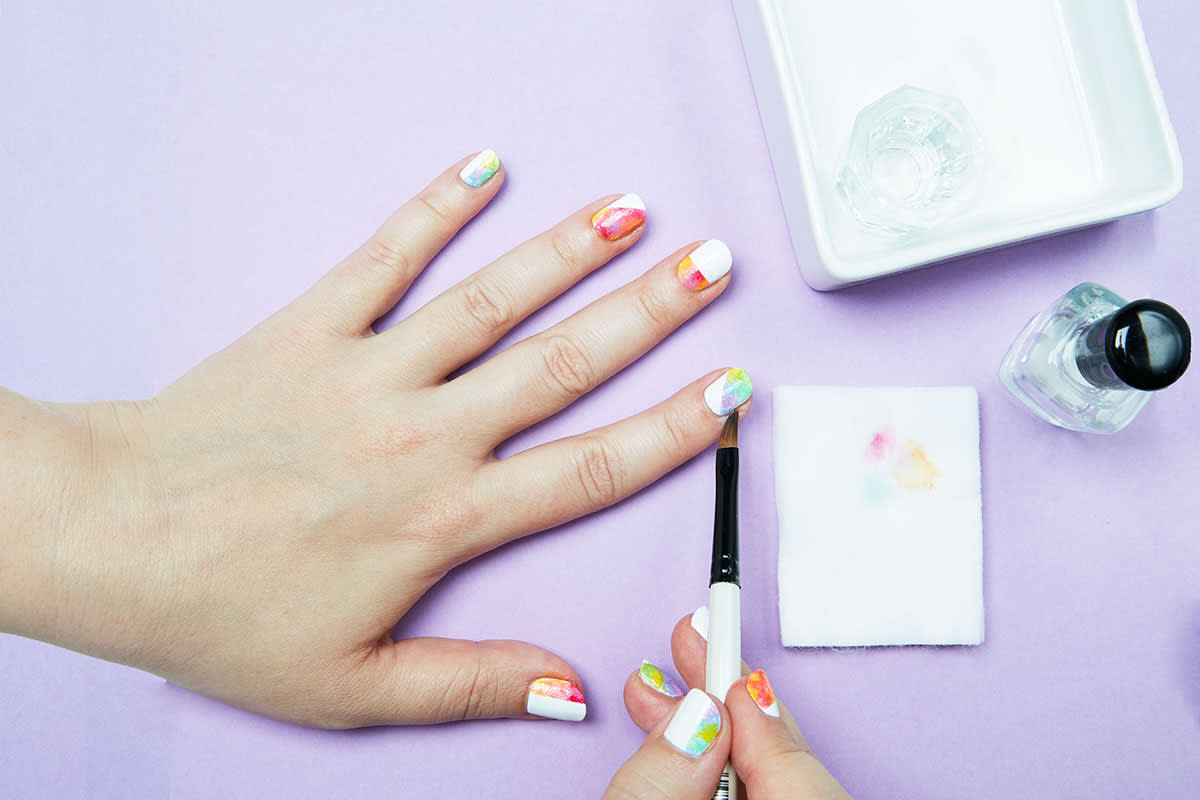 Step 5: Clean the polish off the brush by wiping it onto a piece of paper towel. When you're satisfied, seal your Reebok Club C Pride-inspired look with top coat and prepare to be complimented in your next video chat.