What You Need to Know About Reebok's Sustainable Running Sneaker
The wait is over: Forever Floatride GROW is here. Learn how to make your runs matter from one of Reebok's lead developers.
There are a lot of things that go through your mind when you're out on a run: grocery lists, to-do lists, news of the day, relationships; runs can be a good way to cut through the noise and take inventory of your day. But unless they're coming apart or causing you pain, the shoes you're running in likely aren't on your radar – they're just the footwear getting you where you want to go. But, your shoes could be so much more than that.
Learning about where your shoes come from might not be something you've thought much about, but you should. Athletes in particular need to know how a sneaker is made and how it can support them and enhance their performance; it's all in the ingredients. That's why Reebok has released
Forever Floatride GROW
, one of the world's first performance running shoes made with things that grow.
The shoe is made of at least 50% plant-based materials: castor beans, natural rubber, bloom algae and an upper made primarily of eucalyptus. These sneakers were put through the wringer to make sure that they would stack up against the miles you put on them. Each component was researched and tested to identify the most sustainable natural ingredients that would keep the high-performance standards.
But how do these plant-based materials really measure up and how do they enhance the shoe? Every ingredient plays a role. The research has already been done for you in the break down below.
Ingredient List:
Castor Beans: Energy Return and Lightweight
One of the best parts of the shoe is its highly cushioned, responsive midsole, which is built from sustainably grown castor beans. If you've purchased Forever Floatride Energy 2, this sneaker meets the same standard for cushioning and performance.
Eucalyptus Bark: Breathability
If you're tacking on the miles, you're working up a sweat and you'll need breathability. The knit mesh upper of Forever Floatride GROW is constructed with TENCEL™ Lyocell fiber. The source material of the lyocell fiber used for this particular shoe is primarily eucalyptus wood pulp.
Bloom Algae: Comfortable Cushioning
Training season or no training season, you always want comfortable running sneakers. The sockliner utilizes bloom algae foam to provide a comfortable footbed. The algae is also naturally odor-resistant, so say goodbye to funky feet and that shoe deodorizer spray.
Natural Rubber: Flexible and Durable
Running shoes are meant to withstand some serious sessions before you toss them aside for a new pair. From sprints to marathons, you need a shoe that can flex with you. The natural rubber outsole gives flexible traction and durability. It's sustainably sourced from real rubber trees, rather than the petroleum-based rubber featured in other performance products.
Now that you're clear on what the shoe is made of, it's also important that you know how the shoe is going to help you on your runs and why going sustainable shouldn't mean compromising on quality. Reebok is
dedicated to implementing more sustainable practices into their products
. The goal has been to reduce the use of petroleum-based plastics in footwear and to push the boundaries of what sustainable products can provide. Reebok Director of Advanced Concepts, Mike Andrews, is the lead developer on the
Forever Floatride GROW
project. Since he's the expert, Andrews laid out some main points for you to know about the shoe: why it was made, why it's important, and what the team at Reebok is still working on. Check out what he had to say.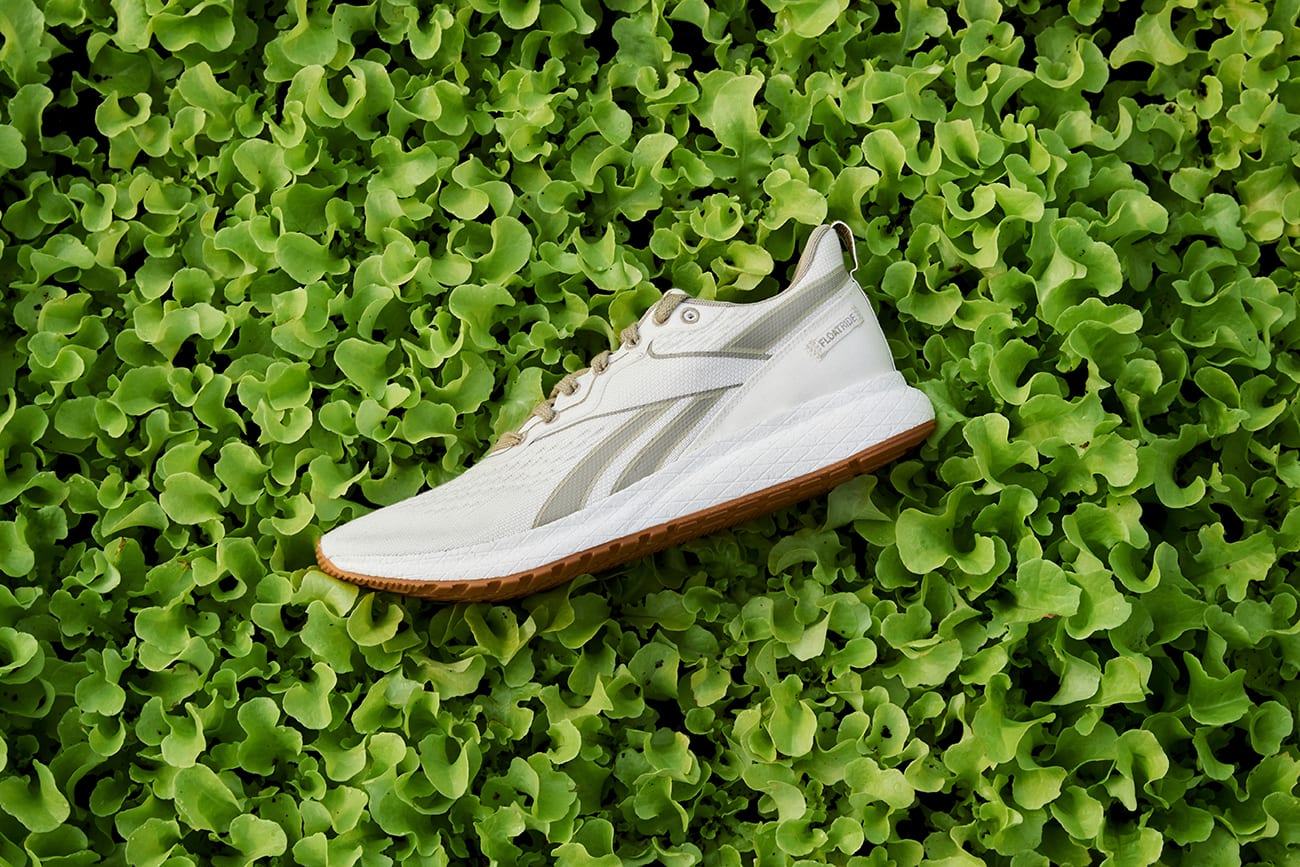 Five Takeaways
1. You'll Be Able to Keep Pace Without Sacrificing Performance
Sustainable shoes don't have to lack durability or impede function. Forever Floatride GROW was made for real runners.
"The goal from the start was to create a shoe that looked and performed like a running shoe but would use plant-based materials instead of petroleum-based counterparts. That was the inspiration but also the challenge, as many of the materials didn't exist and needed to be developed concurrently with the shoe itself. The ingredients and design choices all had to be considered based on this balance of physical properties and bio-content while also being mindful of the commercial viability of the materials at scale."
2. The VIP Floatride Energy Foam Will Help You Log Some Serious Miles
Reebok's Floatride Energy foam is what sets it apart from the competition and blends the performance aspect with the sustainable materials.
"The secret is in the midsole foam. We worked with Sekisui Plastics to develop the Floatride GROW compound by building on the award-winning Floatride Energy foam and re-thinking the foam."
3. Forever Floatride GROW Won't Be the Last Sustainable Product You See From Reebok
This is just the start and Reebok plans to continue their sustainability efforts with their products. One of the brand's goals is to reduce virgin polyester from their material mix and eliminate it altogether by 2024.
"Reebok is the first (and currently the only) brand to achieve the USDA BioPreferred certificate, starting in 2017 with
Cotton & Corn
. Now the brand has continued by expanding into performance running with Float Energy GROW, a great running shoe that also happens to be at least 50% plant-based. Since that initial launch other brands are emerging with their own plant-based shoes and Reebok has plans to continue being a key player in the game."
4. The Entire Lifecycle of Your Shoe Matters
While understanding how your shoe is sourced and made is a good start, it's also important to consider what happens to them after you've run them into the ground. Reebok is working on that too.
"Floatride GROW addresses the 'front end' of the plastics problem, aka whether the plastics are made from oil vs plants. But the goal all along is to find solutions to the 'back end' as well. The 'back end' refers to what happens to the shoes when they are no longer useful. We're not there yet, but we are getting closer every day."
5.You Can Make A Difference and You Always Have Options
There are so many choices when it comes to running sneakers. In doing the research ahead of time you will find that there are shoes like Floatride GROW that can tick off multiple boxes.
"I think it's important for consumers to know they can make product choices that meet their performance needs in a way that mitigates the negative impact on our planet and environment."
Forever Floatride GROW is meant to inspire you to move and to hit the pavement to reach that PR in shoes that will last. As you clock your time you can feel confident knowing that your running shoes are not only sustainable, but worth all of the research put into them. So, as you're considering your next pair of running shoes and weighing out the pros and cons hopefully the above information will help make your choice a bit easier. You'll be able to hit your stride knowing that you're getting to your destination in sneakers that are part of a larger mission to create a better planet. Make your steps matter.