A Day In My (Sustainable) Life
The outdoor activities, sneakers and eco-friendly tricks that get me going.
A few years ago, I took a pivot with my business after doing some soul searching and realized how important sustainability was to me. I've been on a journey and a mission ever since, to live more sustainably and help others do the same. As a mother and business owner, my days are filled to the brim. Owning my own business and working as a content creator I wear a lot of different hats and every day looks a bit different, but that keeps it interesting! As someone that's constantly on her feet, having a comfortable sneaker like the Reebok Forever Floatride GROW is absolutely essential. At the end of the day, my body is thankful!
7am:
I am an early riser so I get dressed first thing in the morning, throw on my
Reebok Floatride GROW
sneakers and get started with coffee and breakfast. I have to keep up with a baby all morning!
9:30 am:
My daughter Marin goes down for a morning nap and it's my time to WORK. As a
lifestyle blogger
my days are filled with calls and emails with brands, writing blog posts, styling, shooting content and creating video. A lot of my blog content focuses on capsule wardrobes showing how to shop more intentionally each season and talking about clean beauty like natural deodorants and skin care products. When I'm not doing that, I'm organizing my editorial calendar and corresponding with readers and followers on social media.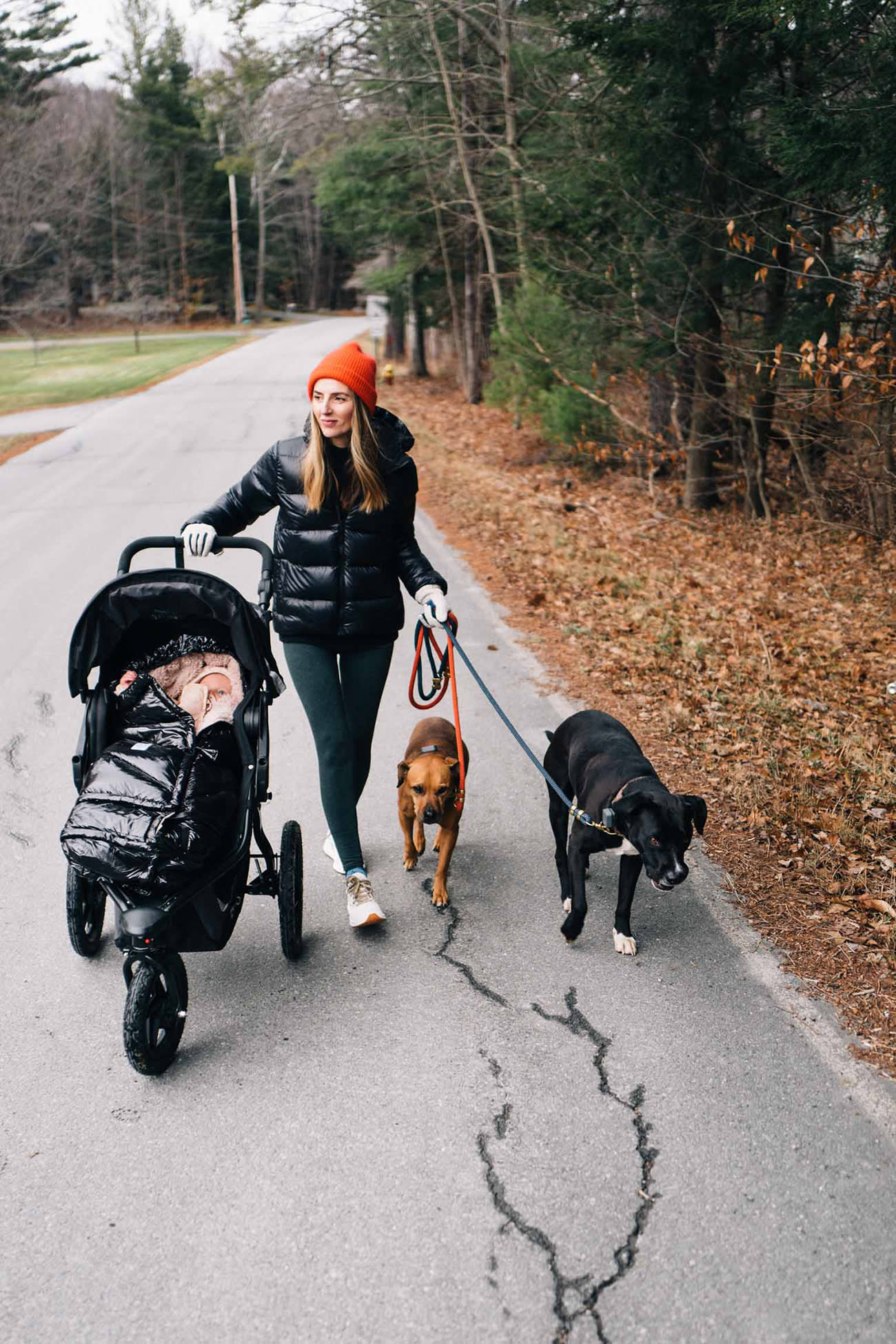 11am:
Marin and I usually go for a walk around the neighborhood with the dogs before lunch. No matter the weather we always try to get outside every day and my
Forever Floatride GROW
sneakers are so comfortable for wherever the day takes me. They're also made with at least 50% plant-based materials, so it's nice to know I'm being sustainably conscious when I lace them up.
12pm: We all have lunch together; my partner does most of the cooking. We decided to go plant-based about a year ago and never looked back. We do most of our grocery shopping at the farmers market down the street and we compost all of our food scraps, which has drastically reduced our carbon footprint.
2pm: Marin goes down for her afternoon nap and this is my time to catch up on work, sneak in a short workout and get stuff done around the house. I'm always researching sustainable and eco-friendly brands and looking for ways to cut down on our carbon footprint and live more sustainably. A few things we started doing recently include: cloth diapering (it's not as hard as you might think), reusable paper towels, an espresso machine (instead of using disposable coffee pods), and consuming less in general. We try to be really intentional about what we buy and where we shop.
4pm: Once Marin wakes up we either go for another walk or we play with the dogs inside. We are in the middle of renovating our house so there's always a project to work on.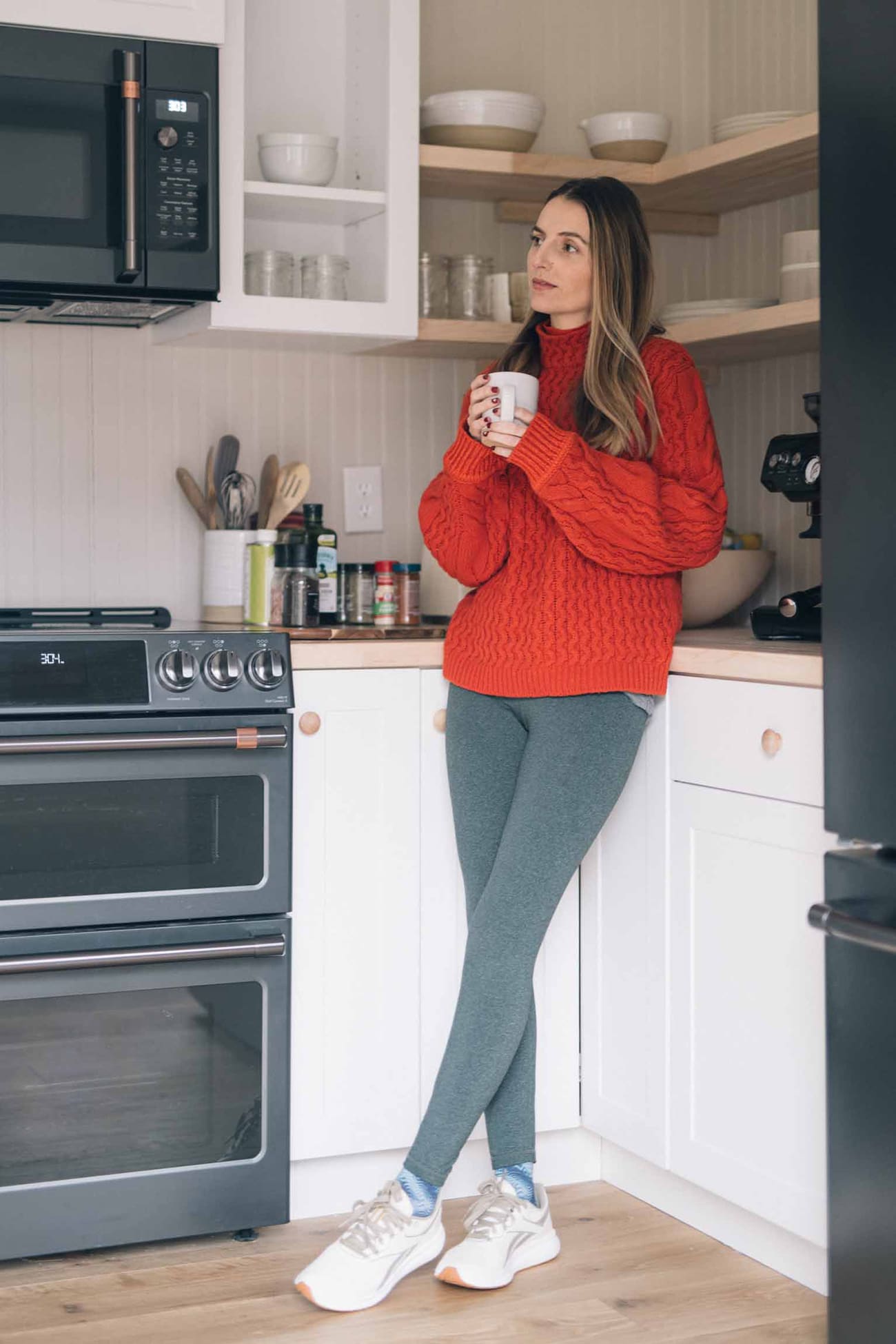 5:30pm: Dinner time! I create a lot of vegan recipes and we try to buy local whenever possible. Since it's winter, that means lots of root veggies and greens.
7pm: After bath time it's bedtime for Marin and I get started on work again. If I'm lucky and can take the night off we'll curl up in front of the fire and watch a movie or do a puzzle.
9/10pm: Being in comfy shoes all day helps me get through it all a little easier while keeping my back and feet happy. When I'm done with work, I like to wind down sans phone. I believe in clean beauty and I love my skincare routine, it's one of my favorite parts of the day. I take my time and zone out for a few minutes before bed and it's the perfect way to relax and unwind before I start all over again.