A Beautiful Resistance: Reebok Celebrates Black Stories
Taylor Rae Almonte shares how she lives her life to the fullest as the ultimate act of resistance.
For Black History Month, we celebrate Black resilience, strength and representation. But, Black experiences can't be confined to just one month. So in partnership with the Boston Globe, Reebok designed stories to live forever, kicking off in February, through the
short film series
, "A Beautiful Resistance". Hosted by columnist Jeneé Osterheldt, the series features inspiring Black doers and creators who infuse joy through a union of wellness and fitness in their communities. The partnership demonstrates the brand's commitment to create a movement that supports and appreciates communities out loud.
Featured in the series is actor, athlete, trainer and activist Taylor Rae Almonte, a co-creator of
ACTIV-ISM
, an anti-racism wellness program that uses fitness as a pathway to anti-racism education and inclusivity. Almonte is a straight up boss who steadily blazes her own trail, and shared with us mindful ingredients for creating lasting change, how to lift others up, and the importance of self-care.
Beyond throwing punches in her Rumble boxing classes, Almonte boxes the boundaries of what society has tried to confine her to. "I'm healthy, I'm loud, and I fight… And that's not really want people necessarily want to see." The fabric of the fitness industry is often woven with deep-rooted thoughts and attitudes that erase the Black community. When wellness and fitness are denied to people of color, how can these boundaries be stamped out? Almonte says more clarity surrounding experiences of the Black community within fitness and refusing to be the tokenized one person of color in the space can advance change. "I can't go back and just put myself away in a pocket and pretend to be this person for my clients and then go home and be someone else. I feel like I just have to bring my whole self everywhere I go from now on."
I'm healthy, I'm loud, and I fight...And that's not really what people necessarily want to see.
Almonte isn't just paying lip service to activism – her intentions are authentic. Her passion for
activism and fitness
is entrenched in unrelenting involvement, and the ways in which she threads wellness through her activism are a blueprint for inclusion. "I use group fitness classes as fundraiser opportunities where I can educate the community and then support them with donations." She adds that dismantling intolerance can be challenged through conversation and action. "I tackle topics in my Boxing and Bias class where we are in conversation between rounds about topics like implicit bias, microaggressions and tone policing. Through ACTIV-ISM, my anti-racism wellness program, we tackle a topic every week. We work though resources and challenge ourselves through workouts and meet to discuss the weekly challenges."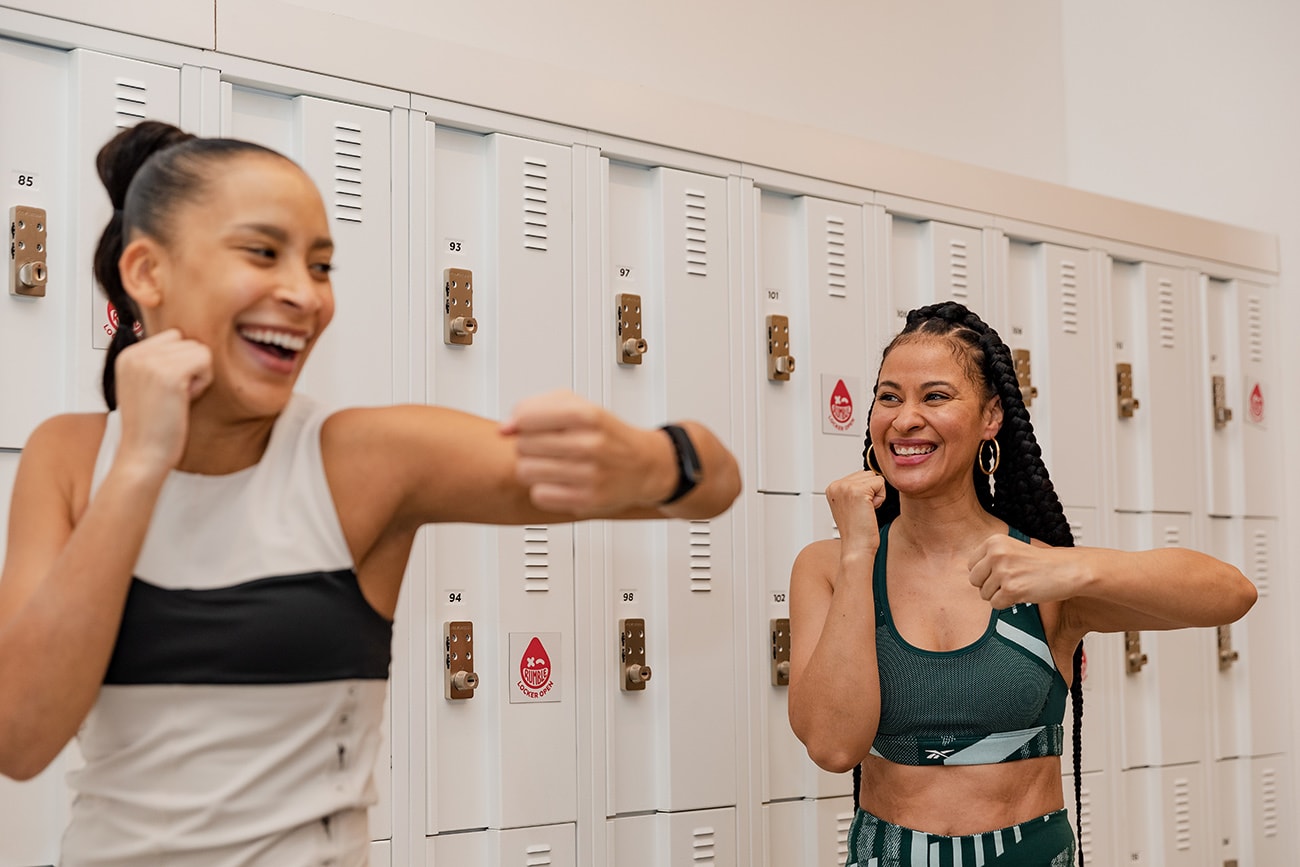 When the Globe's Osterheldt asks how Almonte breaks free of societal expectations to find joy, she highlights wellness as a tool of resistance. "When I'm not worried about fitting into this certain kind of expectation that society places on me… I think that's Black Joy. Existing and not being worried about my safety, my health, my wellness. That's Black Joy." This wise-beyond-her-years perspective not only benefits her own wellness, but of those around her. As a founding member of
Fit for Us
, her advocacy embraces entire communities.
When I'm not worried about fitting into this certain kind of expectation that society places on me...I think that's Black Joy.
This kind of community devotion is crucial. There are those that want to become more active in their community but struggle to sift through confounding messages or simply don't even know where to begin. Taylor recognizes that everyone can make an impact, and holding ourselves accountable to continue learning (and lift up others) is paramount. Her guide to
allyship
is sincere and pure in its simplicity:
1. Believe people — validate the lived experiences of marginalized people
2. Continue to learn — it's lifelong work
3. Be willing to make mistakes, own up to them and apologize
Almonte's contributions to restoring balance and closing the inequitable gaps that face the community are steps in the right direction. It's up to all of us to play an active role in standing up to prejudice and channeling negativity into action.