Cardi Cardi Everywhere
Reebok's Cardi B shoe collection has you covered head to toe.
Last November, we learned what happens when Cardi B's signature style gets filtered through the Reebok lens. The
Reebok x Cardi B shoe collection
sold out almost immediately (safe to say, they were a hit). More recently, fans got an updated selection of shoes via the
Neon Club C Cardi
shoe, which came in bright white, lime green and pink hues for women, kids and even toddlers.
But you didn't think she was going to stop there, did you? On April 23, fans will finally be able to shop Cardi's first apparel line—and she's throwing in some new Cardi B shoes, too. 2021 is already SO much better than last year.
CONTINUING THE LEGACY
As the Reebok Cardi B shoe collection evolves over time, the design team continues to foster intimate conversations about where her next style step should be. The team gathered inspiration from Cardi's top fashion moments before sitting down with her to listen to private shoe stories and sartorial context behind the looks. "We collectively knew she was passionate about fashion," says Reebok Cardi B Footwear Design Director Zac Andrews, "but we followed her lead as to how to keep things elevated."
The collection gives a nod to Cardi's old stomping grounds, specifically 90s-era carnivals and amusement parks. From neon sweets to glitzy lights, the colors and materials reflect the transition from day to night. Every single hue and piece of fabric was hand-selected by Cardi.
"Today's consumer is not down with BS," says Reebok Cardi B Footwear Product Manager Molly Kazarian. "They see through brands. With the Cardi B shoe collection, it's clear she didn't do it for a check. After collaborating with her, we ultimately just let her be herself."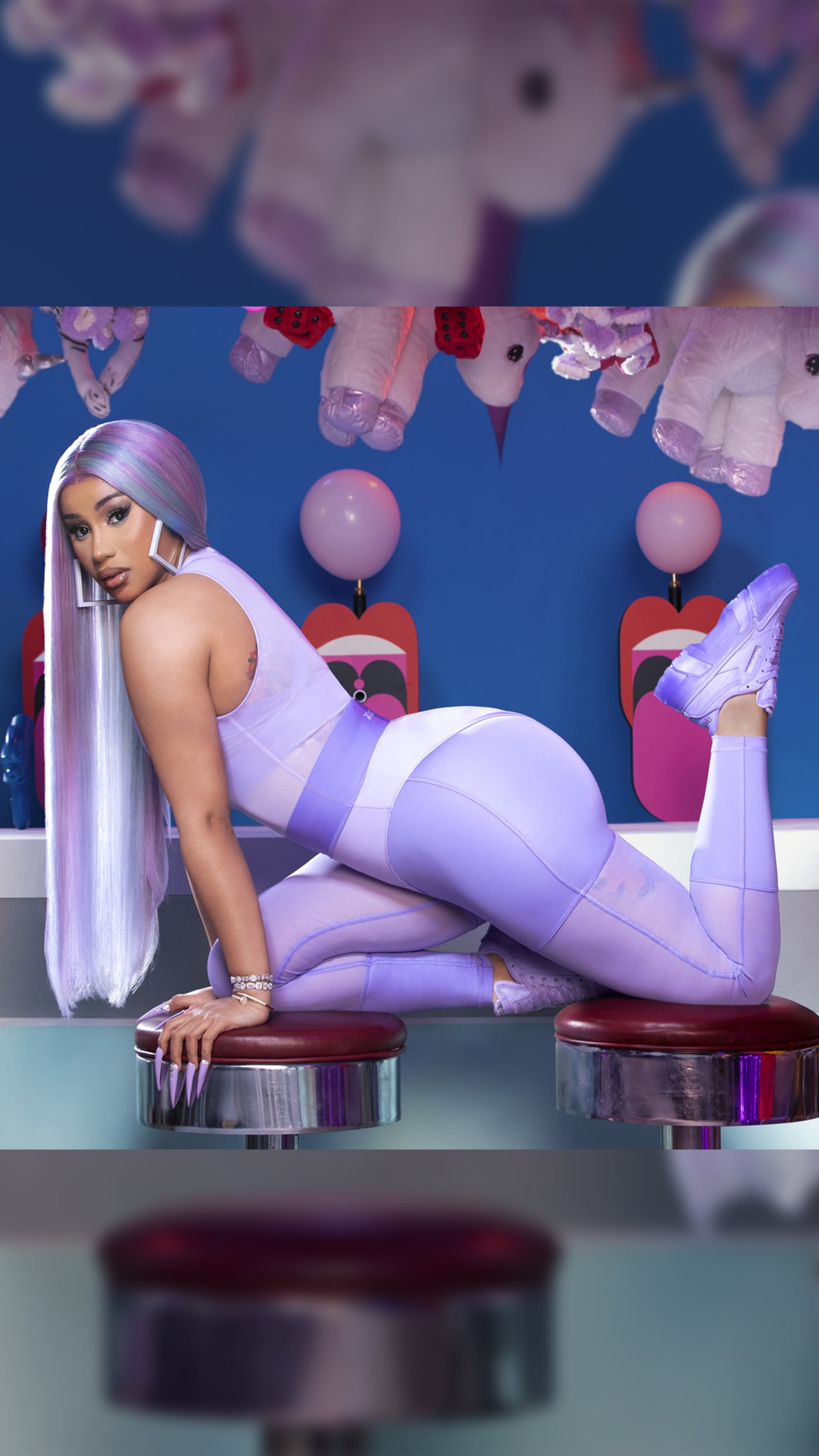 ALL ABOUT THE FANS
Cardi's fans are some of music's most loyal. After an Australian fan got Cardi's face tattooed on her thigh, the artist arranged to provide her with free concert tickets for life. When it came to her second Reebok Cardi B shoe collection, once again Cardi had her fans top of mind. Not just her collective fanbase, but all the colors, sizes and ages in between. "Cardi was really specific about how she wanted the collection to be accessible," says Kazarian. "Accessibility is clearly important to her, and you can see this everywhere from sizing to price point."
Not only does Cardi's second collection feature the first drop of her apparel line, but it also offers extended sizing within the Cardi B shoe line (the Reebok Club C Cardi shoe and Club C Double come in both adult and kids sizes). Apparel comes in inclusive sizing, as well. Bottom line? There's a shoe and fashion option for everyone here.
WHAT TO EXPECT
It was important to Cardi that the apparel collection focus on performance while also staying confident and sexy (for the girls who want to pair it with heels and wear it to the club). The design team achieved that with mesh details for transparency and texture, bold pops of color and tight fits that "snatch" the waist. "We worked closely with Cardi to bring her vision for performance-wear that shapes and accentuates the body to life. She wants everyone to feel confident and contoured in these pieces," says Reebok Cardi B Apparel Designer Morgen Kohn. "Cardi wanted to ensure that her line offered inclusivity and accessibility for all, not only through sizing, but price point, design and materials as well," says Reebok Cardi B Apparel Product Manager Kelly Dunn.
The Reebok Cardi B collection also features a nod to 80s aerobic looks, a 2-in-1 body suit with a high waisted brief, high-cut leg holes, cropped silhouettes, and thong seaming cutlines on leggings. The black and red apparel colorways are for those looking for something more classic with a pop of color. As for the second colorway, both Cardi B shoes and apparel are drenched in shades of lavender (Cardi's favorite color) and every model in the apparel collection goes up to 4X in sizing.
Let's talk more about the Cardi B shoes, shall we? The "Summertime Fine" shoe collection launches in tandem with apparel and features matching Club Cardi shoes for every look. Get ready for more candy-coated shoe details and chunky stacked soles, plus high-shine patent uppers and see-through midsoles that Cardi B shoes are known for.
Mark your calendars: The new Reebok Cardi B collection officially launches April 23. And just like last time, these pieces are gonna go quick.