How Basketball Tunnels Turned into Runways
Reebok partner Montrezl Harrell shares how he gets his pre-game fit right and how AI changed pre-game style forever.
Who says high fashion runway moments only happen in February and September? In recent years, the basketball season has become just as synonymous with style. Fashion-forward players have transformed dingy cement tunnels into catwalks, making their entrances into can't-miss moments. Fans across TV and social media eagerly await to check out the players' pre-game fits, so the pressure to pair a pocket square with a tailored suit and fire kicks is always on.
Some athletes take their tunnel style game more seriously than others, but
Montrezl Harrell
is dedicated to the cause. When the basketball pro and Reebok partner makes an entrance in any arena, he turns heads. The 27-year-old is part of the continuously growing group of players who create full-fledged fashion moments. Let's face it: at 6'8 you can't miss this guy. When asked about his style, Harrell says he makes it a point to be unique. "I'm a person that likes to stand out and be completely different. I wasn't put on this earth to be another person or do things that others have done. That's the reason everybody is on this earth." Harrell says his looks reflect who he is as a person. "We have our own complete and separate identity. It's meant for you to build up to what you want your identity to be and what you want your overall look to be."
Harrell's eclectic style is exciting and unpredictable: One night his fit is complete with fluorescent orange pants paired with a bomber jacket, the next it's
pink shorts with pineapples
(complete with matching shirt). His style has no restrictions, but sometimes function plays a role too. "When you go into the real world and you step foot outside that basketball court, now it's about having something on for the rest of the night or day." To keep up with all his looks he says he had to get his closet right. "It's fairly organized. That goes to the people I have who come in and do a great job of organizing everything by color, sweatsuits, jeans etc. Before I had them it was a complete mess. I had stuff thrown all over the place in my closet. It's gotten better and I'm thankful for that." Professional athletes: they're (kind of) just like us.
While "Who are you wearing?" isn't typically asked during post-game press conferences, the answer is usually revealed by checking a player's Instagram feed later that night. Or, fans can follow
dedicated accounts
that have been created just to track the pre-game fits. But before social media turned pro ball players into fashion influencers, there were players who just wanted to express themselves. We'd be remiss if we didn't talk about the legendary player who sparked some of the boldest looks of the late 90's and 2000's before games:
Allen Iverson
. In the Fall of 1996, the 6-foot-tall rookie point guard and Reebok athlete hit the court wearing his first signature shoe, the Reebok Question. Reebok had already established their footprint in basketball, and together with Iverson they changed the game (literally) for footwear. On April 9th, Reebok will release the
Question Mid I3 Motorsports
silhouette. The sneaker's silver patent leather represents Iverson's flashy style, which made him a must-watch on and off the court.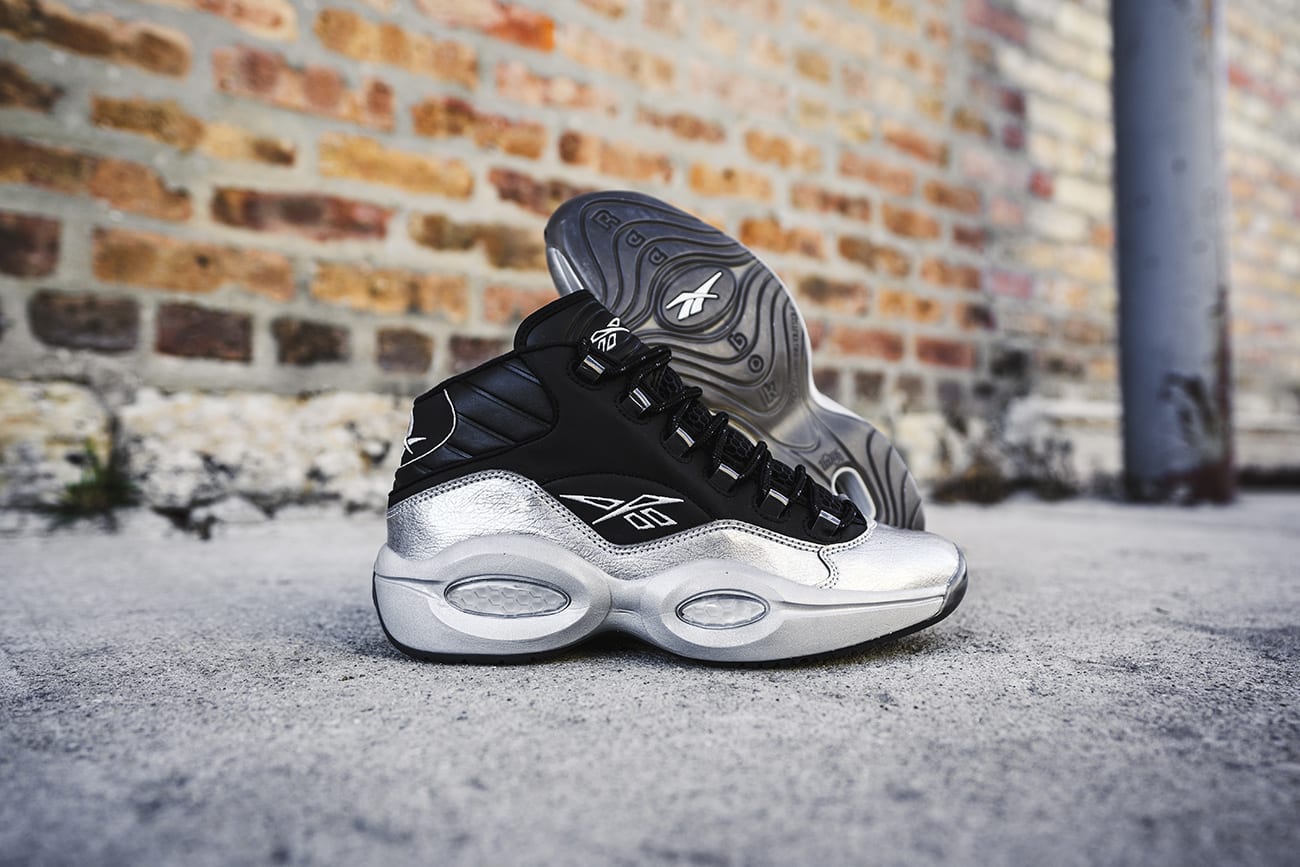 Harrell says being part of the latest drop of the Question Mid means a lot to him. "I love the material and comfort of the shoe. Just the history of the Question itself, Iverson has built a legacy with this brand and this shoe. Just to be able to follow in those footsteps of a great like Allen Iverson, as a part of the Reebok family in general is something that's big."
Iverson used fashion as an expression of individualism. His tattoos, iconic armbands and statement jewelry eventually became a big topic of conversation. It's widely believed that Iverson's unique style eventually caused the league to implement an official dress code for players in 2005. Players were required to wear suits when arriving and leaving games. This brought about another turning point: An evolving style conversation and some friendly competition between teammates.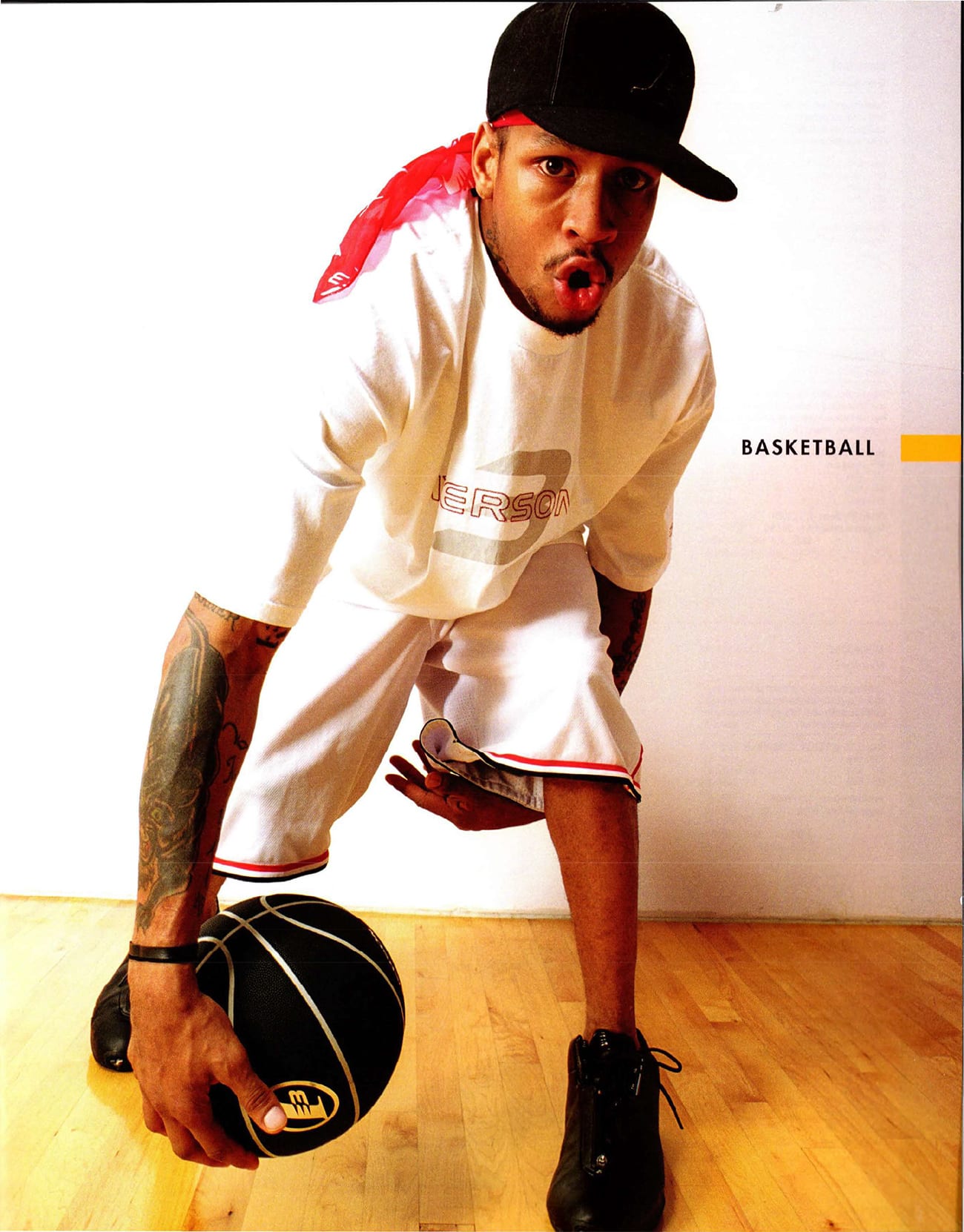 Photo Credit: Reebok Archive
In a
previous interview
for Reebok, like Harrell, Iverson talked about how his fashion choices were never meant to be for anyone else. "I'm not trying to be nobody else. This is me, this is who I am," he said. "It ain't for you to like it, as long as I like it. We all got different personalities and come from different backgrounds, so why have a dress code where everybody has to dress the same? When I went to the basketball court when I was young, I didn't wear a suit to the playground. When I was young, the only time I thought you were supposed to wear a suit was when you go to a funeral or to church. You dress the way that makes you happy." With his signature style and incomparable talent, Iverson is revered today as one of the greats.
Just recently, the league relaxed the dress code for the shortened season as the athletes played their games in the bubble. Players were allowed to edit the names on the back of their jerseys to support social justice issues, short sleeve polos were approved, and sport coats were no longer required on the bench.
As the dress code evolves, so has Harrell's love of fashion. What may have started in a tunnel has now become a business. He's started his own clothing line, Underdawg x NBYC, using what he's learned and insights he's gained as a pro athlete. "I know how I like things to fit on me and how I like to feel as an athlete," he says. "What goes into streetwear clothes is different and can be difficult for athletes to wear sometimes. That was another reason behind it. I love the creativity and seeing it all come to life. Just as we go out there and prepare ourselves for games, it's the same thing in the fashion world just in a different way."
Fashion within basketball continues to evolve and players are going to keep bringing their A-game (fingers crossed). Some teams have literally rolled out red carpets for their players to show off their pre-game looks. As tunnels turn into runways and athletes become models, it's safe to say that the players' off-court style selections have been solidified as part of the gameday experience. As athletes like Harrell follow in the footsteps of Iverson, strutting through the tunnel with swag, fans will be ready and waiting to check the weekly roundups of who did it best.