How BlackGirlYoga Is Decolonizing Yoga
Vanessa Lhérisson is on a mission to make mind-body fitness inclusive of all races, ages and sizes.
It's been 15 years since I experienced my first yoga class. It was the week of finals in college and I was looking for a way to temporarily take my mind off studying, so I signed up for a yoga class. I walked into the bright dance studio with floor-to-ceiling mirrors, took off my shoes as I saw the other students do and grabbed a rubber
yoga mat
from the pile on the floor. I rolled out the mat, lay down and closed my eyes.
Our instructor walked in and introduced herself, before guiding us through light breath work and leading us through a
series of poses
aimed at loosening and relaxing the body for the next hour. When we finished, I noticed two things: First, I felt as though the heavy weight of stress from my finals was lifted off my shoulders. And second, I was the only Black person in the entire room.
While the lack of Black participants wasn't entirely a big deal, as a person of color who has experienced the stress and effects from systemic racism, I wondered why there weren't more people of color doing yoga. When I mentioned this to friends and family, the reason "I'm not flexible enough" came up quite often, as did the excuse "We [Black people] don't do yoga." (That statement is false: I know plenty of Black women who meditate and do yoga, but a lack of uplifting Black and Brown yoga instructors at trendy studios results in a lower presence of women of color in such spaces.).
In the years since my first class, the demographics of yoga-doers have slowly changed. Social media has helped increase the online presence of women of color dressed in colorful
leggings
and sleek
sports bras
embarking on wellness journeys, and thanks to the rise of virtual classes, organizations like BlackGirlYoga are making an impact in the yoga and wellness community for women of color.
With over 115,000 followers and 388,000 hashtags on Instagram, BlackGirlYoga founder Vanessa Lhérisson is on a mission to change the narrative of westernized yoga by making it an accessible practice for women of all colors and body types, while also creating a community where women of color can connect with one another and feel "seen," which is unfortunately often overlooked in most yoga studios.
It's a shift Lhérisson refers to as "decolonizing" yoga: Taking back a practice that was created thousands of years ago for the masses but has since been co-opted to belong to an elite few. Fifteen years on from my first experience with the practice, I asked Lhérisson to share her philosophy about widening the reach of yoga and using the
practice to build strength
in body and spirit.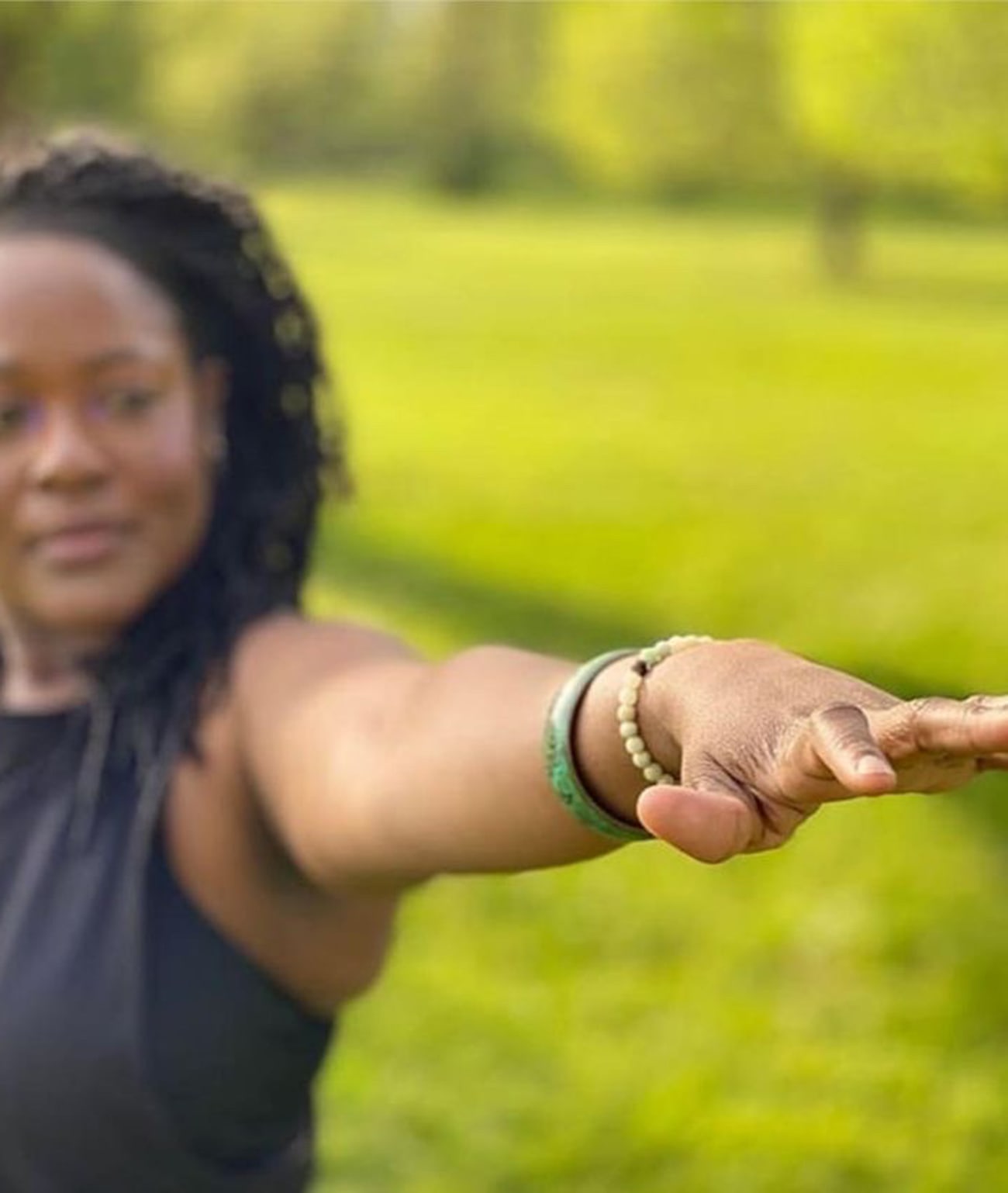 What is your approach to teaching yoga?
I teach to make everyone feel included, welcomed and seen which I think is missing in a lot of yoga classes, especially where Black women are underrepresented. I like to set my vibrations high at the beginning of every class allowing a place for positivity to flow. Yoga to me is about forming connections and providing a safe place to grow without judgment. I am always available for questions after class and remain open to all feedback and comments; I listen with an open mind and I seek to understand. This approach helps to make me a better teacher, which in turn provides a better experience for my students. I teach with passion, dedication and do a lot of self-study on different yoga techniques as well as the psychological aspects of it. As a yoga teacher, it is important that you never stop learning.
What are some ways you make yoga accessible to women of color?
BlackGirlYoga was formed with the intent to showcase the array of different bodies and yoga practices of Black women from all over the world. It is the bridge that connects us. Instagram is where we showcase the community and our Facebook group is geared towards more learning and further connection. I offer a donation-based class every week, which serves as a way to connect with the community. Showing that yoga is for everyone helps to allow the journey to be less intimidating. The hardest part of this journey is the beginning—understanding that your practice should be unique to only you. This opens you to a new mindset, which leads to an overall realization of self-love.
Why is it important to decolonize yoga?
It's absolutely necessary to promote more diverse representation by including women of color, but it's just as important to dive into teaching all eight limbs of yoga and not just the asanas, to increase a sense of zen within our lives. Yoga is a moving meditation that helps to move
energy
through the body and connect to the inner self, alleviate stress and improve general well-being. We can all benefit from the practice of yoga, but as women of color who at times deal with discrimination in more than one way, it can be extremely beneficial to our mental health.
How can more yoga studios and instructors work on decolonizing classes?
One of the main ways is to stop thinking of yoga as a practice solely geared for a particular demographic. Representation matters, not only in yoga and wellness, but anywhere you go. When you allow a positive light to shine, others will see the way and this alone is beneficial in helping to create healthy habits and a broader way of thinking within any community.
Related Links:
Related Products or Services: